D&RGW narrow gauge in the twilight years
Chama, Silverton and Durango
Article and all photos © Glen Brewer
I first encountered the Denver & Rio Grande Western's remaining narrow gauge lines in 1956. I was already a steam enthusiast, and the D&RGW's narrow gauge was still steam. Somehow, by begging, pleading or nagging, I had talked my parents into stopping in Alamosa on a family vacation to Colorado. We stayed at Bob Richardson's Narrow Gauge Motel and museum. While talking to Bob, he drew us outside to witness the early evening passage of a real, steam powered, narrow gauge, freight train headed west with two engines and a full trainload of large pipes destined for the oil and gas fields near Farmington, New Mexico. Two days later, our family rode the D&RGW's Silverton Train behind Engine 476. It was all steam, narrow gauge, with vintage wooden cars and gorgeous Colorado scenery: I never got over it.
In 1880 General Palmer's "baby railroad" began an unprecedented expansion pushing forward on many fronts simultaneously. That was the same year the railroad began the conversion to standard gauge. The "San Juan Extension," was just one front in a competition to capture territory. It was built to tap the mining riches of Colorado's San Juan Mountains near Silverton. The extension reached Chama and Durango in 1881 and was in Silverton by July of 1882.
But by 1965, only 299 miles of D&RGW narrow gauge remained: Alamosa to Durango with branches to Silverton and Farmington, New Mexico. This was the last remnant of a once extensive three-foot gauge system stretching from Denver to Santa Fe and Ogden, Utah as well as to Durango and Silverton. At the peak in 1889, the railway operated 1,861 miles of narrow gauge. But by 1965 most lines had either been converted to standard gauge or abandoned. The Denver & Rio Grande, as it was originally named, was one of the first narrow gauge common carriers in the United States, the most extensive and among the very last.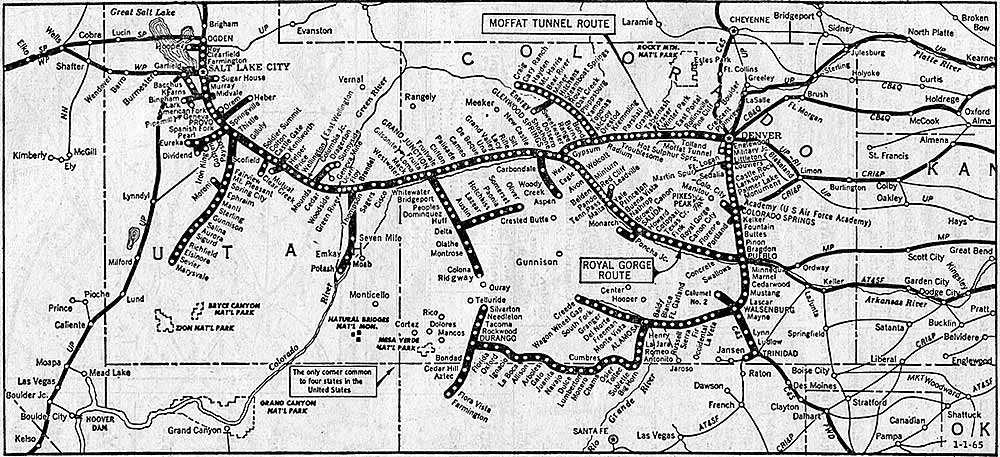 D&RGW system in 1965. Narrow gauge exteded from Alamosa to Durango with branches to Silverton and Farmington. From Alamosa to Antonito was dual gauge as was the yard in Alamosa.
Business had declined severely on the remaining narrow gauge, and abandonment seemed imminent when, by good fortune or ill depending on your frame of reference, there developed a heavy demand for oil and gas drilling supplies and especially for pipe to supply needs near Farmington, New Mexico. The railroad management had no interest in investing further in the line, so only minimal maintenance was provided. Steam power and wooden cars remained standard until the very end, and that end came much later than it otherwise would have.
Of course, after my introduction, I always wanted to go back, but I always feared I would be too late. There was always something to keep me away (school, family, a new job with little or no vacation), but when I quit my job in Houston and headed to California to attend graduate school, I seized the opportunity; I made the trip by way of Chama, New Mexico and Durango, Colorado. The San Juan Extension was still intact, but the pipe business was done, and except for the increasingly popular Silverton Train, clearly business was once again on the decline. I fully expected all would be gone very soon.
Chama, New Mexico, Tuesday, September 7, 1965
My first stop was Chama, where the railroad already looked abandoned. Chama was a railroad town; a division point on the railroad. In earlier years it had been a very busy place. Road engines were serviced there as well as helper engines to assist eastbound trains over the 4% grade to Cumbres Pass.
Rotary snowplow OM called Chama home. Some winters, plows from Chama and Alamosa were both needed to keep the 10,015 foot high pass open for business. But the winter before my arrival, the railroad had stopped trying, simply embargoing the line when the snow fell.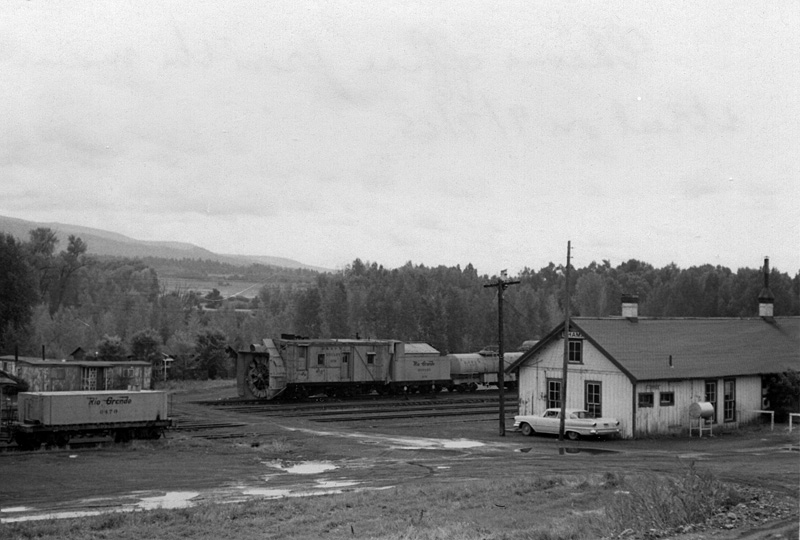 My first view of Chama. I found it to be a very quiet place.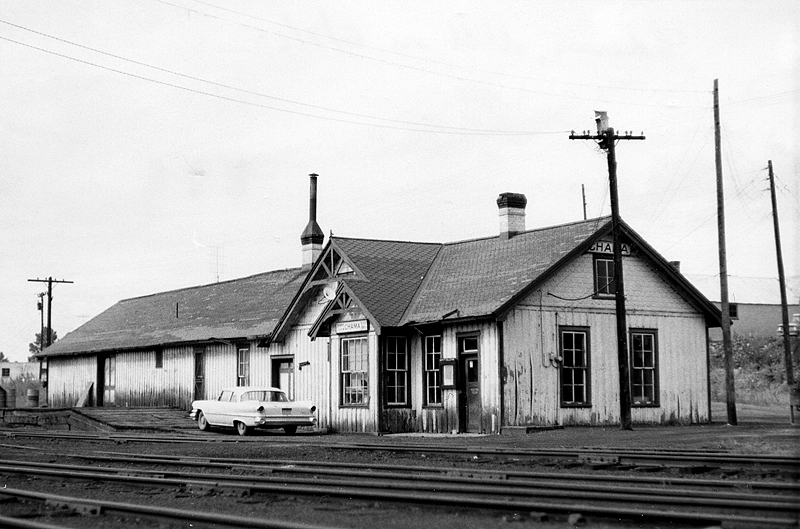 D&RGW Depot at Chama.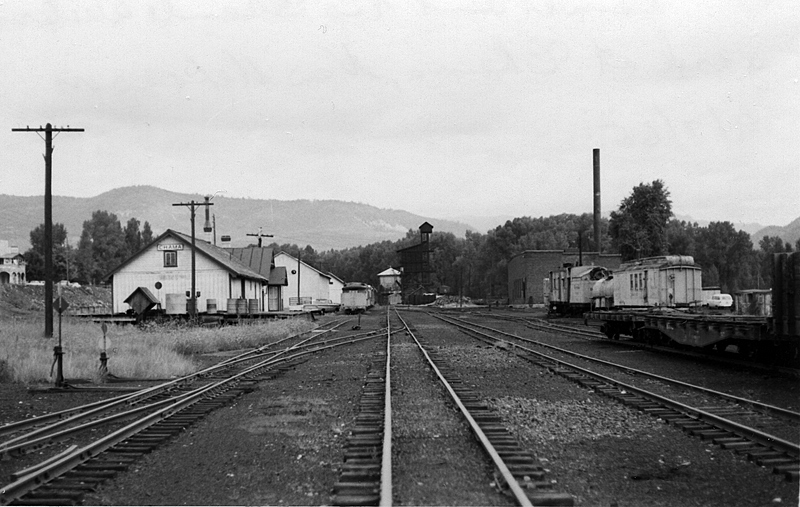 Looking railroad east.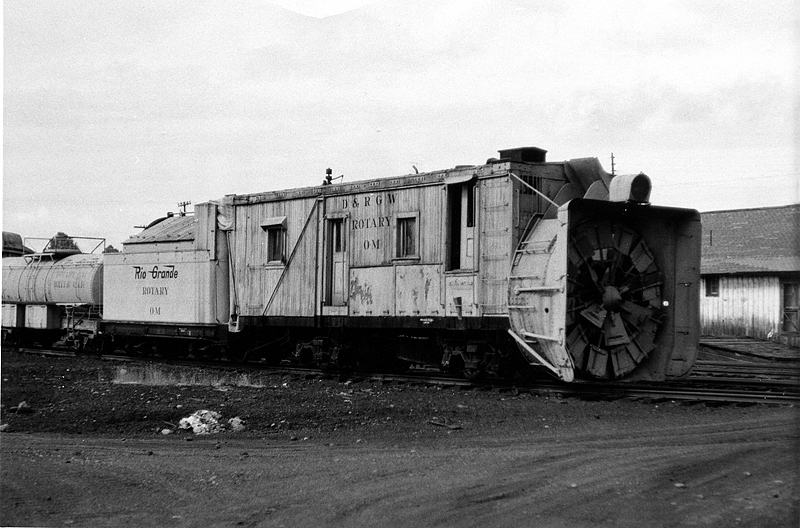 Rotary OM would never again plow snow for the D&RGW, but it did for the C&TS.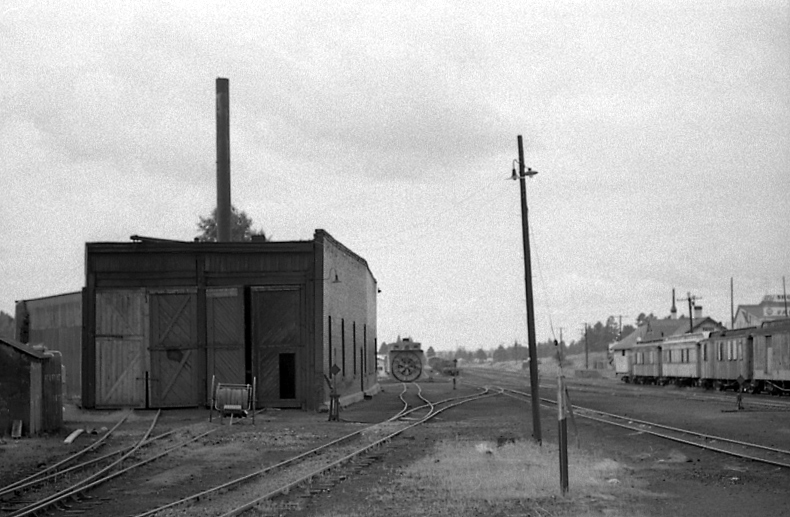 Two stalls were all that was left of the once much larger Chama roundhouse with a turntable. Both turntable and stalls were too small for the larger 2-8-2s.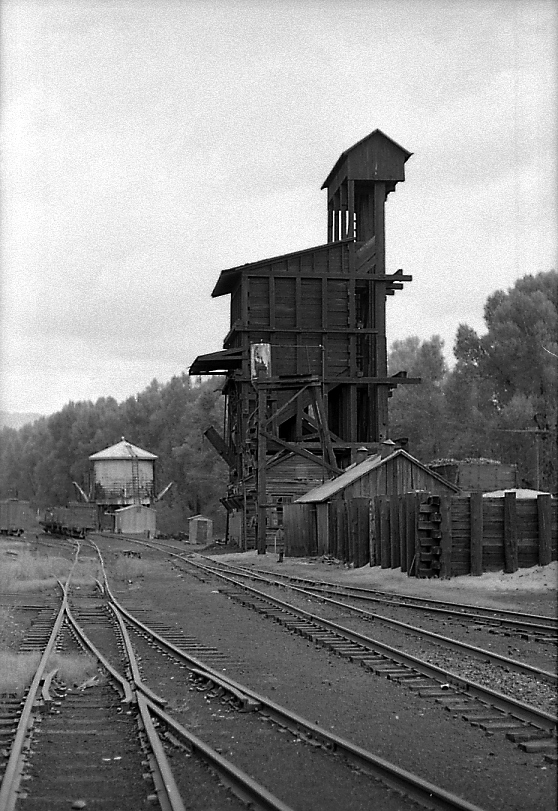 Chama water, coal and sand facilities.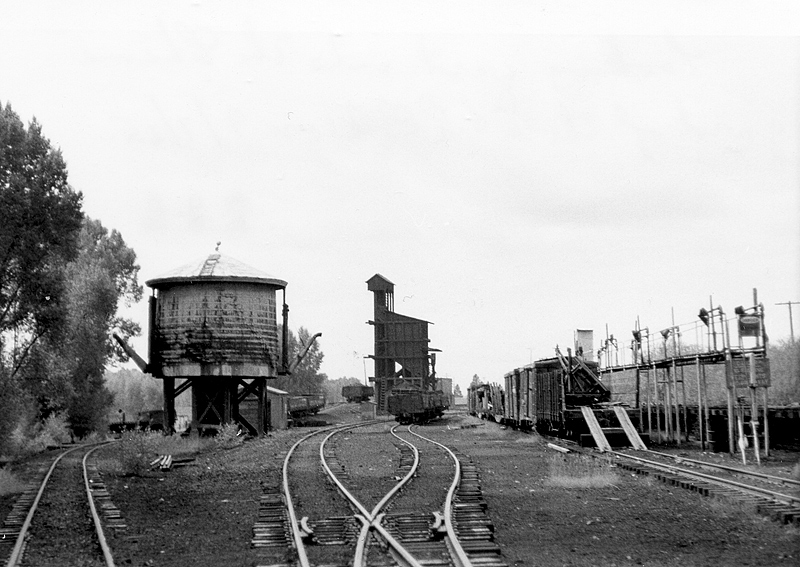 Looking westbound from near the yard throat.
While I was walking all over the yard, taking photographs, an employee approached me. At first I was concerned that I was about to be evicted, but he was quite friendly. It was clearly a lonely job being master mechanic in Chama with little to do. I asked if the rotary was usable. He replied that he had officially reported it ready, as was expected by management, but it wasn't and no one really expected it to be.
Always aware of the urgency of pressing on, I took a few more pictures and continued on my way to Durango.
Durango, Colorado, Tuesday, September 7, 1965
I was delighted to see that things were much busier in Durango. The yard was full of freight cars, and there were several engines under steam. Some of these engines were freight locomotives. And, of course, the Silverton Train ran daily all summer.
Durango was also a railroad town. The railroad founded it while ignoring the older settlement of Animas City just across the river. The branch to Farmington, New Mexico left the main line not far out of town. A smelter was built to process ores from the Silverton area, and the Rio Grande Southern Railroad connected Durango with Rico, Telluride and the D&RG's own line at Ridgway completing what was once promoted by the passenger department as the narrow gauge loop. Both the smelter and the RGS were gone by the time I was there.
Once again I prowled the yard at will. Even though there were more employees in Durango, no one paid much attention to me. Things were much more open and accessible in those days. Much has changed in the years since the end of regular freight service. The yard was contracted after freight service ended. When the Silverton line was sold, fences went up, and access was only possible with an escort.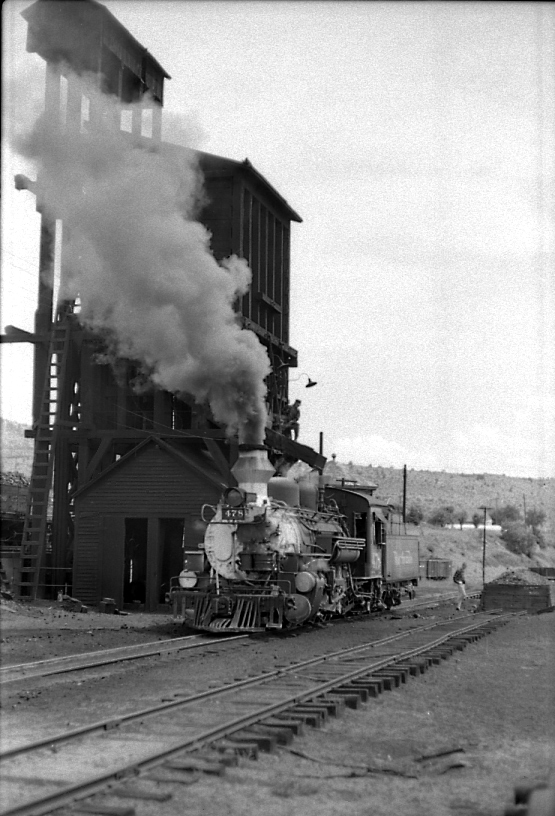 At Durango, I found 478 being coaled up.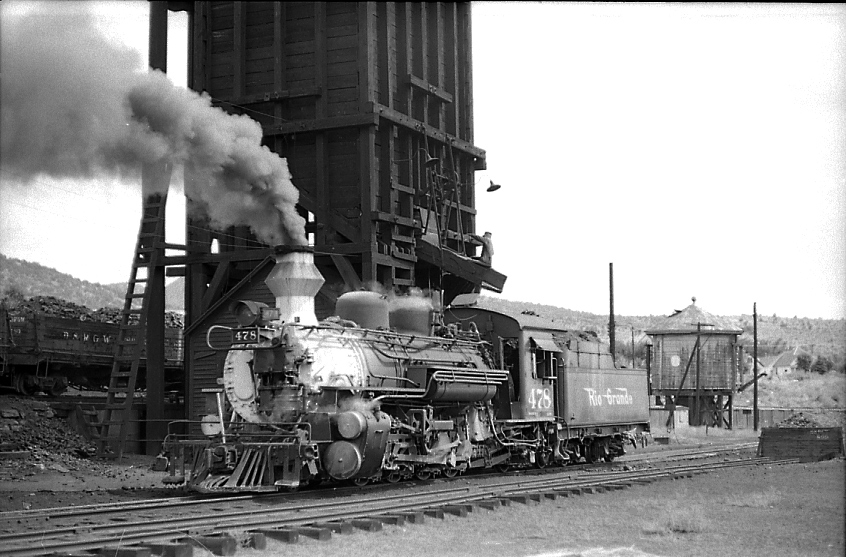 478 with a full tender of coal. In those days you could walk all around the property without being chased off.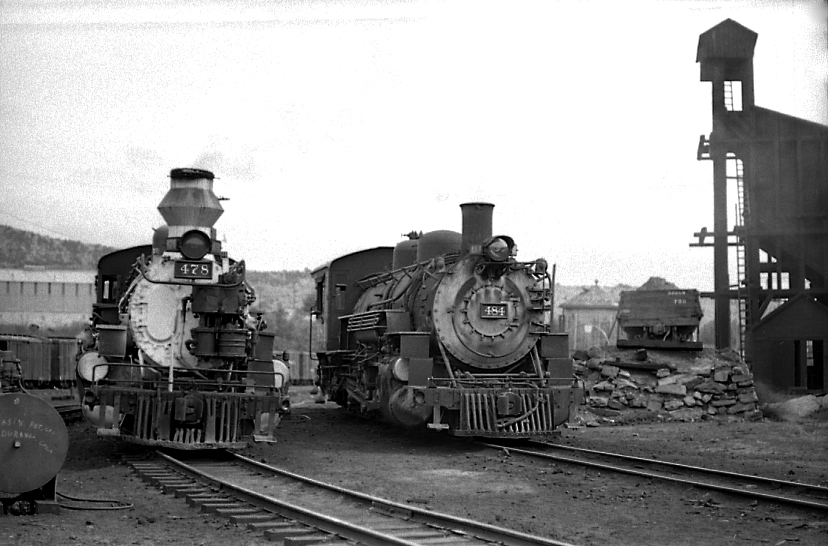 Apparently 484 had been out with a work train earlier that day.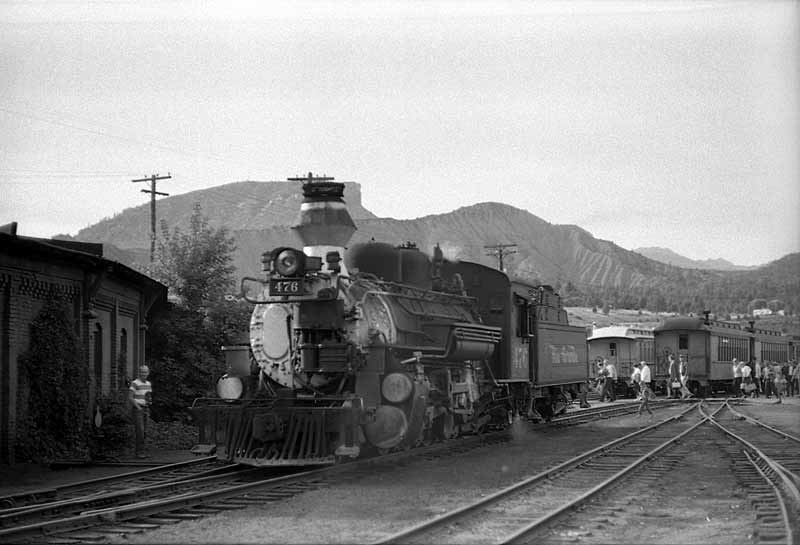 Engine 476 returned with the Silverton train.
Durango to Silverton, Colorado, Wednesday, September 8, 1965
Silverton was a real boom town when the D&RG reached it. In early days, the railway operated Pullman service as far as Silverton, but more recently the service had deteriorated to a less than a daily mixed train. Three other narrow gauge lines once extended northward toward booming mining areas.
By the time of my visit, freight service had become virtually a thing of the past. What little freight remained had been diverted to Rio Grande Motorway. Passenger service was another matter. Newly mobile tourists had discovered the beauty of the Animas Canyon and the uniqueness and charm of the narrow gauge. Passenger business was booming to the point of stressing the resources of the D&RGW for engines and cars.
This was the day to relive my trip of 1956 aboard the Silverton Train. I was delighted to discover that it had lost none of its appeal after nine years although the crowds had surely grown. In addition to very conventional photo shots, I managed to capture two of the old wooden water tanks, decrepit but still serviceable in 1965. They were later replaced with retired tank car bodies.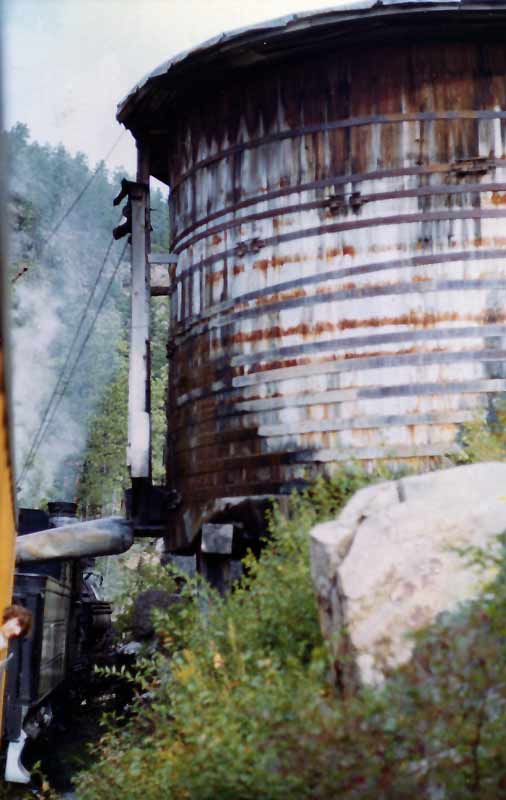 The water tank at Tank Creek. I was always fascinated by this tank -- too bad it is gone now.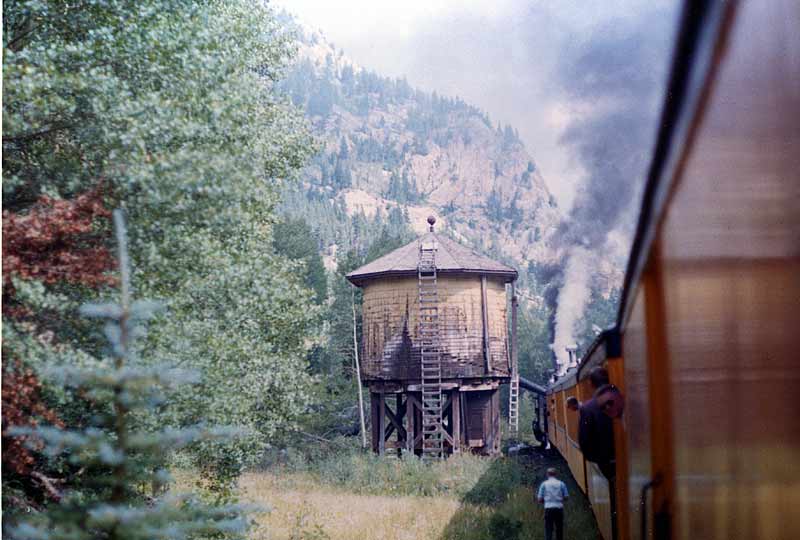 Needleton tank is still there, but is no longer used. Both these tanks have been replaced with tank car bodies.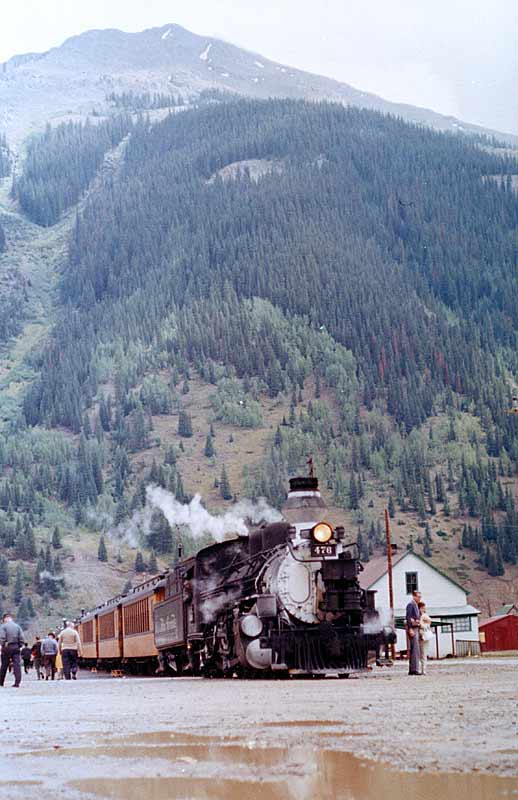 Engine 476 and ten cars, not quite downtown. Later the tracks were extended another block to Green Street, Silverton's main street. People have always liked to pose for pictures in front of the engine.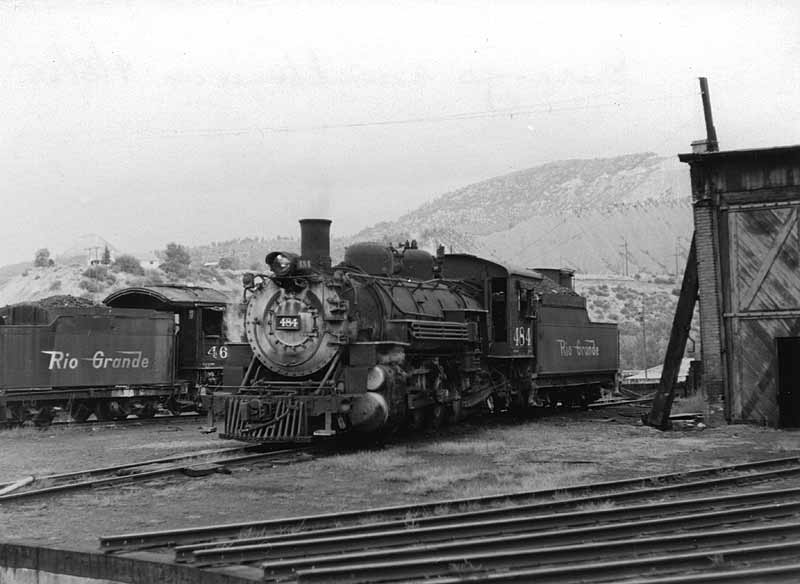 Back in Durango, the 484 was still hot and parked next to the roundhouse. That is derelict K-27 464 behind it. It looked so pathetic, I didn't even take a picture of it. It now operates on the Huckleberry Railroad in Michigan.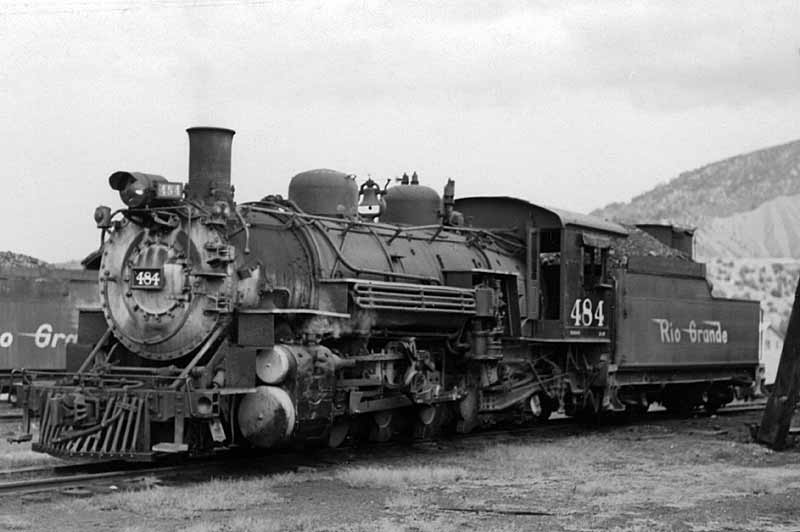 Engine 484 is currently operating on the Cumbres & Toltec Scenic Railroad.
Durango, Colorado, Thursday, September 9, 1965
My last day in Durango, I followed the Silverton Train to Rockwood, where the tacks diverge from the highway for the rest of the way to Silverton, then I returned to Durango in plenty of time to see the freight extra leave on its two day trip to Alamosa.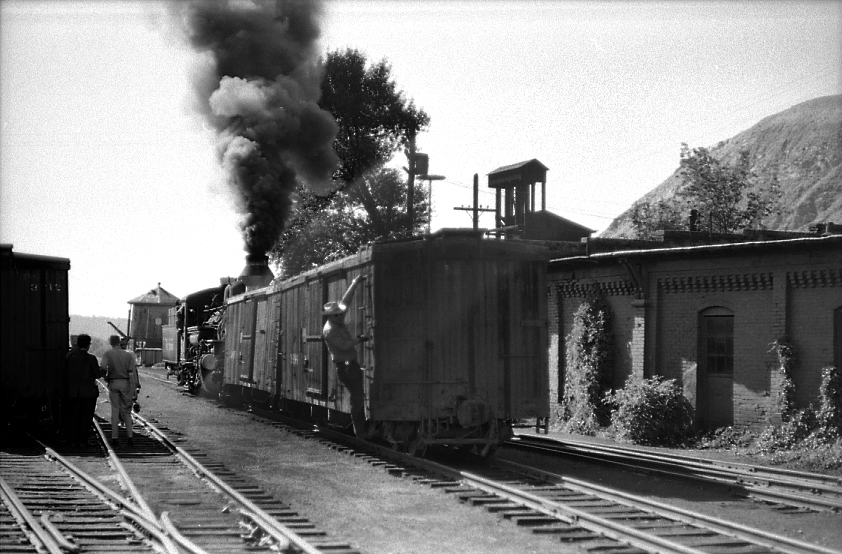 Making up an Alamosa bound freight. Note the fancy brickwork on the back wall of the roundhouse.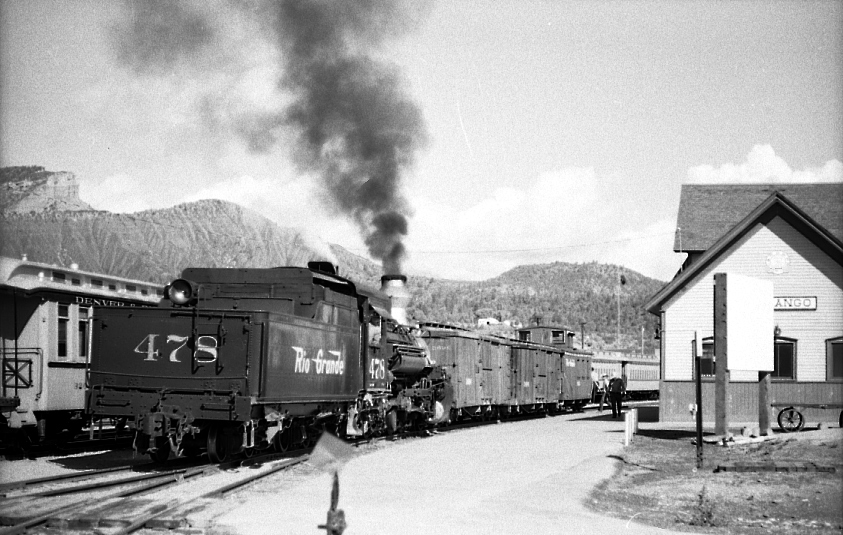 478 doing the switching.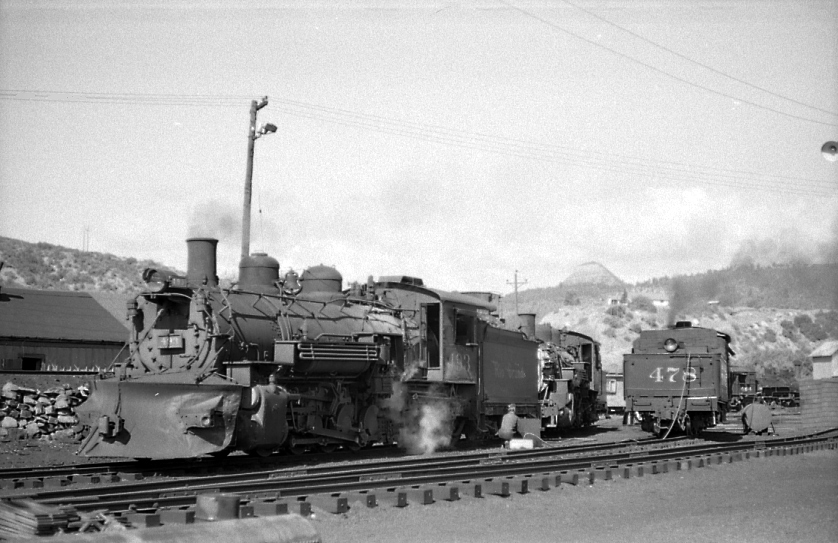 Engines for the freight are about ready.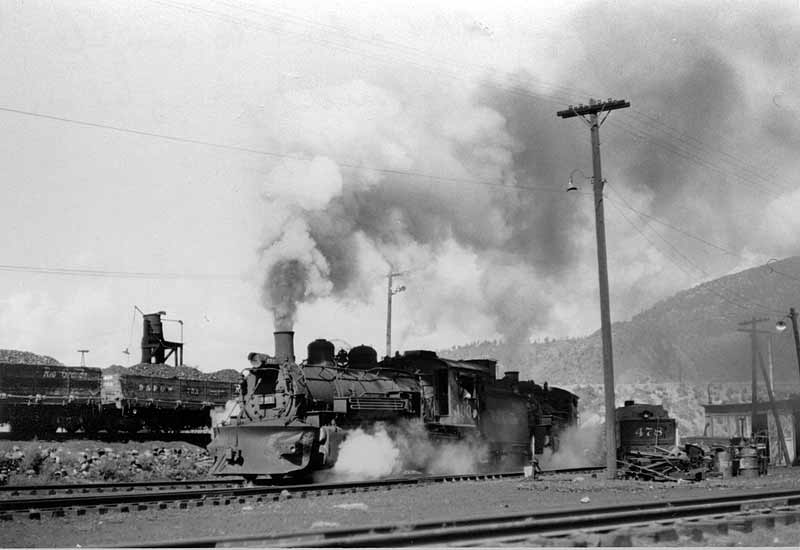 Finally moving.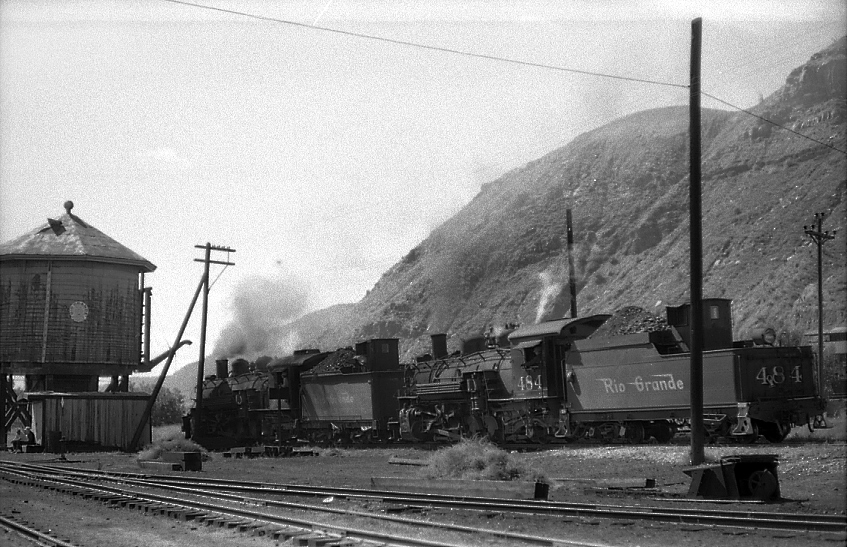 Off to the head of the train.
Thanks to Jimmy Blouch, Earl Knoob, Charlie McCandless on the Narrow Gauge Discussion Group, I now know quite a bit more about that train: Durango extra east with engines 493 and 484 departed Durango at 10:30 am with 8 loads and 26 empties. Engineer and fireman on the 493 were Holt and Rentfrow. On the 484, the crew was Headrick and Mayer. The conductor's name was Henry. The train arrived in Chama at 6:50 pm with 13 loads and 54 empties. There was a bit of business conducted along the way. I watched at Carbon Junction as some pipe cars and idler flats were added into the train. I continued to follow for several miles, but with only a 55mm lens, most of the time the train was out of range. Finally, I said goodbye at a remote grade crossing and resumed my California travel. I never again saw a real narrow gauge freight.
On the 10th, the eastbound extra continued on to Alamosa at 1:00 pm after first making a Cumbres turn. The engines stayed with the trains, but an engine crew that had arrived from Alamosa on the 9th with a westbound freight extra returned to Alamosa with them. The Durango crew returned home with the westbound extra using its engines, the 487 and 483.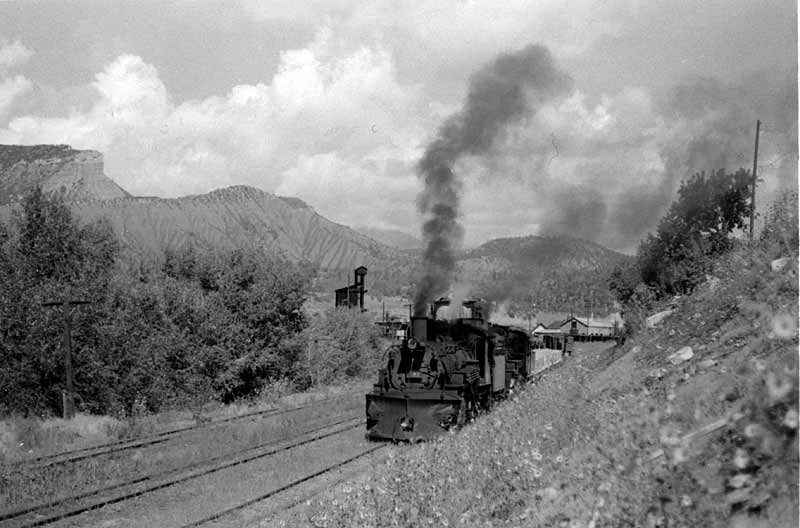 About ready to depart.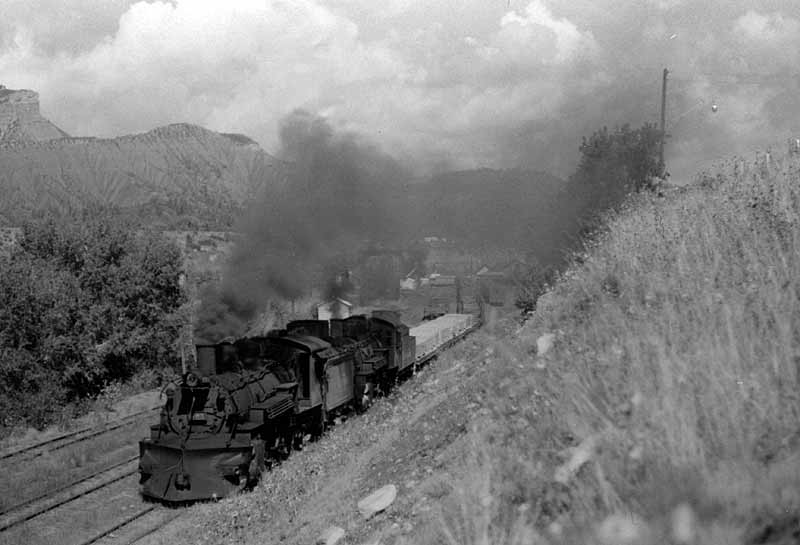 Pulling out of the Durango yard.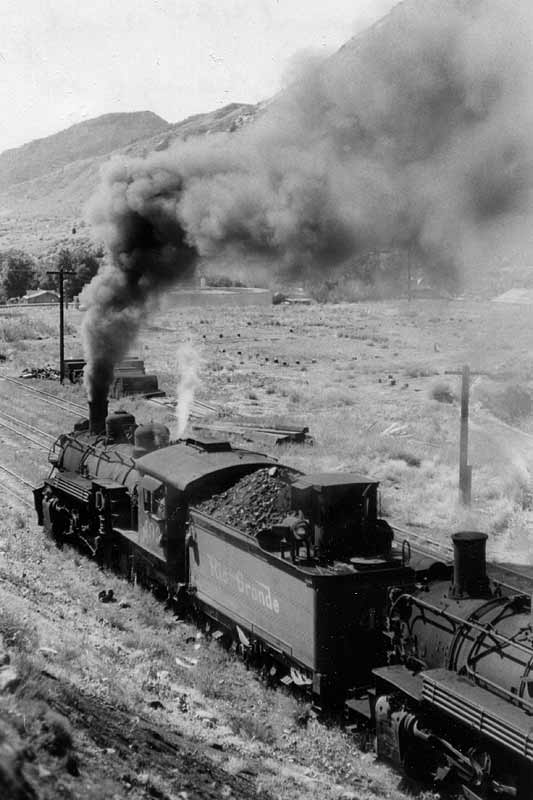 On her way to Alamosa.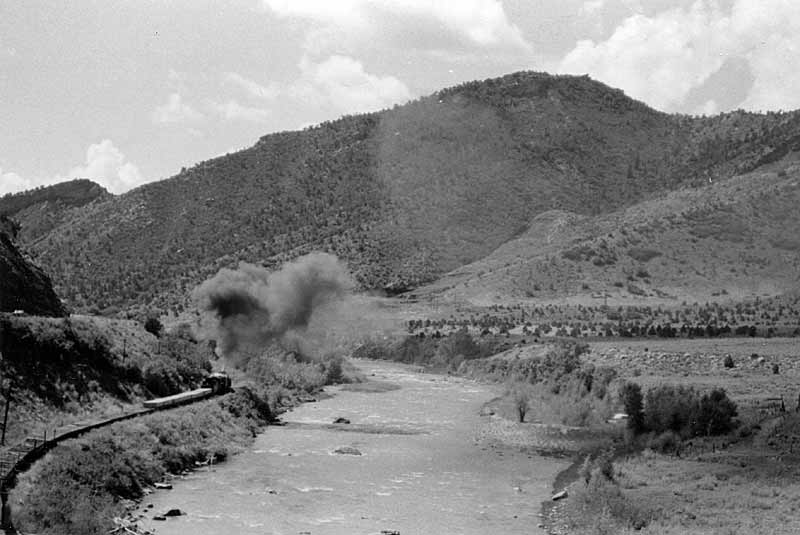 Finally, ready to go at the south end of Durango yard.
Following the river below highway 550. Several cars were loaded with lumber.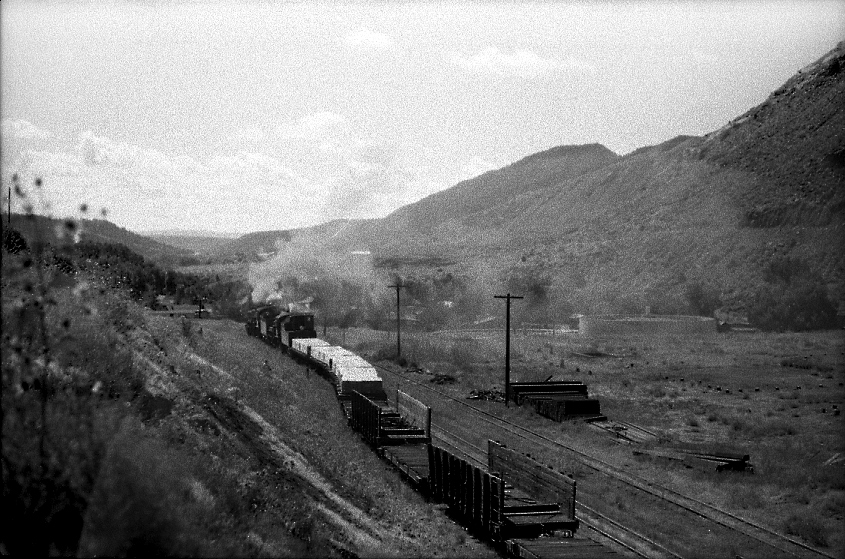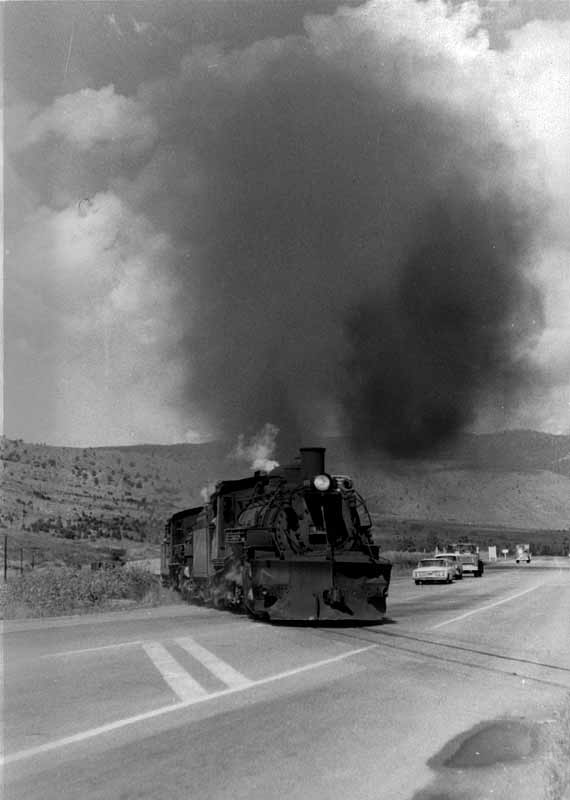 Crossing Highway US 550.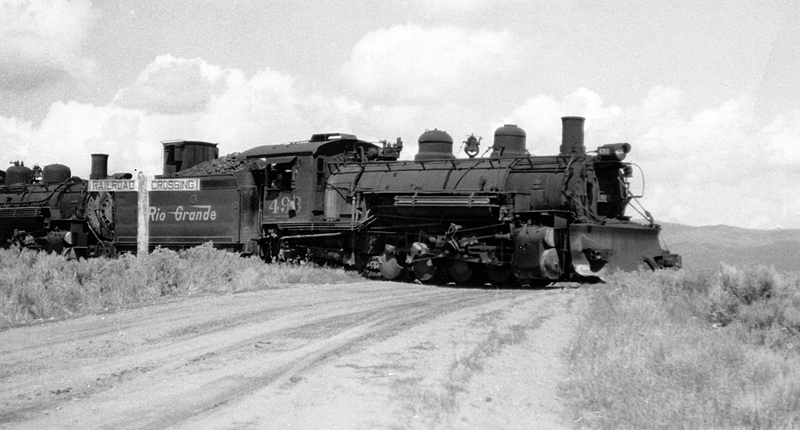 Note the crossing sign.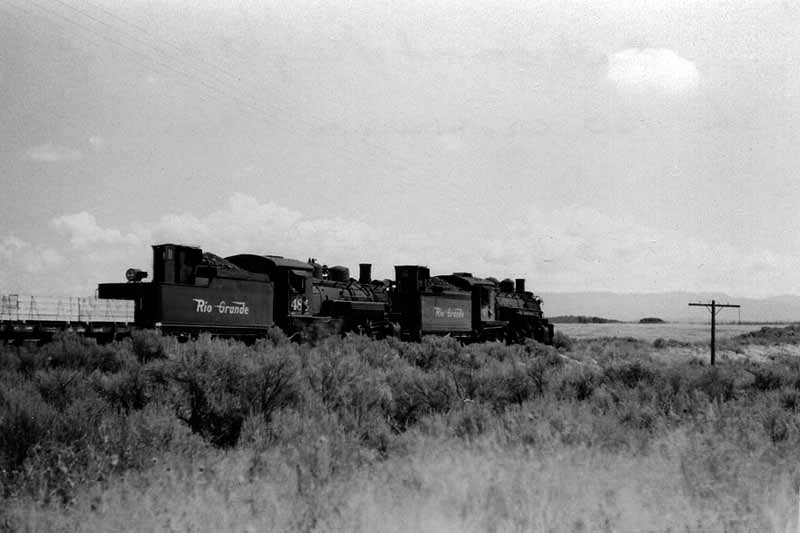 I said my good-bye there.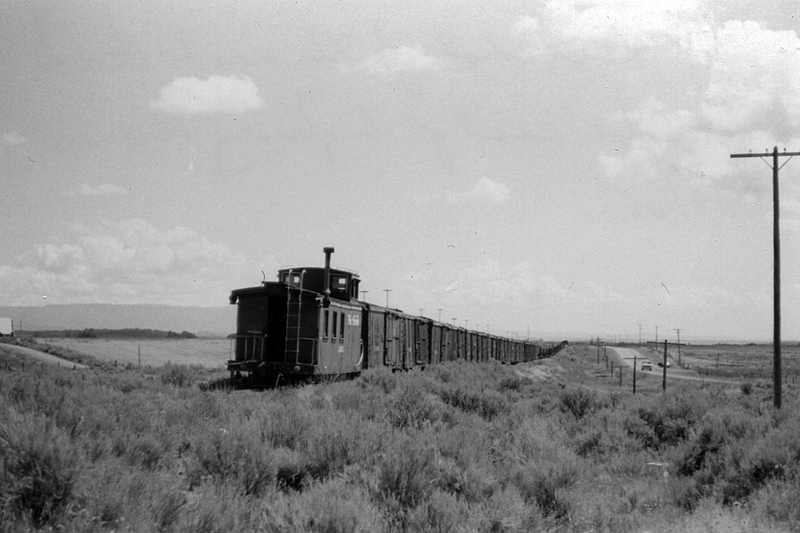 The end.
Excepting the Silverton branch, the last D&RGW narrow gauge train ran in December 1968. The line between Chama and Antonito was purchased jointly by the states of Colorado and New Mexico. They now operate as the Cumbres & Toltec Scenic Railroad. Rails were pulled up from Durango to Chama, and the Durango yard was condensed with a new turning loop. From Antonito to Alamosa the railroad, including yard trackage, had been dual gauge. The third (narrow gauge) rail was removed. The D&RGW continued to operate the Silverton line for several years, but finally sold it off in 1981. It now operates as the Durango & Silverton Narrow Gauge.
---
D&RGW narrow gauge in the twilight years,Part II -- One year later
Further information:
Durango & Silverton Narrow Gauge
Cumbres & Toltec Scenic Railroad