End of an Eastside tradition
A farewell trip on the dinner train
© Glen Brewer
---
Kirkland, Washington - The Spirit of Washington Dinner Train passes through here twice daily - four times on weekends. Even when I can't see it, I can hear it. But not for much longer: Scheduled highway construction on I-405 will force the end of service on the former Northern Pacific line - home to the dinner train for the last fifteen years. The right-of-way will be sold to the county and will most likely become yet another hike and bike trail on former railway property. Apparently recreation wins here over serious thoughts of transit improvement to the woefully clogged Eastside traffic arteries. The last dinner train is expected to run July 31, 2007.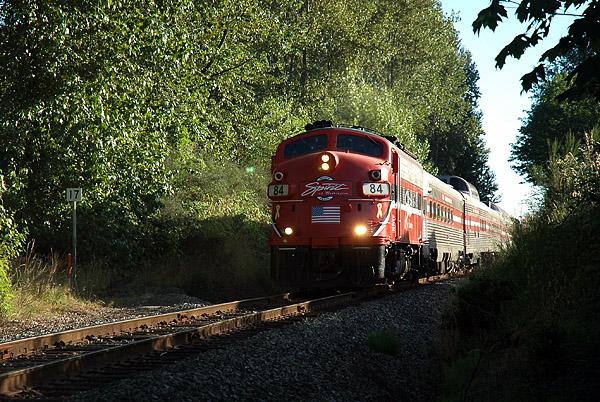 F9 Number 84 with noontime dinner train arriving in Kirkland.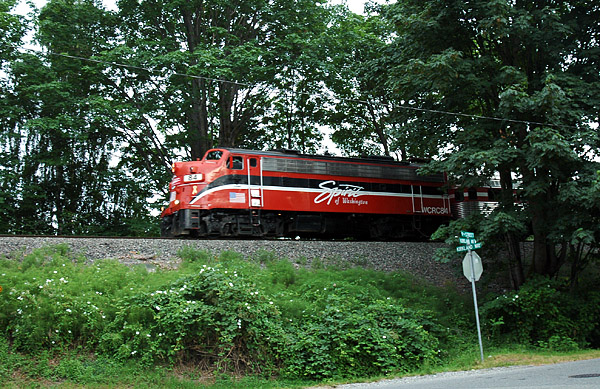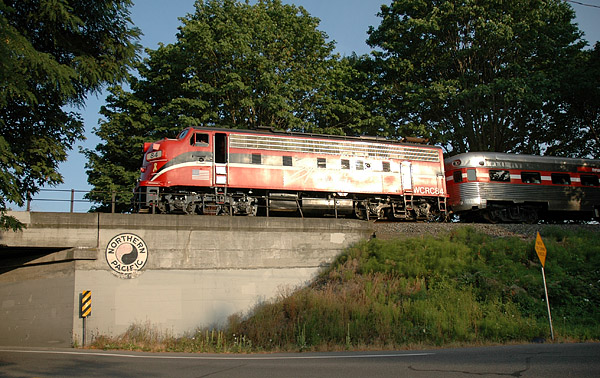 Showing both railroad and passenger train heritage, the faded bottom of the Northern Pacific logo on a Kirkland overpass proclaims, "Yellowstone Route".
I have always loved dining on a train. I had a very good introduction aboard the renowned restaurant cars of the Texas Chief, the California Zephyr and the City of Portland. During the waning days of great American passenger trains, shortly before Amtrak took over most of the remaining service in 1971, I rode Union Pacific's City of Portland.
At Green River, Wyoming, trains from Portland, Los Angeles and San Francisco were combined to make a single train of 23 cars behind five diesel-electric units. The combined train sported a dome dining car from Los Angeles. I walked through most of the train, past the conventional diner, to see what it was like eating under that dome.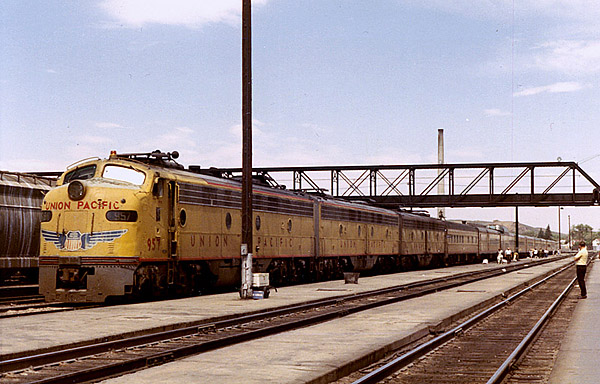 Green River, Wyoming -- waiting for connections from Los Angeles and San Francisco for a combined run.
As we cruised silently across Wyoming at about eighty miles-per-hour, diners could watch antelope at play, while easily conversing with table companions. White linen covered tables were elegantly set with silverware, china and glassware all marked with the railroad's name or initials, and, of course, a single flower in a vase by the window. I'm sorry to report: you can no longer eat like this while crossing Wyoming.
The Spirit of Washington train actually has three dome diners and several, more conventional, single-level, dining cars as well. The train is pulled by two 1950s vintage F9s - one at each end. So with memories from long ago floating through my head and with my family in tow, I boarded the dinner train in downtown Renton for a farewell trip.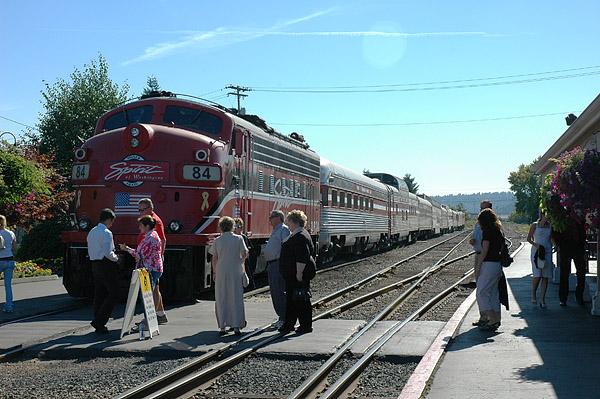 Boarding time in Renton.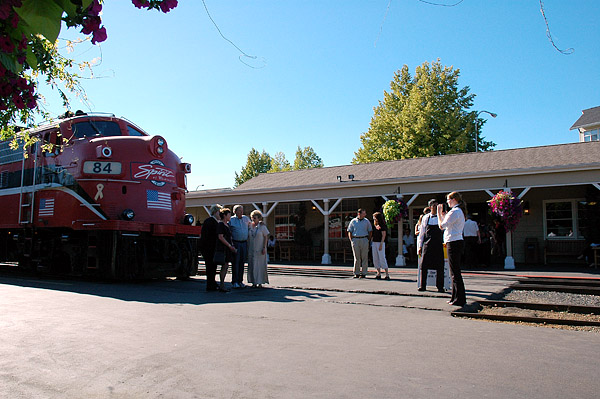 Just time for a picture before setting out on a journey.
It used to be traditional for the dining car steward to seat passengers and leave an unmarked check and a number 2 pencil at each place setting. Diners were expected to write out their orders on the check - a real challenge on rough track. There is no such formality aboard the Spirit of Washington. Jessica, our server, took our drink orders verbally; dinner had been selected when reservations were made.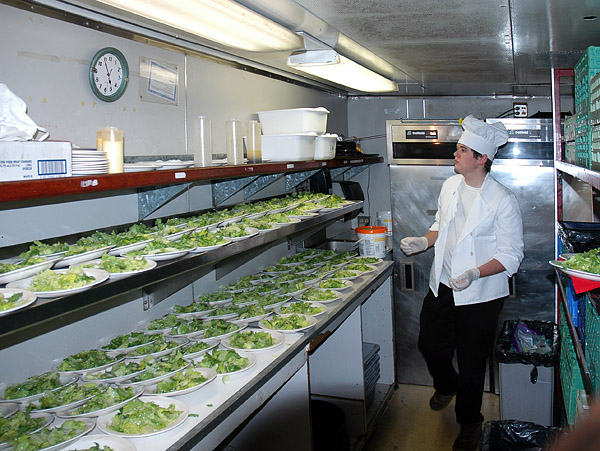 The salad chef prepaired for action.
As we were leaving Renton, she arrived up the steps to the dome bearing drinks. She would repeat this trip many times before our ride was over. I recalled that the Union Pacific had thoughtfully provided a dumbwaiter aboard their dining cars.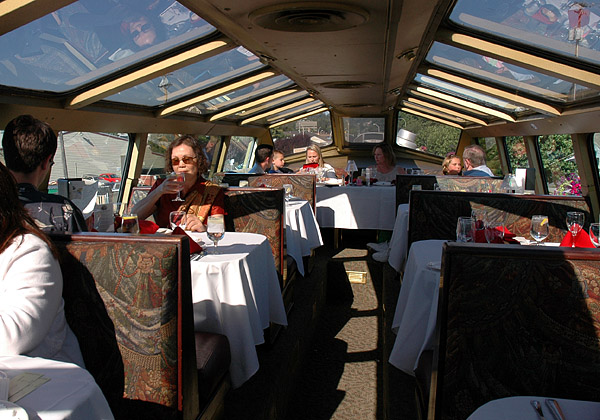 The view from the dome is nearly 360 degrees.
Jessica kept us informed about local attractions passing by the dome car's ample windows. Downtown Renton soon passed behind us as did Renton's huge factories. Here was where Boeing produced B-29 Superfortress bombers during World War II. Because of the war time airplane business, Renton's population boomed, and it has remained large ever since.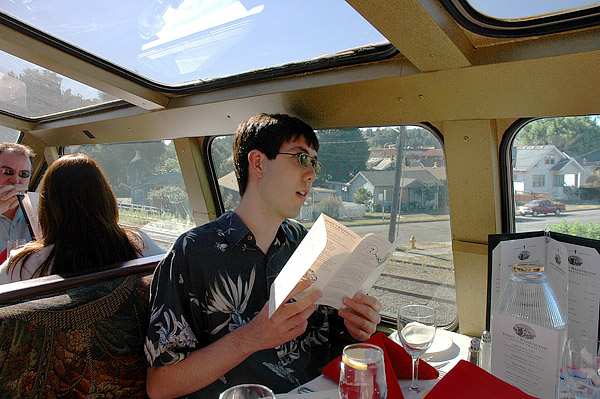 Son, Jason, studies the choices.
Beyond the industrial area, we traveled along the east shore of Lake Washington with only a few luxury waterfront homes separating us from the shore. This waterline changed in 1916 when the Lake Washington Ship Canal was built to connect the lake with Puget Sound. The freshwater lake was lowered by 8.8 feet greatly affecting the shoreline as well as the wetland flora and fauna. It was along here that a garden salad, garnished with almonds and grapefruit, was served. Mercer Island rose out of the boat filled waters to our left with only a hint of fog to emphasize distances.
The main course came as our train crept out onto the longest wooden railroad trestle in the Pacific Northwest, the 975 foot long Wilburton Trestle. Dinner for us was prime rib with mixed vegetables, mashed potatoes and a dish of apple-horseradish sauce.
High-rise buildings of downtown Bellevue came into view just north of the trestle. Situated as it is between the only two bridges crossing Lake Washington (both are floating bridges by the way), Bellevue has become the largest city on the Eastside.
Traveling ever northward, our meal was well underway as we passed under highway 520 and entered Kirkland. In the 1880s Peter Kirk built a steel mill here, but in the Panic of 1893, it failed without ever producing steel. The area did, however, successfully produce woolen goods for the Klondike gold rush and ships for World War II. Ferry boat service ran from Kirkland's downtown dock to Seattle until 1950.
Although the railroad's route is never far from Eastside's burgeoning housing developments, there is occasionally a feeling of traveling through remote woodlands. Along much of the right-of-way a variety of tall trees and huge blackberry thickets line the track.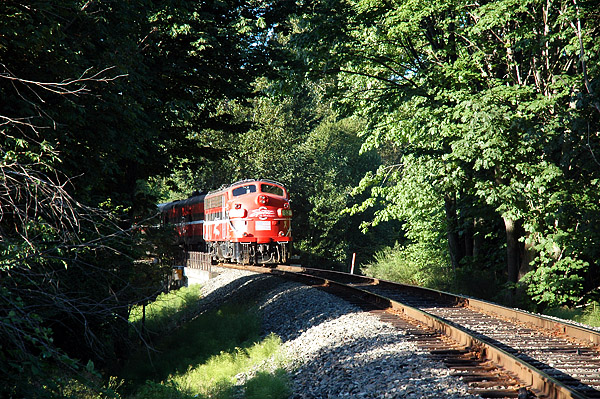 It is often easy to imagine that the train is in a remote forest although suburban houses are always nearby.
Woodinville and the end of our journey north came as the dinner dishes had been cleared. The first industry here was lumber, but soon land was cleared and the rich Sammamish Valley soil attracted people who established dairy farms and truck gardens to serve the growing Seattle markets. More recently, the town has become the center of Washington's wine country, boasting a large number of wineries. Most of the grapes, however, are grown east of the Cascades where sunny days and cool nights are more conductive to their growth.
Our train stopped right beside one of the major wineries: the Columbia Winery. In 1962 Columbia was founded by ten friends in a Seattle garage. Since 1988 it has operated here in Woodinville. Over 300 passengers climbed off the train for a short lecture, tour and maybe a taste.
As soon as we were back aboard the train, coffee was served and we started back to Renton. But, of course, there was more to come: dessert. Generous portions of either "Chocolate Paradiso" or "Washington Apple Crisp" completed the meal. We slowly headed south with thoughts of days gone by, when a traveler could ride a train like this from coast to coast, dining in luxury, as the countryside rolled past.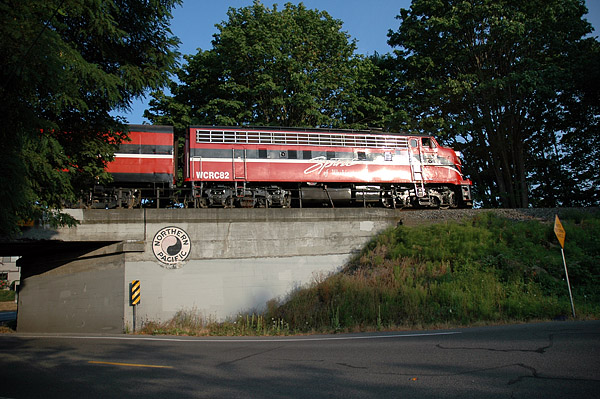 The dinner train runs on a former Northern Pacific line as shown by the ancient NP herald on this overpass in Kirkland.
This train wasn't as exciting as my trip aboard the City of Portland, but I thoroughly enjoyed it. It was for me a time for recollection, but for many aboard it was a first trip ever on the rails or at least a first time to dine aboard a train. Either way, the romance of the rails remains compelling, and the food is good too.
More information
A round trip on the dinner train takes about 3 1/4 hours. Trains run daily starting in June with Mondays off the remainder of the year. Lunch trains operate only on weekends. There are murder mystery trains and other special trains operated less frequently. Several menu choices are available for dinner or lunch.
Board the dinner train at the depot in Renton, Washington -- 12 miles from downtown Seattle.
Visit the web site: Spirit of Washington Dinner Train