Remembering the Chicago Great Western
Big 2-10-4s in the flatlands
Story and Photo © Glen Brewer
My parent's house in Chicago's west suburban Villa Park had, when I was a boy, a very fine view of the Chicago Great Western tracks. From the paired dinning room windows, I could see across four vacant lots and a street, Great Western Boulevard, to the right-of-way where long freight trains ran. All during World War II there were trains loaded with army goods: I remember seeing big guns, tanks, half-tracks and jeeps.
Rail traffic, freight and passenger, reached unprecedented levels during the war years. There were massive movements of military goods and personnel, and because of gas and tire rationing, much traffic, previously lost to the highways, returned to the rails. Demand on railroad personnel and equipment were tremendous.
I was still quite young when the war ended, but business on the CGW continued at a high rate. I remember solid trains of refrigerator cars, yellow ones marked Armor and red ones marked Swift. There were also trains of black tank cars. The CGW carried truck trailers on flat cars. They were an innovator in this service.
And I remember the hobos (we called them bums) still riding the freights long after the depression had yielded to wartime bustle and then peacetime's relative calm. Mother occasionally would make a sandwich for a down on his luck 'bo who came knocking at the back door.
The Great Western's, philosophy, at least dating to the 1930s, was to run long trains, less frequently, than most railroads, and accordingly they bought thirty-six large 2-10-4 type locomotives in 1930 and 1931 from Baldwin and Lima. These engines were huge by prairie standards. Extra heavy rail was installed for the new engines and heavier trains. For train crews and shop workers this was not good news: fewer trains and fewer engines meant significant layoffs.
These big engines, separated into three classes, had 63 inch drivers and tractive effort ranging from 84,600 pounds to 97,900 pounds. When new, the big Texas types were not well counter-balanced. My parents remembered that, when new, they really shook the neighborhood.
More than once, I remember how upset my mother would be when a train passed by right after she had hung the laundry out to dry (and when the wind was just right). She would take it all down and do it over again.
There was a very aggressive and territorial neighborhood dog who, unsatisfied with chasing mere bicycles and cars, picked on steam trains - yapping and snapping at the wheels of the big engines. One day, just as the dull witted dog began his chase, the fireman opened the boiler blow-down valve emitting a sudden and impressive cloud of steam. That dog was never seen trackside again.
At the corner of our block, beneath the railroad embankment, was a swamp. In winter, neighborhood children used to ice skate there, and, I remember, sledding and tobogganing down from the tracks to the frozen swamp. Our toboggan was about half the length of our hill, but it was the best hill we could find.
Shortly after the war, the Great Western quickly dieselized. They were the first railroad of my acquaintance to do so. Typically using six F units, trains became even longer: frequently well over 100 cars. Soon I started seeing the big steam engines, scattered mid-train behind the diesels, being hauled dead to the scrap yards of Chicago. This was about 1948 or 1949 when I would have been six or seven. I never got over the sense of loss I felt; I have been a devoted steam fan ever since.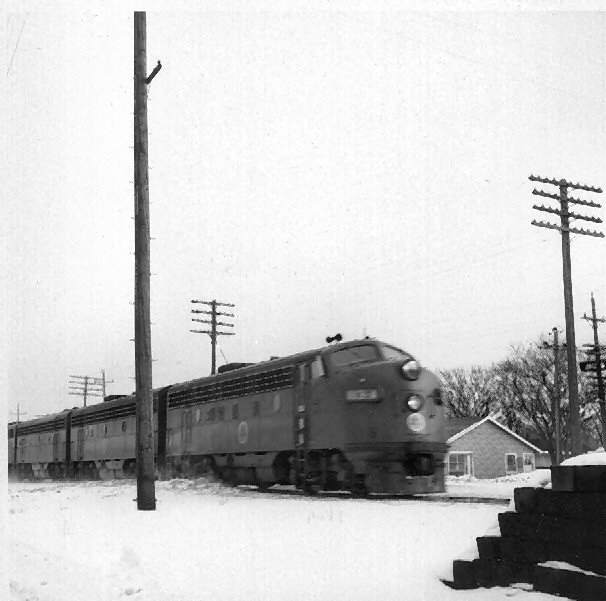 The only CGW picture I ever took.
One day, a train with several dead steamers stopped in plain view of our house. I was quite young, scared and fearful that the train would start, but the opportunity was compelling. My first time in an engine cab was a clandestine visit, with a childhood friend, to one of the condemned Texas types. The cab was deserted, and I dared stay but for a minute.
St. Paul railroad promoter, Alphens Beedle Stickney, built or pieced together what was to become the Chicago Great Western. Starting from St. Paul in 1883, the Minnesota and Northwestern line was completed to Chicago in 1887. Renamed the Chicago, St. Paul & Kansas City it reached Kansas City, Kansas in 1891. The final goal of Omaha was attained in 1903. Eventually renamed the Chicago Great Western, the little granger road evolved into a 1470 mile railroad connecting St. Paul, Chicago, Omaha and Kansas City with four lines radiating out of Oelwein, Iowa.
The first through passenger train to pass by Villa Park was in July of 1887, but the town itself did not exist. It grew up later as a suburb of Chicago featuring convenient commuter service offered by two other railroads (Chicago & North Western and Chicago Aurora & Elgin). The little CGW station at milepost 18.5 was not built until 1926 although the first spur line was built in Villa Park around 1910 for cars of building materials for the developing village. Wander Company's large Ovaltine factory was built in 1917; it was the railroad's best local customer.
The railway built spur lines to serve not only the Ovaltine factory, but also a coal yard and a lumberyard. The new depot never was used much for passengers, it didn't even have a waiting room, but it was a designated flag stop at least for some trains. US Mail was picked up and delivered and there was a fair express business.
Joe Anderson was the long-time station agent. By the time I knew him, it must have been a lonely job. The passenger trains were gone, the mail was delivered by truck and people didn't use coal much anymore.
I remember the care Mr. Anderson took of his pocket watch. A railroad man's watch was a precision tool, a requirement for employment and a big investment. His watch, I think it was a Hamilton 992, was carried to work in a special pouch and, upon arrival, hooked on a nail above his disk where it stayed until he went home.
Inside the station I remember a telegraph switchboard above the bay window but the instruments were gone. There was a desk piled with paperwork. A single light bulb hung from a wire in the bay window -- above the telegraph desk: it was dark and gloomy inside. On the bay window desk was the dispatcher's telephone extending out on its extension bracket with a headphone substituted for the earpiece.
Chuck Finch once worked as a relief operator in Villa Park. He remembers when there were four passenger trains a day: "The passenger train going east (No. 2) got there about 8-9 in the morning and No 1 westbound went through there about seven or eight o'clock at night. No 3 about midnight westbound. No 4 east about five of six o'clock in the evening. No 2 was the only one that came when the agent was on duty. The other trains just left the express in the freight room." Numbers 3 and 4 were gas-electrics. The last of the passenger service was discontinued in 1956.
In 1968, the railroad was taken over by the Chicago & North Western, and not long after, most of the rails were removed. The final blow to the memory of the little line came when the Village of Villa Park renamed Great Western Boulevard to Wildwood Avenue. I wondered, were the city fathers trying to forget the significance of the CGW to Villa Park's history?
The one time maroon and yellow station still stands. Still near the post office it served so faithfully, but the tracks and the trains are but a fading memory.
---
Acknowledgements
Chuck Finch
Dave Fiore Sr.