Villa Park, my home town
Growing up in the Chicago suburbs during and after WWII
© Glen Brewer
I grew up in the little, yellow brick, bungalow styled house at 31 South Illinois Avenue in Villa Park. The little house is still there, but much has changed in the neighborhood since then. When I was a boy, there were but two houses on the east side of our block and five across the street. But my parents remembered when Villa Park was really young.
My Parents
My parents, Leon David Brewer (1903 - 1994) and Gladys Ethel (Bocock) Brewer (1905 - 1974), were both farm children from Champaign County, Illinois. After leaving the farms, both lived with their parents in the small town of Philo, fifteen miles south of Urbana, where they met. They were married on the morning of August 7, 1927 at Mother's parent's house in Philo.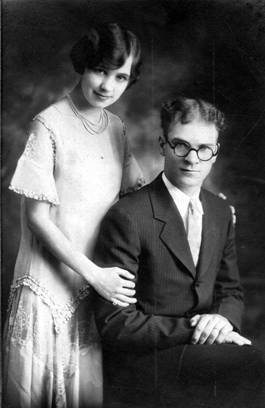 Following a brief, early morning wedding ceremony in Mother's parent's home in Philo, Mother and Dad took off on a car trip into Michigan.
Grandfather Brewer wanted my father to go into agriculture and offered to pay his way through college if he studied that subject. Father was not interested; he got a scholarship and went on his own. He graduated from the University of Illinois where he studied electrical engineering.
Fresh out of college, he took a job with Illinois Bell Telephone Company. His offer letter, dated March 16, 1925, offers him a job starting at $117 per month. His first assignment was touring around Illinois in a Model T Ford truck, with an assistant, "Shorty", checking out long distance lines for defects. Dad got to know the Illinois geography and the old downtown hotels quite well. Sometimes, after they were married, Mother rode along with the two of them.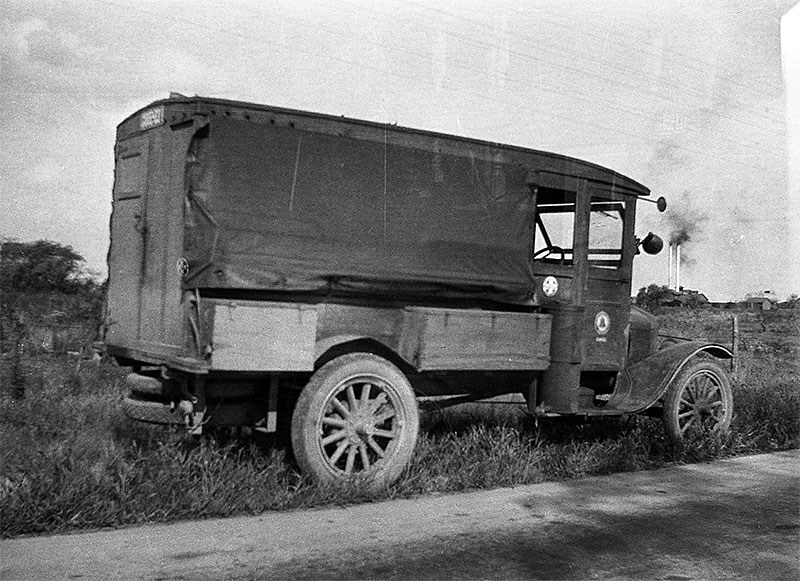 When Father was transferred to the Chicago office, my parents rented an apartment in Chicago for a very short time. They soon found an opportunity to stay in a house in Glen Ellyn while the owners were away for an extended period. Finally they bought their own house in Villa Park.
The house and the neighborhood
Mother and Dad bought our little two bedroom, one bath, house in early 1929. It was only about a year or year and a half old when they moved in, and Villa Park was a relatively new and sparsely populated village growing up along the tracks of the Chicago Aurora & Elgin. In fact, the main CA&E station at Villa Avenue was only completed later the same year.
They must have moved in around the time of Chicago's infamous St. Valentine's Day Massacre; I am sure they were both very glad they were no longer living in the big city.
However, the timing of their purchase was not very good. The stock market, of course, crashed in October 1929, and my sister, Shirley, was born November 29, 1930. The nation began to slide into a depression. Dad was uncertain about continuing to have a job: he was the junior man on the Illinois Bell Telephone Company's engineering staff (and continued to be for years). Things didn't look good as the Depression deepened. But the company was good to him, and while hours were cut back, nobody in the department was laid off. They were also very fortunate that the Villa Park Trust & Savings Bank where they banked was one of a relative few that ever reopened following FDR's "Bank Holiday" of early 1933.
During much of the Depression, there were vacant houses throughout Villa Park with bank owned signs on them. They had been foreclosed, and a few thrifty people were able to buy them at considerably reduced prices.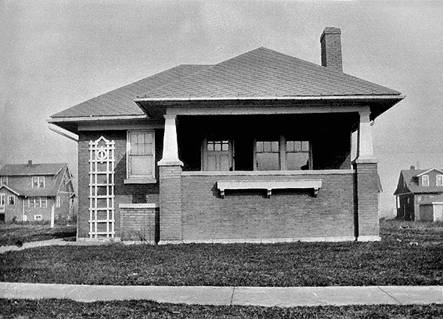 When my parents bought the house, it stood with only one other on the east side of our block of Illinois Avenue. Landscaping and trees were nonexistent. A few years later, my friends Jimmy Osborne and his sister Nancy lived with their parents and grandparents, the Taylors, in the house on the right (facing Charles Avenue). The Skarrys lived in the house shown on the left.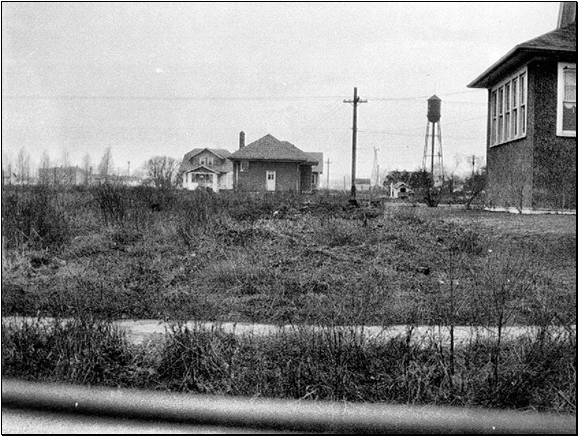 The photograph above, taken through the car window from Charles Avenue, the next street to the east, shows the back door of our house at 31 South Illinois. The area was little built up at the time. That is the Villa Park water tower visible in the distance and beneath it the Villa Park City Hall. At the left of the picture is an apartment house on Ardmore. The Joseph Koppel family later moved into the two-story house visible just to the left of ours and across the street.
There was only one other house on the east side of our street and four on the south side. The land was bare of about everything except prairie grass and weeds.
There was still a little bit of the farm boy left in my father. Dad landscaped our lot and four more all the way to Great Western Boulevard (now renamed Wildwood). He planted rows and groupings of Lombardy poplars and little groves of sycamore. Father made a careful combination of quick growing softwoods and longer growing hardwoods. Hedges, maples and oaks were planted on our own lot and two apple trees and two pear trees in the back yard. Mother put flowers in a bed on the lot immediately to the south of the house - outside our dining room windows. The parkways were lined with elms. I believe the city required that only elms be used and made saplings available free. The elms when grown made a wonderful canopy over the streets, but of course, they were all doomed when the Dutch elm disease arrived in Villa Park years later.
On the lot to the north, someone had dug a hole for a foundation, planted trees and then abandoned the effort - no doubt because of the Depression. By the time I remember it, the hole had eroded to merely a grassed over low spot which sported a giant cottonwood tree. Sometimes, usually in winter, this low spot would become a pond. In the back of the lot were a plum tree, a chokecherry tree, a mulberry tree and a sour cherry tree -- always popular with us kids in season.
It was many years, first Depression years and then war years, before houses were built on the vacant lots. Father regularly mowed all six lots every summer. He had an early gasoline, self-propelled, reel type mower with typical modifications: an improved muffler made from a large tomato can to make it quieter and a bigger rear roller.
Behind the garage, there was a big stock tank bought for Shirley to use as a summer swimming pool on hot summer days. I, of course, inherited it from her.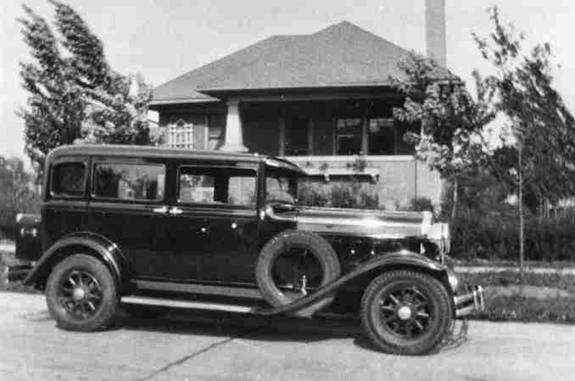 My parent's 1930 Hudson (shown here in front of our house on a very windy day) was pretty good to them. They probably drove it many times to Philo and back; Mother, Dad, Shirley and Grandpa Bocock, who was a recent widower, all went to Yellowstone and Colorado in it for a big family vacation (ca. mid 1930s). Dad took home movies on the trip. He and a man from his office went into partnership to buy and share a movie camera and a projector (this was Depression time, of course).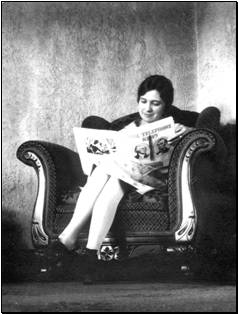 Mother was seated in a really nice chair reading the Bell Telephone News shortly after they moved into the only home they ever owned.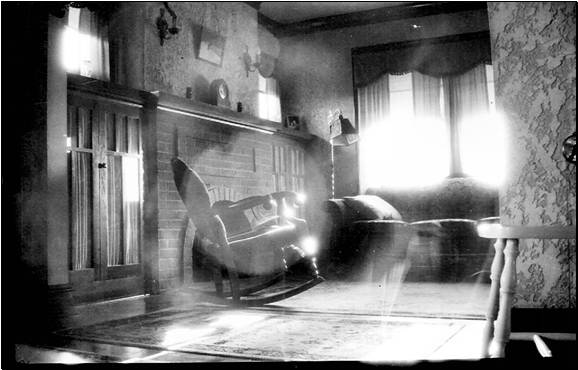 Above is the interior of the living room shortly after my parents moved in. You can see the unusual wall texturing in the foreground. Originally, the walls were unpainted and there was a slightly varying color mixed into the plaster. My father eventually painted the walls and calamined the ceilings many times. At least once, I talked him into using two colors on the walls. Dad got to be quite good at patching cracks so that the repair did not show after painting. He also removed the sconce lights above the fireplace and changed all the overhead fixtures. He added considerably to the electrical circuits - originally only one outlet was provided in each room.
At first my parents had a little bare bones, two burner gas stove (later moved to the basement), and they used an icebox. Grandfather Bocock and Father added cabinets to the kitchen, enclosed the front porch and built a garage.
Goings on in the Basement
When I was little, the house was heated with coal. We had a large coal bin in the basement. I believe it could store enough coal for an entire winter's needs, and it was filled from a truck using a conveyor belt through the window. The furnace was typically huge and located in pretty much the center of the basement with large, round ducts radiating in all directions. On cold winter days, Father would set the alarm for half an hour before he wanted to get up. When it rang, he would put on his old, navy blue robe and go down to the cellar to build up the fire, then he would go back to bed until it was time to get up. We did have a thermostat which operated an electric blower as needed. Mother never touched the furnace, so what heat we had during the day was from the smoldering, banked fire until Dad got home at night.
There was an obvious patch in the concrete of the basement floor. It seems that sometime before I was born, Mother managed to flush her diamond engagement ring down the toilet. She called Dad at work; he came home and dug up the floor until he found it.
My father was a professional engineer, a good "do it yourselfer", and an inveterate tinkerer. He normally had some project going on down in his basement workshop. Some of them related to his work, others not.
He had a nice home-made work bench, two old tables set up with a table saw, sander, drill press, grinding wheel and an inexpensive metal lathe bought at Montgomery Ward. He used the latter to build two small steam engines from purchased castings. All the tools were powered by salvaged washing machine motors. There was a big wooden rack for electronic stuff and the little two burner gas stove he used for heavy duty soldering and heating hide glue.
As far back as I can remember there was always some sort of whole house fan. In my earliest memories this was an old washing machine motor with attached home-built fan blades mounted on a platform in the north-east basement window. At one point it was fitted with some sort of home-made evaporative cooling. (He must have reversed the direction of air flow). Later a huge fan was mounted on the floor blowing out through the former coal bin (north-west window). This one was fitted with a switch in the hall above and was even used in cooler weather.
About the end of the war, Dad built a wire recorder. Later he purchased a "deck" (the spooling and head assembly) and replaced the one he had made himself but kept the home-made cabinet and electronics (old tube radio parts). He used to record Arthur Fiedler's Boston Pops and the Saturday night Operetta from the radio. Of course, wire recording technology was soon superseded by tape recorders. We also had a very early FM tuner. Dad had attended a presentation by Edwin Armstrong, creator of FM.
He worked on equipment for IBT's first automated, telephone time service down there. I remember an electric motor and some sort of indexing device for counting off the seconds from commercial electric power cycles.
After he became involved in one of the first mobile telephone systems, the first for Chicago, I remember he and another engineer working in the basement to make a purchased transmitter (maybe it was a receiver) work. As it came from the manufacturer, it was defective. These were tube transmitters and receivers and they were huge, heavy and used plenty of battery power.
He built a photographic enlarger in the basement from an old Kodak folding camera. It had a very nice crank operated indexing mechanism for adjusting focus depending on the distance set from the enlarger head to the paper table. All this was mounted on an iron water pipe reaching from floor to ceiling.
Other projects included a very sensitive balance (not elegant, but it worked well) and numerous little windmills for outside display.
In later years, Dad had long term insomnia and ever worsening hearing loss - especially the higher frequencies. Once, after Mother died, my family of three was visiting, and Dad asked us if we could stop off at Kohler's Trading Post, the huge salvage yard near Lombard, to get him some oak wood (an old table top). He wanted to devise something to let him, single handedly, put the heavy window air conditioner in the living room window from the front porch and remove it. Very early the next morning, maybe three am, we were all awakened by the sound of ripping oak coming from the basement. Dad never thought about the electric table saw bothering anyone. His contraption did work. It allowed him to single handedly lever the heavy machine up and down into and out of the window and onto the scaffold like device to be pushed out of the way.
First Generation Engineer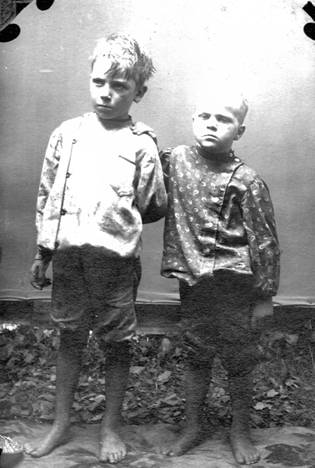 My father was greatly influenced to go into electrical engineering by his slightly older cousin, Harold Hazen (1901 - 1980). Harold went on to be Dean of Engineering and Dean of Men at MIT. The picture of the two of them is on a penny post card, dated July 1908, with the message, "Do you know these rowdies?" According to my mother, Dad might have gone to MIT like Harold, but his mother's last illness and his father's failing health probably influenced him to go to school locally.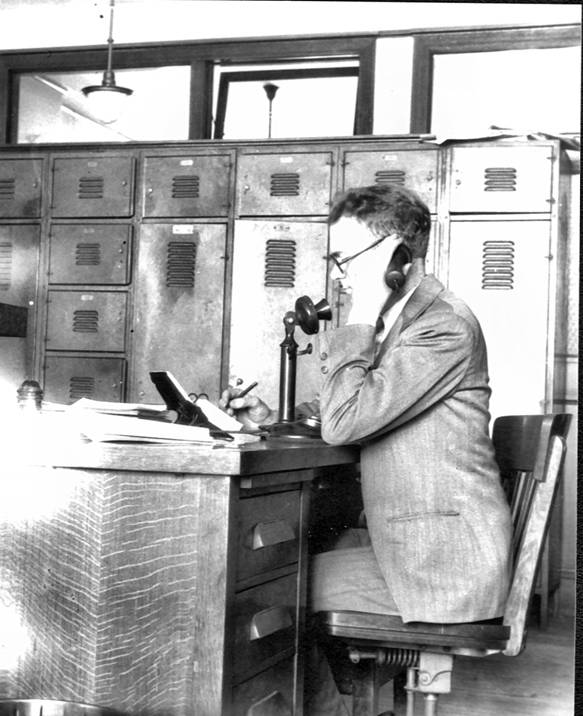 That is my Dad at work on the 23rd floor of the Morton Building at 208 West Washington Street in Chicago's Loop. Shortly after he started working there, he took his camera to work with him; I believe his boss, Mr. Plym, took the picture.
Dad continued to be a trouble shooter for "long lines" as they referred to the long distance lines. He had some part in the phone company's "Oscar" exhibit for the Chicago World's Fair of '33 - '34. As I understand it, this was an early demonstration of stereo sound. During the war, he was trained to maintain a telephone scrambler installed in a Chicago general's office. Apparently the thing filled a room. Later, he was involved in the first automated, telephone company provided time service for the Chicago area.
He was sent to New York on three or four occasions. The first time he rode the 20th Century Limited, but after that he rode the DC3s and DC7s of American Airlines using Midway Airport. He actually preferred the airplanes. He said that while the railroad employees were old, surly and rude, the airline personnel were all young, enthusiastic and friendly. (How things have changed).
Like most kids, I always wanted him to bring me something when he went on one of these trips. Since Dad didn't really approve of spending money on toys, he brought me tools. I remember getting long nose pliers, wire cutters, gas pliers and tin snips.
At least one trip was for Bell Lab training (probably for mobile telephone service). Another trip was during a major telephone operator's strike. He and other "supervisory personnel" worked as operators for a week or two. The operators may have thought they had won a major victory by the settlement, but the phone system was rapidly converted to dial service after the strike. Before dial, to call home locally, one simply picked up the phone, waited for the operator to come online, and said, "4638 please."
In October 1946 IBT announced mobile telephone service in the Chicago area. I'm not sure when Father actually became the supervising engineer for this service. It may have been after the unexpected death of his boss, but that was his job title until he retired in January 1964.
The early mobile service was a primitive thing. There were a very limited number of frequencies allotted by the Federal Communications Commission, and only one conversation could be done at a time per pair of frequencies. Two huge steel boxes were typically installed in the trunk of a car - an FM transmitter and a receiver. Each weighed about 40 pounds. These boxes each operated on a single channel (one frequency for talking and another for listening). There was a handset installed under the dash. It looked like a conventional telephone handset but with a push to talk button in the middle of the handle. A very long "whip" antenna was fitted.
A broadcast antenna was mounted on the roof of the Morton Building and several receiving antennas were erected around the service area. Electronic equipment was installed in what amounted to attic space above the office, and I remember being hauled up from a ladder by one arm into that space so that I could see it.
On occasion, Father would bring home the test vehicle when they were testing range ("I can hear you now"). It was a Ford woody station wagon fitted with multiple huge transmitters, receivers, handsets, loud speakers, batteries, long whip antennas, etc. and had the circular Bell Telephone Logo in gold leaf on the doors with the words, "Emergency Vehicle." They never had an emergency, but it did help a lot with parking downtown.
One Saturday, he took me along while they finished installation of a mobile telephone (ship-to-shore they called it) on one of the Lake Michigan cruise ships (either S.S. North America or S.S. South America) while the ship was in port for the day. I recall the jokes about not being able to finish in time and having to stay aboard after they sailed. I believe there was also a brief demonstration installation aboard the Twentieth Century Limited and on an airplane as well.
Father was never afraid of heights. He once told me that he climbed the mobile telephone antenna on the roof of the Morton Building - just for fun of it.
He retired from Illinois Bell in January 1964 with 38 years of service.
Retirement and computers
My parents did a bit of traveling after retirement and spent several winters in warmer climates. They spent several months visiting me in various years in Houston, Los Angeles, Dallas and Austin.
Mother and Dad both researched their family genealogy. Unfortunately, Mother died before completing the Bocock one, so Dad finished it along with his Brewer genealogy. He also wrote a brief monograph of his grandfather, David Brewer.
Computers were still pretty new at the telephone company by the time he retired, and, of course, they were all huge mainframe machines. Only a few years later, I had my first Texas Instruments programmable calculator. My father really enjoyed it; he wrote programs to solve for PI and to chart missile trajectories. Later, he bought a home computer. It wasn't much by later standards, but he really enjoyed his little Commodore. He learned Basic for fun, did all his correspondence on it and wrote programs to keep track of his rather complicated finances. With each dividend, interest payment, farm expense or sale, he would update his data so that at the end of the year, it would be easy to do the taxes. He took the Commodore with him to the retirement home, and someone had scheduled a TV feature to be taped about the old man and his computer. Unfortunately, a final illness intervened.
But Father did live to see the end of the Bell Telephone System as he knew it, the very beginnings of the new age of cell phones and the early stages of home computing. He might not have understood the cell phenomena; he thought telephones were only for important messages. It is a shame he didn't get to experience the internet, because I am sure he would have liked it very much. He was always interested in learning, especially science and technology, and would have loved today's ease of researching information. As it was, he constantly consulted his set of Encyclopedia Britannica which had been bought before I was born.
I enter the scene
I was born at Elmhurst Memorial Hospital just weeks before the Japanese attack on Pearl Harbor. Dr. Geno Ethel Beery, "Dockey" to us, was the attending physician.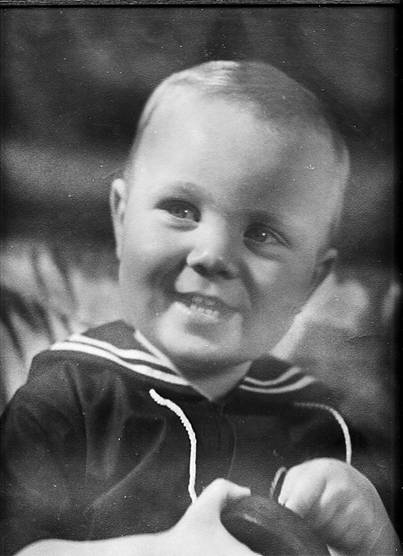 Above is one of several portraits made by my cousin, Ralph Mahon who lived in Elmhurst. Ralph was a very professional, amateur photographer. I believe he won a photography prize for one of his portraits of me - possibly this one. Many of Ralph's photographs are preserved by the Elmhurst Historical Museum. The toy in my hands is actually my father's carpentry tape measure.
Railroads
Villa Park certainly was never a major railroad town, but it did have much of railroad interest in the early days of my youth. We had three steam railroads, Chicago Great Western, Chicago & Northwestern and the Illinois Central, plus an electric interurban line, the Chicago Aurora & Elgin.
Villa Park probably would not have been founded when it was except for the convenience of train service to the Loop. The CA&E was a major promoter of the town site. When moving to the village, my parents even considered the security that if the C&NW could not get Father to work in the Loop, the CA&E surely could.
Our house had, when I was a boy, a very fine view of the Chicago Great Western tracks. From the paired dinning room windows, I could see south across four vacant lots and Great Western Boulevard to the right-of-way where long, steam hauled, freight trains ran.
Railroads were the dominant means of transportation at the time. Not only were they the major providers of passenger and freight transportation, but mail and express arrived regularly by train in Villa Park as well as in most large cities and small towns throughout America. Even the newspapers came by train; I remember seeing the motorman on the CA&E tossing off bundles of the evening Daily News at the Ardmore station. The Interstate highway system wasn't begun until over a decade later, and airlines were still in their infancy. Rail traffic, freight and passenger, reached unprecedented levels during the war years. There were massive movements of military goods and personnel, and because of gasoline and tire rationing, much traffic, previously lost to the highways, returned to the rails. Demand on railroad personnel and equipment was tremendous. During and for awhile after World War II there were many trains loaded with army goods: I remember seeing big guns, tanks, half-tracks and jeeps.
Of course, I was still quite young when the war ended, but business on the CGW continued at a high rate. I remember solid trains of refrigerator cars, yellow ones marked Armor and red ones marked Swift. There were also trains of black tank cars. The CGW carried truck trailers on flat cars. They were an innovator of this service.
And I remember the hobos (we called them bums) still riding the freights long after the Depression had yielded to wartime bustle and then peacetime's relative calm. Mother occasionally would make a sandwich for a down on his luck 'bo who came knocking at the back door.
The strongest word I ever heard my mother say was, "darn." but I remember how upset she would be when a train passed by right after she had hung the laundry out to dry (and when the wind was just right). She would take it all down, carry it back down to the basement and do it over again.
Not long after the war, the Great Western quickly dieselized. They were the first railroad of my acquaintance to do so. Typically using six General Motors F units, trains became even longer: frequently well over 100 cars. Soon I started seeing the big steam engines, scattered mid-train behind the diesels, being hauled dead to the scrap yards of Chicago. That was about 1948. I never got over the sense of loss; I have been a devoted steam fan ever since.
The Chicago & North Western stayed with steam much longer. Sadly, probably due to my father's negativity about the line, I never took a single picture of a steam train on the C&NW. Dad, of course rode the railroad twice a day for nearly his whole working career. He remembered their trains as cold in the winter: the locomotives weren't coupled on until the train was about to leave the station. They were hot in the summer after sitting in the sun in the coach yards, and they were sooty and smoky. The line was a bit behind the times due to financial problems. Some of the Pullman green commuter cars dated to the earliest of all steel cars. Some still had Pintsch gas lighting. Mechanical problems with the old cars and equally vintage locomotives occasionally caused late trains, especially on extremely cold winter nights. But, from my own memories, the line was quite reliable and usually ran on schedule.
I seldom saw a train on the Illinois Central: Villa Park didn't even have an IC depot, but I remember the Chicago Aurora & Elgin well. To me, the old Rorin' Elgin was the main feature of any visit to either of Villa Park's downtown districts. Crossing bells were always ringing as the gates went up and down all day long. Local trains stopped only briefly; express trains regularly raced through town at speeds in excess of sixty miles an hour.
The war
Of course, I was only vaguely aware that there was something called a "war" going on, but these were stressful times for the adults around me. Mother used to apologize that she couldn't buy me more toys, but, of course, toys were not part of war time production. My parents did buy me a second hand, American Flyer, three-rail, electric train from our cousins, the Mahon's.
Even though we had a relatively new car, war time rationing was going on, so Mom and Dad had to be careful about gasoline and tire usage. We restricted our trips to Philo to once or twice a year. Foods were also rationed, and everyone was encouraged to plant a "Victory Garden". Ours was across the street, south of the Koppel's house.
Several families had victory gardens on the old farm property southwest of Koppel's. No one seemed to know who owned the land. The gardens must have been started during the Depression. Chickens were kept by some of the neighbors, and local eggs were available.
Neighbors
The kids in the neighborhood were all closer to my sister Shirley's age than mine. Sometimes they would let me tag along. In winter the pond, at the end of the block -- down by the tracks, would freeze over, and the big kids ice-skated there. I had some strap on, two bladed, aluminum skates I tried to use. The Johnson twins, Ronnie and Rollie, had a toboggan. We would toboggan off the CGW embankment into the frozen pond (this despite the fact that the toboggan was about one third as long as the slide length). I remember that the big boys, Ronnie, Rollie and Peter Koppel I believe, had built dug-out forts on slightly higher ground north of the pond.
I still remember the names of all the families who lived on our block when I was a boy: Mr. and Mrs. John Johnson lived on our side of the block in the house to the north; across the street lived Mr. and Mrs. Koppel, the Lawsons, the Meads, the Cases and the Arnolds.
From my earliest memories, Mrs. Koppel would ride along to the grocery store when Mother went shopping for groceries. Either Mr. or Mrs. Koppel would bring over nice things from their garden to show their appreciation. I especially remember strawberries, raspberries and asparagus. According to my mother, they never owned a car or even had a checking account. The Koppels were from Switzerland; they were very thrifty, and had money saved up when others lost theirs due to the banking problems of the Depression years. They were able to buy their house at a nice low price after the Depression started.
Mr. Koppel was a fantastic gardener. His garden spread to the vacant land next door and behind the house. He used composting and used to ask for kitchen scraps for his compost pile. Later, when the land was in danger of being sold off, he bought a piece of it so that he could continue working the garden.
Every Sunday, when I was a boy, Mr. Koppel would bring over his Sun-Times and trade for our Chicago Tribune. That way I got to read all the funnies. He was the only neighbor who regularly swept the street in front of his house (obviously a Swiss habit). I remember seeing him sweeping with a broom while wearing an old suit vest.
Mrs. Koppel was a busy seamstress and bought the best sewing machine she could. After Mr. Koppel retired, she presented him with enough money for them both to make a trip back to Switzerland for their first and only trip back.
When my sister, Shirley was married in May of 1949, Mrs. Koppel helped Mother with the catering. The wedding was held in our back yard and spilled out into the lot to the south.
TV
Behind the gardens and the houses was an old farm - all weeds but with the remains of an old orchard still existent. I remember exploring through dried weeds well over my head and wandering into a small clearing with a ramshackle house. It was the old farm house. A family named Horseman lived there. Mr. Horseman worked for the city; they had two children: Shirley and Ronnie. All indications were that they were quite poor, but they had one of the first TVs I ever watched.
That was about 1950. There really wasn't much on the television back then, but there was a considerable novelty factor. At the time, my friend, Roger Short, would organize a regular Saturday morning trip to the Villard Theater (near the CGW station) for the matinee. Soon Roger's family then my family had a TV set and the theater lost our business. The matinee cost us each 9 cents. No doubt these early years of TV were responsible for the demise of the Villard.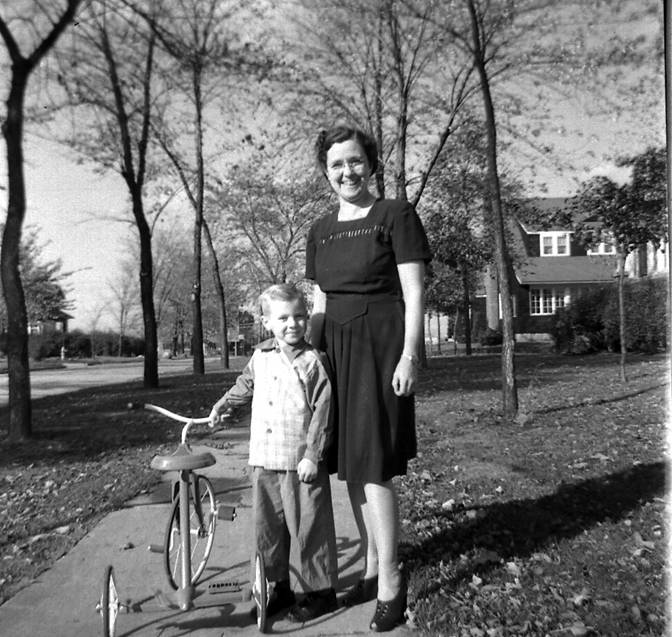 Above is a picture of Mother and me, taken just south of the house, by my sister, Shirley. I didn't have that tricycle for long. One day, when I was called in for dinner, I thought it would be neat to park it alongside all the trash cans out by the curb. The next day I couldn't find it anywhere. Note the little bus on the back of the tricycle. It was new and I was adamant that it be included in the picture.
Shopping
Mother told me that she used to take the little red wagon to the grocery store and fill it up for $5. In my earliest memories, she bought most of her groceries at the Dawson Store on St. Charles Rd. - somewhere west of Ardmore. You would tell Mr. Dawson what you wanted, and he would get it down off the high shelves behind the counter for you. There were also little neighborhood stores scattered around town. These were storefront buildings located for walking distances. One was on Cornell Avenue, not far from the C&NW station, where I was first introduced to penny candy from big jars. For one cent, you could select several and the grocer would get them for you.
It was only after the war that super markets arrived in Villa Park. National Tea on Park Boulevard, across from the CA&E station at Ardmore, was the first that I remember.
Not much was available besides groceries in the stores of Villa Park when I was little. Mother started taking me on an occasional shopping trip to the Chicago Loop when I was barely old enough to climb the steps into the blue and gray, electric cars of the Chicago Aurora & Elgin. In fact I had to be helped a bit to clear the way for impatient regulars; I had been idly inquiring as to what the little sign on the steps said. Someone responded, "Watch your step," but I demanded, "Yes, but what does it say?"
My parents remembered when the ice and the milk were delivered by horse drawn wagon. This was very handy because the horse would walk along and meet the milkman at the end of the block - he didn't have to backtrack. I remember the "Umbrella Man" as we called him. He would walk through the neighborhood once or twice a year pushing a two wheeled cart which played a tune as it moved and on which he repaired umbrellas and sharpened knives.
School
I looked forward to going to Ardmore School where my big sister had gone. She had trained me to carefully walk the CGW tracks as a shortcut from Illinois Avenue to Ardmore on the way to school. Railroads very much discourage this practice today, but we certainly weren't the only ones to walk the tracks. There were, in fact, well used paths leading from the end of each street along Great Western Boulevard up to the tracks. The one at the end of Illinois Avenue had even been covered with cinders (a common waste product at the time) to keep the mud down.
Alas, I was not to follow in my sister's footsteps; on the first day of grade school, because of overcrowding, I was transferred to Lincoln School (now demolished) on the north side of town. This disappointment affected my attitude toward school for many years.
The first day or two Mother went with me to be sure I knew how to cross St. Charles Road safely and find my way to school on what was a rather circuitous route. I still find it hard to believe that she entrusted such a small boy to walk the route and cross busy streets on his own. St. Charles, even then, was a busy four lane highway.
Most of the time Jimmy Osborne, who had moved in with his maternal grandparents, the Taylors, would walk with me. The Taylor house was behind ours on Charles Avenue. For some reason two classmates, Bobby and Rodger, both large for their ages, got in the habit of laying for us on our way home, threatening to beat us up and chasing us half way home. Rodger, like Jimmy, lived on the next block of Charles Avenue and was a big kid for his age. Somehow my mother got a hold of him and explained that big kids like him should protect little kids like Jimmy and me instead of bullying them. Amazingly, he took it to heart. After that, he and Jimmy were my two best friends - until the summer before fourth grade when they both moved away.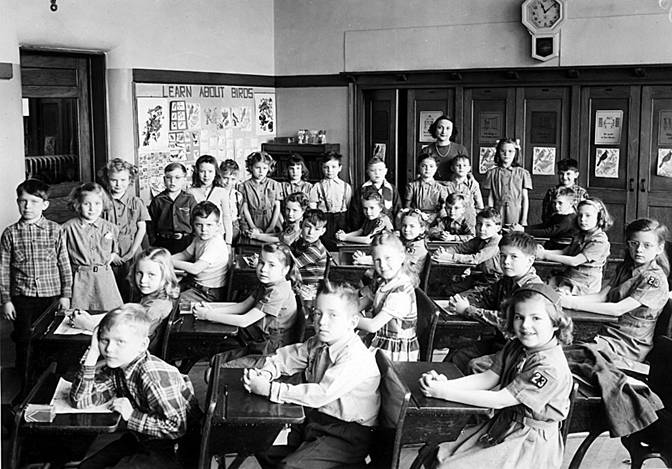 Ms. Scott's second grade classroom at Lincoln School, 1949. I'm the shy kid standing in the back. I had my own version of Charlie Brown's unrequited love for the "Little Red-Haired Girl." Her hair was not actually red, but true to the comic book story, I'm pretty sure neither she nor anyone else ever knew about my passion.
Conclusion
I lived with my parents in Villa Park until I graduated from the University of Illinois, but my parents stayed on in the little house at 31 South Illinois - the only one they ever owned. I visited them in Villa Park once or twice a year until the house was sold. Mother died in 1974; Father remained until, about 1991, when he moved to a retirement home in Kankakee so that he could be near my sister. He died there in 1994 at the age of ninety.