Railroad Time
Standard time, accurate time, reliable time and American clocks and watches
© Glen Brewer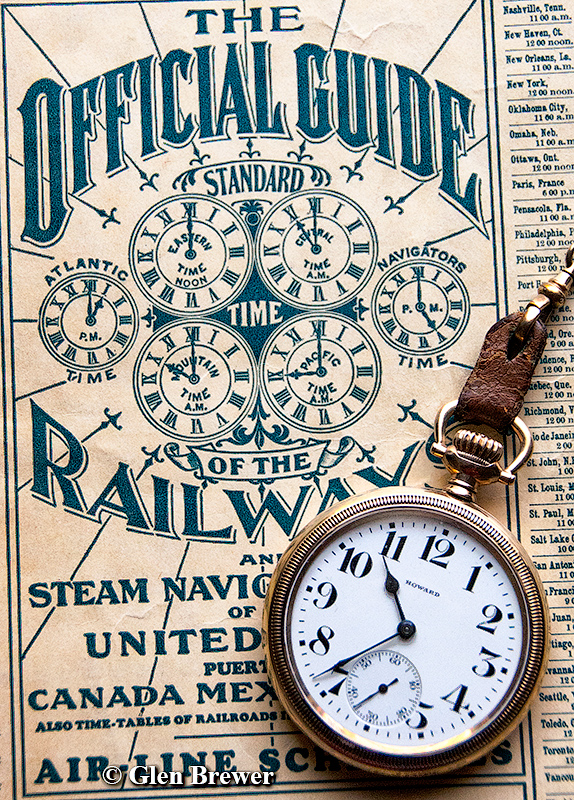 Here atop The Official Guide, illustrating the railroad established North American standard time zones, is a Howard Series 11, 21 jewel railway watch. The movement was aptly named and sold under the name, "railroad chronometer" (ca 1912).
The development of accurate time keeping standards and devices was absolutely necessary to the unprecedented growth of the railway industry as it developed in North America.
When railroads were new, each community was insular and relied on their own time, usually local sun time. People often regarded their local time to be whatever was displayed on the courthouse clock. This was a serious problem for the railways and for their passengers. Accurate, standardized time was essential not just for passengers, but for train operations by timetable and train order. In Britain, The Great Western Railway led the way toward standard time by adopting London time, in November 1840. But standard time was not universal there until the Definition of Time Act took effect on August 2, 1880. Meanwhile, in the US and Canada, standard time and time zones were instituted across the map by the railroads effective at noon on November 18, 1883. Standard time and zones were only made official in the US by the passage of the Standard Time Act of March 19, 1918.
Although reasonably accurate pendulum clocks were already available when the railway industry was new, accurate, portable time keeping was not. The need had first become of importance with the quest for accurate identification of longitude at sea. John Harrison's marine chronometer of 1761 was designed to answer this need. But chronometers wouldn't solve the needs of the railways; the need was for much more portable watches.
As with the steel industry and the Morse telegraph, the growth of an industry to develop high quality, mass produced clocks and watches resulted from the unprecedented growth of the railroads.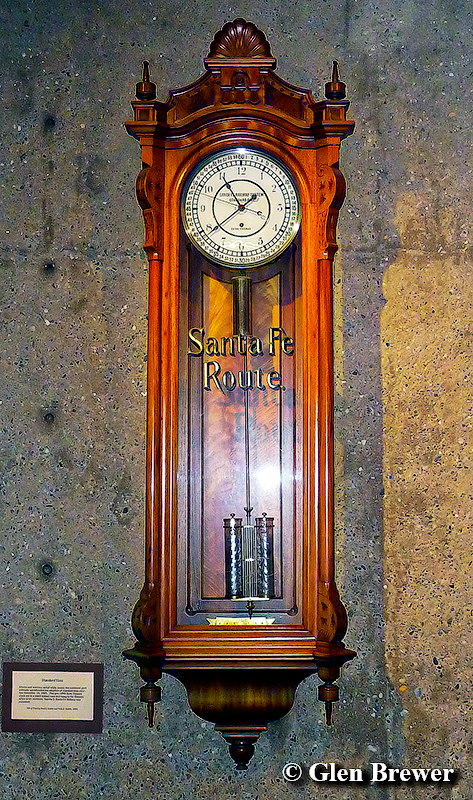 Very good clocks were purchased by railroads and designated as standard clocks. These clocks would be compared to and corrected to the US Naval Observatory time signal sent by telegraph. Watches in service were required to be compared against a standard clock or if not possible, against another watch that had been. This clock is equipped with a mercury compensated pendulum (to compensate for temperature variations).
The American watch industry, the biggest in the world by the late 19th century, developed more and more accurate, machine made, jeweled pocket watches, some of which were aimed at the railway trade. But there were few standards, and the watches actually in use were diverse and of varying quality.
In 1891 there was a collision between two Lake Shore and Michigan Southern Railway trains. The accident was blamed on the failure of a watch carried by one of the engineers. This escalated into a demand for more accurate and more reliable watches. Webb C. Ball, Chief Time Inspector for the railroad went to work to establish standards for time pieces and inspection systems to be used by his and eventually all railroads in the US. The need was for watches that were accurate, reliable under hard conditions, unmistakable in their reading, mass produced and easily repaired almost anywhere with readily available parts. Ball's recommendations (or slight variations of them) were quickly adopted across the continent. Ball's initial standards did of course, allow for continued use of some, but not all of the watches then in use.
The standards were a boon to the watch industry, which had in retrospect nearly peaked in production. Most US makers soon had at least one RR model in their catalog and they were normally the highest quality watch they made by that company (Waltham, Elgin, Hamilton, Howard, Illinois, Hampden, etc.). There were also watches sold under established names but actually manufactured by one of the companies above (Ball, Burlington, etc.).
What is a railroad watch?
There is a lot of misinformation and misunderstanding about, "what is a railroad watch?"
Specifications for US RR watches became ever more stringent over the years and varied from road to road, but by mid 20th century they were pretty much: US made (to assure easy availability of repair parts), lever set (to avoid setting errors), plain open face, wind at 12, Arabic numerals, size 16 (to assure accurate reading), at least 21 jewels, double roller, steel escape wheel, micrometer regulator, adjusted to temperature, isochronism (uniform period of vibration as the mainspring ran down), and at least 5 positions. They were to have no more than +/- 30 seconds / week variation. In later years, many railroads just named acceptable models.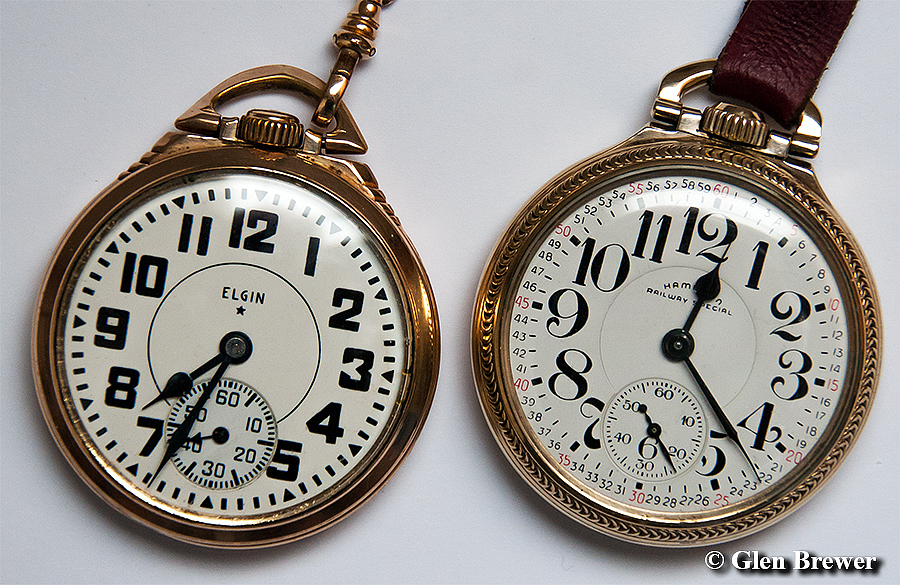 Last of the railway pocket watches: manufacture of the Elgin B. W. Raymond was discontinued slightly before the Hamilton model 992B which was still produced until about 1969. The Hamilton features a Montgomery dial: one that shows each minute enumerated -- a scheme favoried by the Atchison, Topeka & Santa Fe.
---
For more, see Grandfather's Watch
---