How I became a lifelong railfan
A non railfan father's influence in the making of a young railway enthusiast
Story and photos © Glen Brewer
I think most people become railfans because their father or some other close relative or friend is a fan or works in the railroad business. But my father was not a railfan, and I didn't know anyone who was or who worked in the business either.
Father did have some fascination for steam machinery, however. This interest probably dated back to his youth when Grandfather owned and operated a steam traction engine used for fall thrashing on his and his neighbor's farms. Grandfather actually had two successive engines; I believe the first was a Nichols and Shepard and the second was a Russell compound. My father remembered sneaking out and blowing the whistle after the engine was shut down for the night.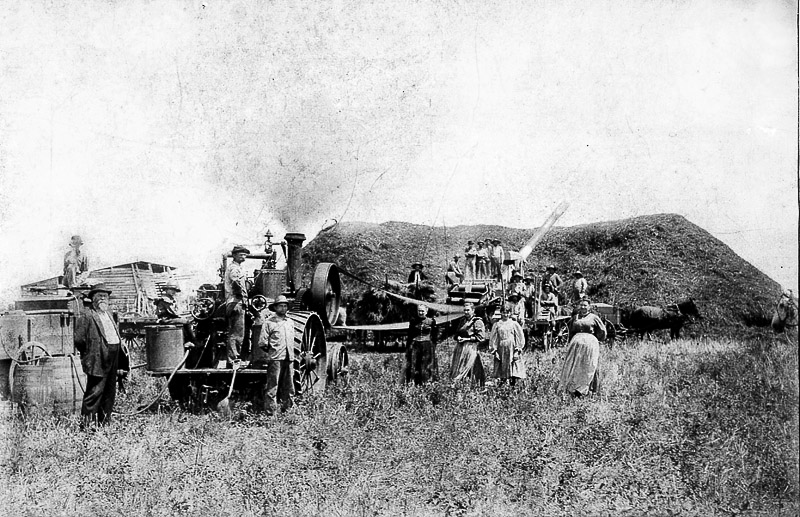 Grandfather on the foot plate of his traction engine powering the thrashing machine.
He also had a casual interest in electric traction, possibly dating from his engineering background and a class he took on electric railway engineering. His class even made a field trip on the Illinois Traction line from Urbana to Danville and then down the branch to Ridge Farm, Illinois. I remember one day while we were on a automobile trip to see relatives he spotted an IT interurban car stopped on a brick Urbana residential street. He made a special detour to go see the car. We never did learn why it was there. Too bad, we had no camera with us.
But Father was very much a man of the automobile age. Twice in his early youth, he and a few other family members drove to Three Rivers Michigan to visit an uncle (254 miles by today's roads). This was long before marked highways and good maps, and proved to be quite an adventure.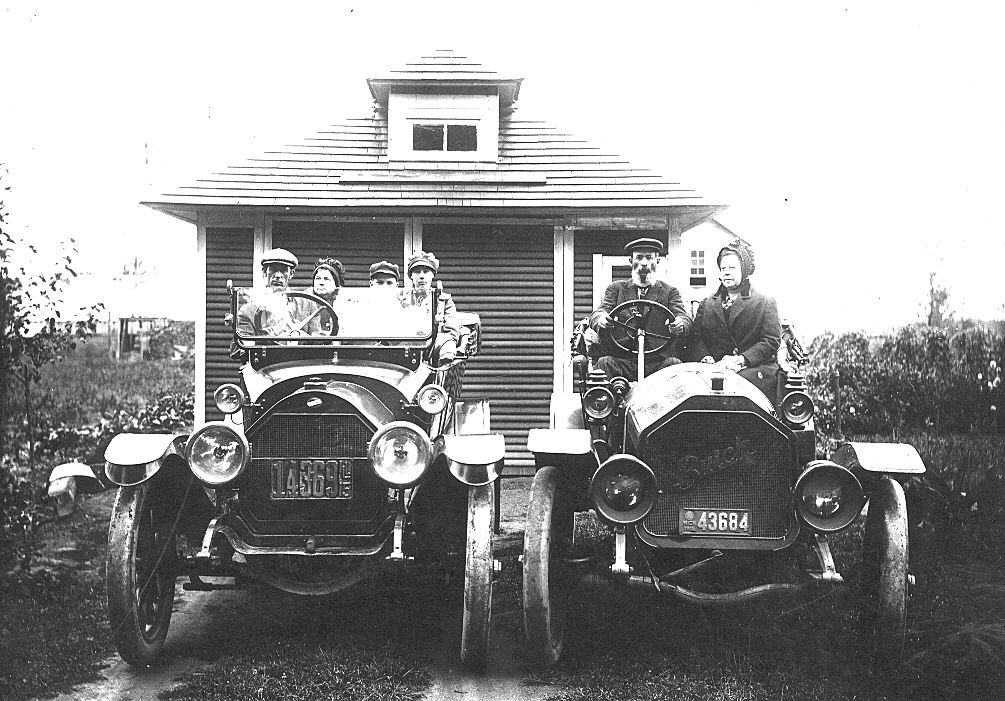 Father and his mother in the back seat of the Overland (left), while his uncle and aunt sit in their Buick
He was born in 1903 and first learned to drive as soon as he could see over the dashboard of Grandfather's Willis Overland (Grandfather's second car - the first was a McIntyre). Grandmother needed someone to drive her to her woman's club social functions and my father did so even when he was too small to hand crank the car - he had to find help. He started driving when he was about seven.
Of course, a license was not needed back then, and there were very few other cars in the little village of Philo, Illinois at that early date. He went on to own and maintain two successive Model T Fords that he used to commute to high school and then college in nearby Urbana where he studied electrical engineering. The country roads were still dirt and graded with a high hump in the middle often causing problems for the smooth tired automobiles - especially after a shower on a dusty road or when the snow melted.
Despite his disdain for railways, in family photos left to me, I found two early train shots taken by him. Both were taken before I was born, and probably with a folding Kodak camera.
Father went to work for Illinois Bell Telephone Company as a young engineer, and after a couple of years checking out long distance telephone lines all over the state of Illinois, he was given a desk job in Chicago. Soon thereafter, he and my mother rented a place in the western suburb of Glen Ellyn. One day in 1929, he took his camera to work with him. That day, he shot a picture of his Chicago & North Western train arriving at the station, and later that day his boss took a picture of him at his desk.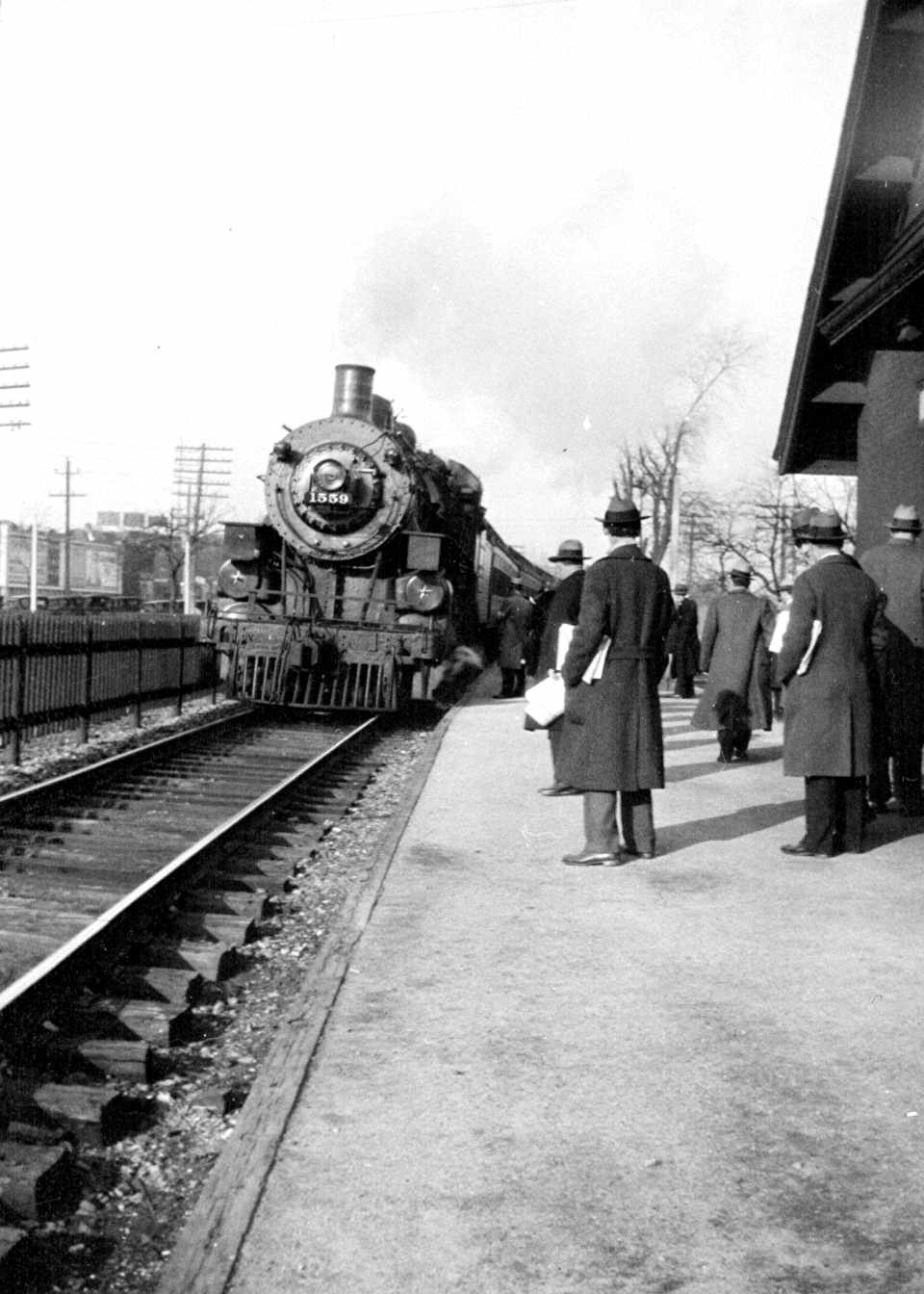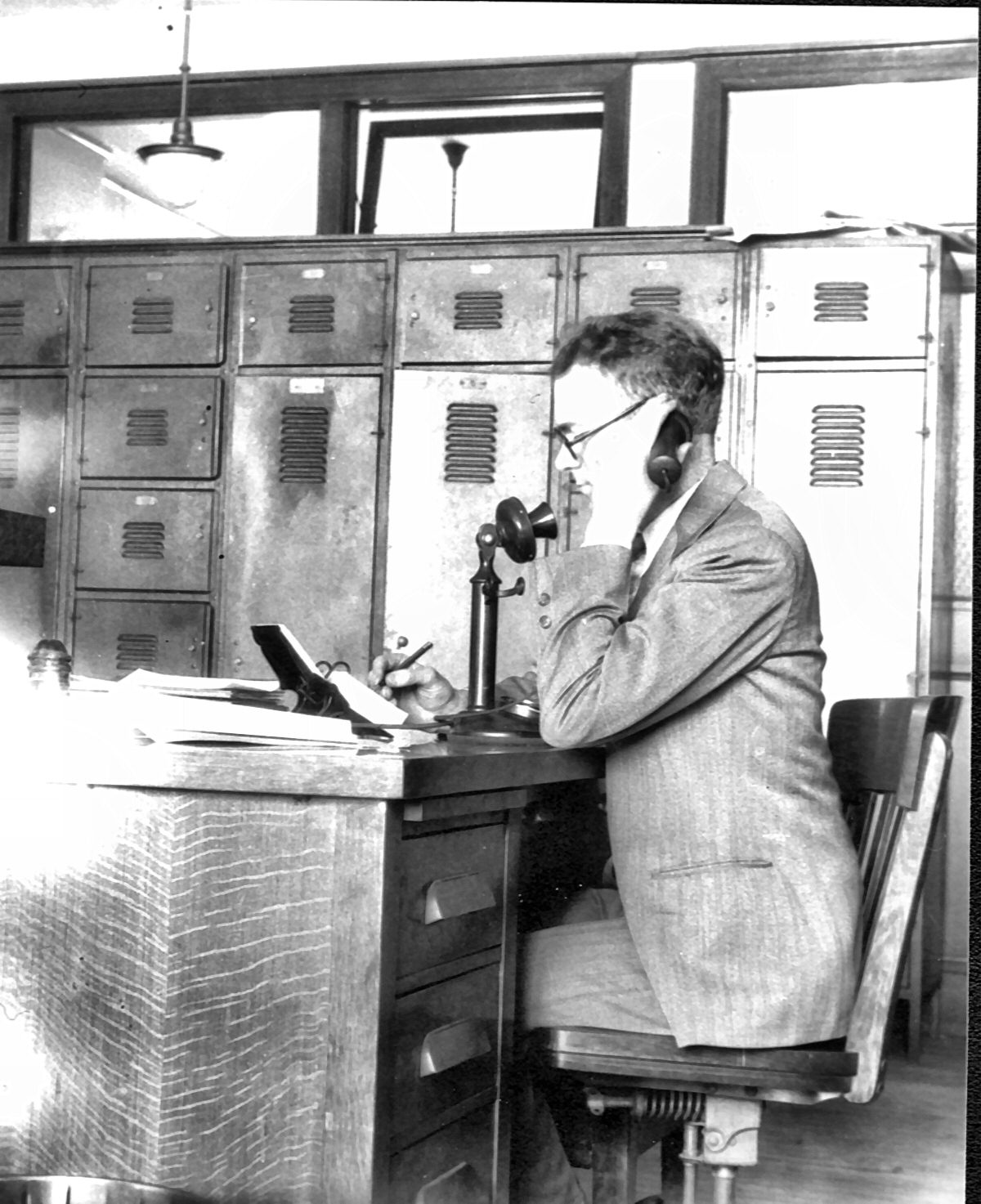 One day in February of 1929, Father took his camera to work.
Left: C&NW Pacific Number 1559 arrives in Glen Ellyn. Right: Father at his desk.
Years later, in the late '30s, he, my mother, Mother's father and my older sister went to Yellowstone and to Colorado - by automobile, of course. The only other railroad shot he ever took is of Mother and my sister on top of Pikes Peak after riding up on the Manitou & Pikes Peak Railway cog railway.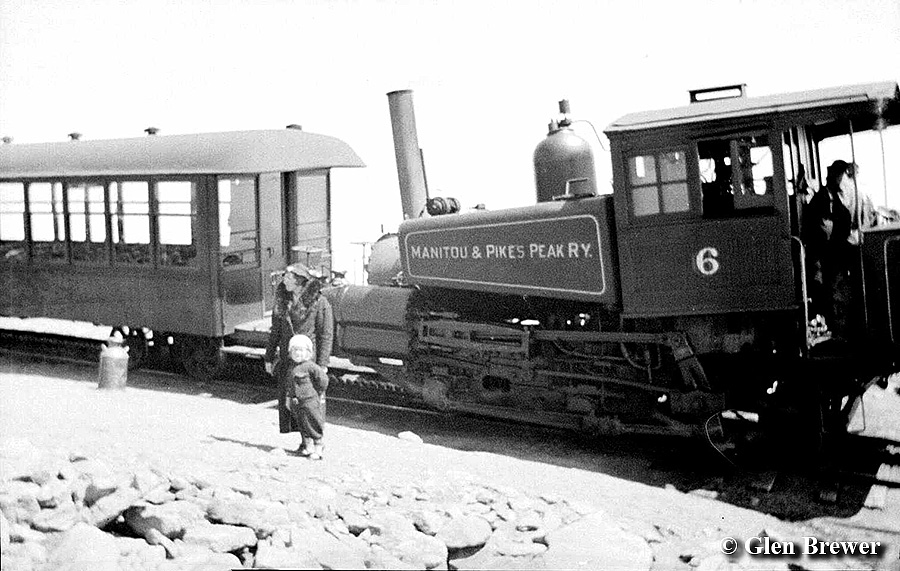 My Mother and my older sister at the top of Pikes Peak
By the time I remember, Father had commuted twenty miles to work in downtown Chicago on the Chicago & North Western five or six days a week for many years. It soured him on trains. The first generation steel cars were dirty, poorly maintained and very hot in the summer after being left in the sun of the coach yard all day awaiting evening rush hour. It made him less than enthusiastic about riding trains.
Despite his disdain for railroads, he knew quite a bit about steam machinery: He even acquired a metal lathe and built a couple of small model steam engines when I was quite young. I remember having trouble understanding the concept that they were to be steam engines, but not locomotives.
I was a budding young railway enthusiast from a very early age. Our house had, when I was a boy, a very fine view of the Chicago Great Western tracks. From the paired dinning room windows, I could see south across four vacant lots and Great Western Boulevard to the right-of-way where long, steam hauled, freight trains ran.
Railroads were the dominant means of transportation at the time. Not only were they the major providers of passenger and freight transportation, but mail and express arrived regularly by train in Villa Park as well as nearly all large cities and small towns throughout America. Even the newspapers came by train; I remember seeing the motorman on the CA&E tossing off bundles of the evening Chicago Daily News. The Interstate highway system wasn't begun for over a decade, and airlines were still in their infancy. Rail traffic, freight and passenger, reached unprecedented levels during the war years. There were massive movements of military goods and personnel, and because of gasoline and tire rationing, much traffic, previously lost to the highways, returned to the rails. Demand on railroad personnel and equipment was tremendous. During and for a while after World War II I saw many trains loaded with army goods: I remember seeing big guns, tanks, half-tracks and jeeps.
I was still quite young when the war ended, but business on the CGW continued at a high rate. I remember solid trains of refrigerator cars, yellow ones marked Armor and red ones marked Swift. There were also trains of black tank cars. The CGW carried truck trailers on flat cars; they were an innovator of this service.
Not long after the war, the Great Western quickly dieselized. They were the first railroad of my acquaintance to do so. Typically using six General Motors F units, trains became even longer: frequently well over 100 cars. Soon I started seeing the big 2-10-4s, scattered mid-train behind the diesels, being hauled dead to the scrap yards of Chicago. That was about 1948. I never got over the sense of loss; I have been a devoted, if somewhat melancholy, rail fan ever since primarily due to the obviously imminent, and tragic, as I saw it, demise of steam power. To add to the misery, our local interurban, the Chicago Aurora & Elgin, went into a rapid decline ending in abandonment. This was primarily due to destruction of their elevated connection to Chicago's Loop for construction of a freeway system.
I wanted to learn about steam, and I found that I could ask Father about locomotive parts, and he always knew and could explain the basic components. Twice he took me to Old Thrashers events that he thoroughly enjoyed, but to me locomotives were always the ultimate. He and a neighbor took me to the Chicago Rail Fair, probably after my mother's urging. That was probably in 1949. I know I liked it, but I was a bit overwhelmed. Sadly, I remember very little.
Several times, Father was required to go to New York City on telephone company business. The first time, he rode the Twentieth Century Limited. He didn't like it; I was astonished. All his other trips were by American Airlines, first on DC-3s later on DC-6s. I found it hard to believe he preferred these, and asked why. He said that the railroad employees were old and surely, but the airline people were young, friendly and always accommodating (if only he could see how things have changed!)
In 1956 Father, Mother and I went on a summer vacation to Colorado. Somehow, by begging, pleading or nagging, I talked them into stopping for the night in Alamosa and staying in Bob Richardson's Narrow Gauge Motel and Museum. There I had the opportunity to meet and talk to Bob. While chatting, I saw my very first narrow gauge train: a double-headed pipe train headed for Farmington, New Mexico.
The next day we went on to Durango, and the following day, July 11, 1956, we all rode the Denver & Rio Grande Western's Silverton Train behind Engine 476. It was all steam, narrow gauge, with vintage wooden cars and gorgeous Colorado scenery: I never got over it.
I thought I could never get Dad on a train ride just for fun, but somehow I did. My father, probably with some little help from my mother on my behalf, sealed my fate as a lifelong railfan. Railfan or not, Father did influence me in my passion.