Rio Grande Southern narrow gauge
The spirit of this much loved, southwestern Colorado railway isn't dead, it just retired and moved to Southern California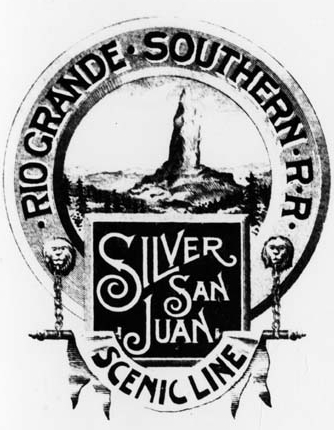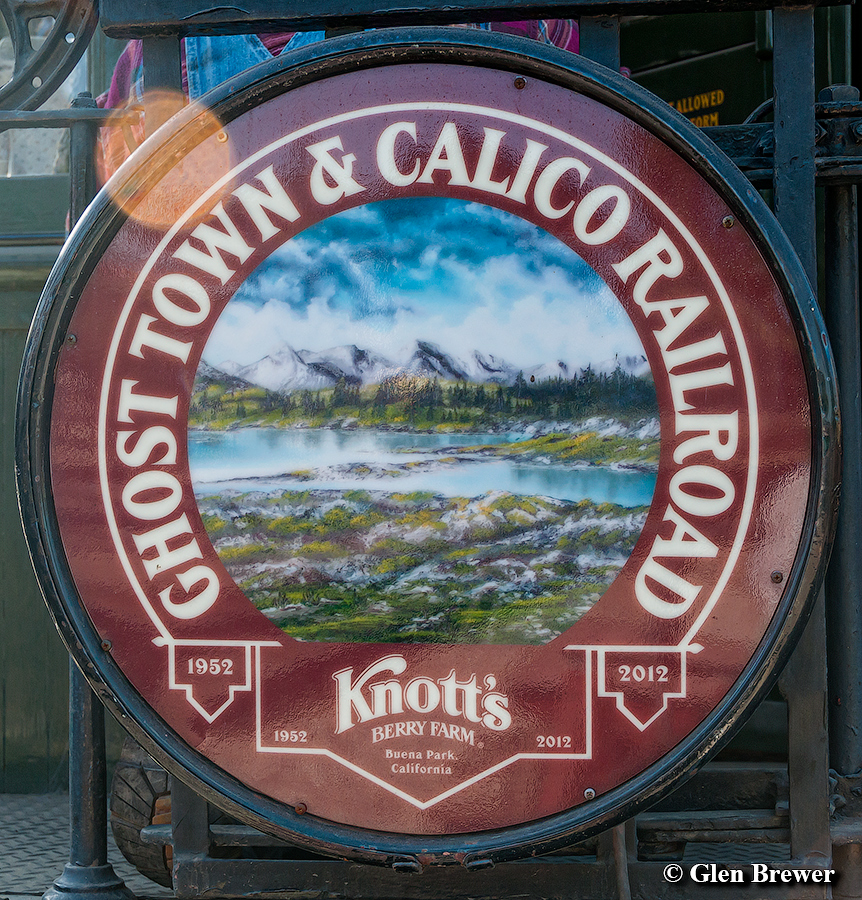 In 1951, the scenic and unique, narrow gauge, Rio Grande Southern Railroad was finally going out of business. It was a long time coming. The little 172 mile southwestern Colorado railroad had struggled to stay alive almost from its opening in 1890. Fortuitously, abandonment and scrapping occurred just as Walter Knott was looking for equipment to build a frontier railroad for his then developing Knott's Berry Farm at Buena Park, California, a Los Angeles suburb. Knott purchased, repaired and painted RGS 41 and D&RGW 340 for use at his budding Knott's Berry Farm Ghost Town Railroad. He also bought track, switches, passenger and freight cars, Galloping Goose No. 3 and machinery from the RGS shops. Superintendent Boucher and Mechanical Officer Randow of the RGS were available and helped launch the Ghost Town and Calico Railroad.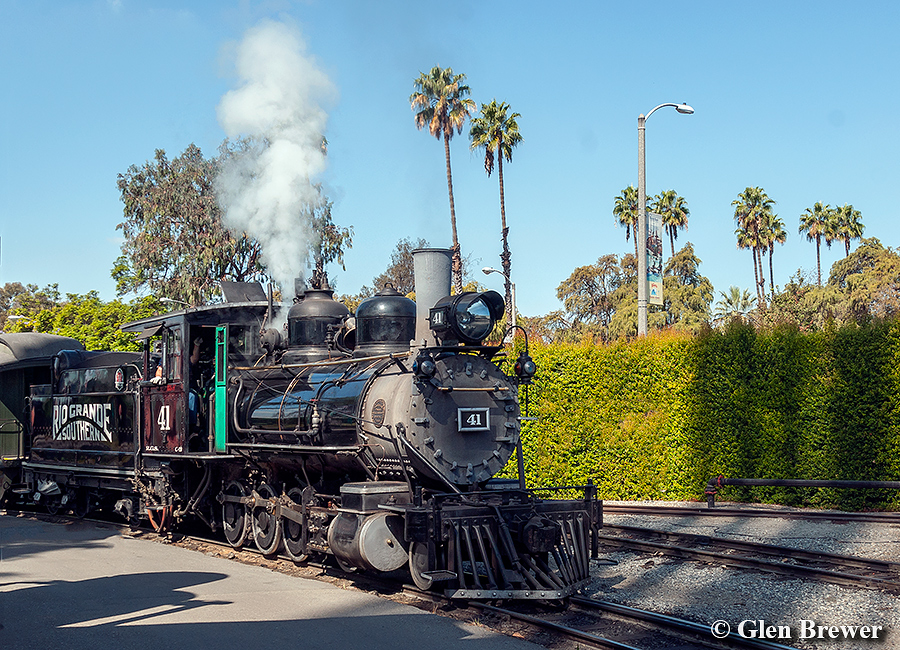 Recently, I was in the area and had the chance to pay homage to what is left of the fascinating Rio Grande Southern. I was given the grand tour of the line by Tom Unfried, Team Leader of Ride Maintenance and an excellent host. Venerable, C-19 class, 2-8-0 Number 41 was doing the honors that day, and she looked better than she ever did on the RGS.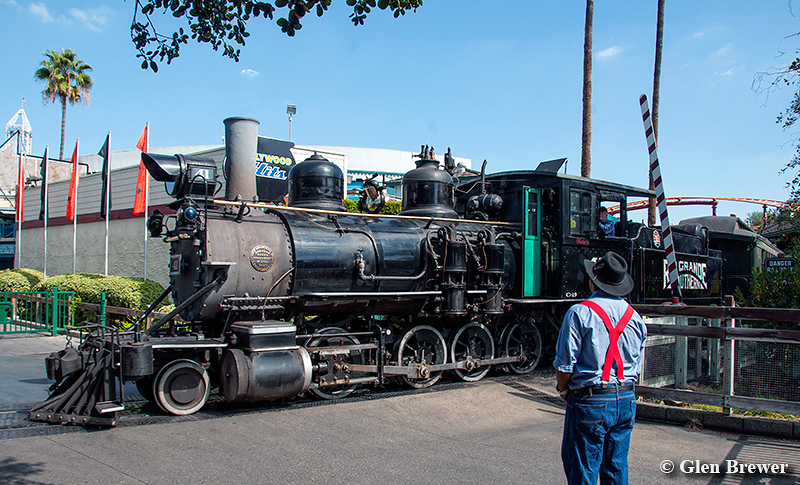 After considerable effort to work an ancient and uncooperative coach lock, Tom took me aboard the private car of Otto Mears, the cRio Grande Southern's founder and first president. The car was originally named "San Juan," but was later renamed "Edna" by a succeeding company official. Inside was the classic woodwork, and above, in the clearstory, were Venetion style, cut glass windows. Unfortunately the original kerosene lamps had been stolen years ago while on Knott's property.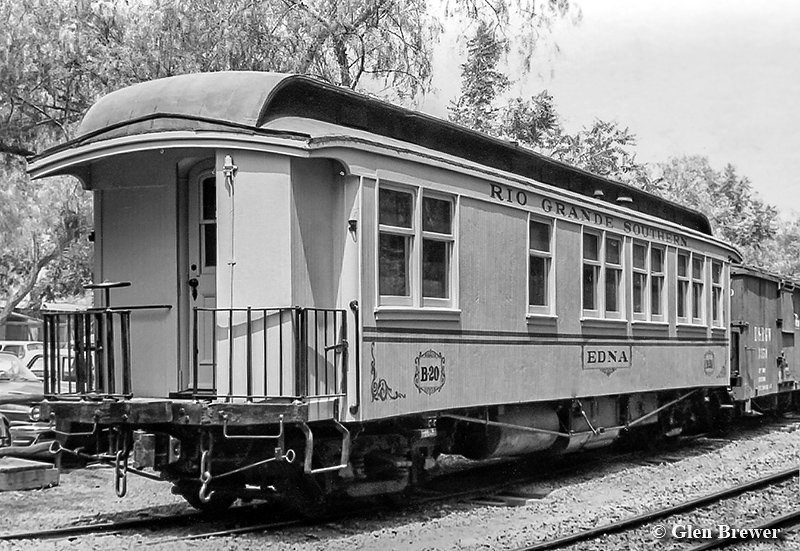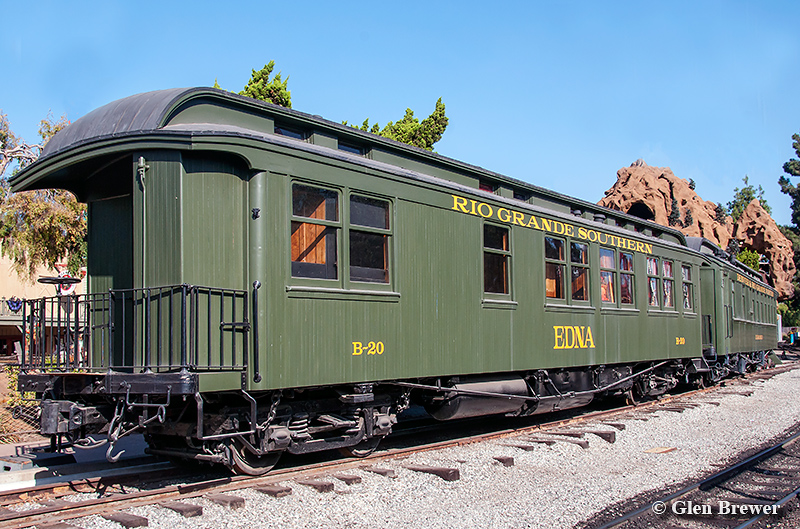 Then and now: Rio Grande Southern B-20 in 1966 and on my recent visit.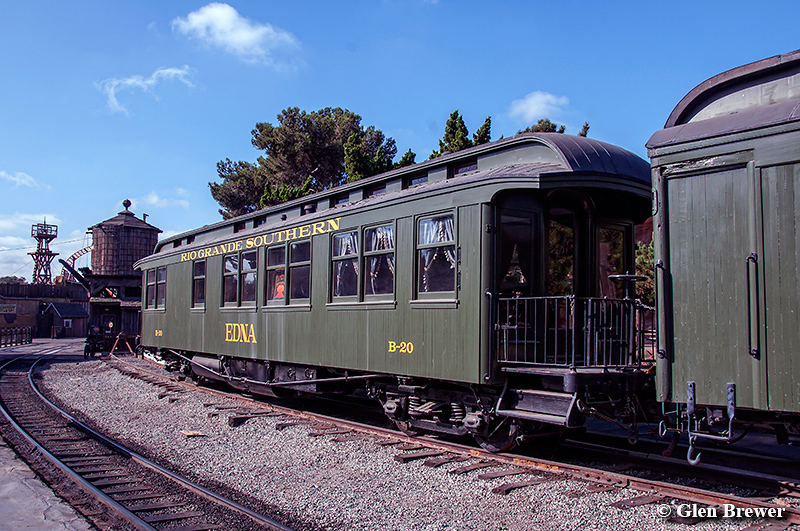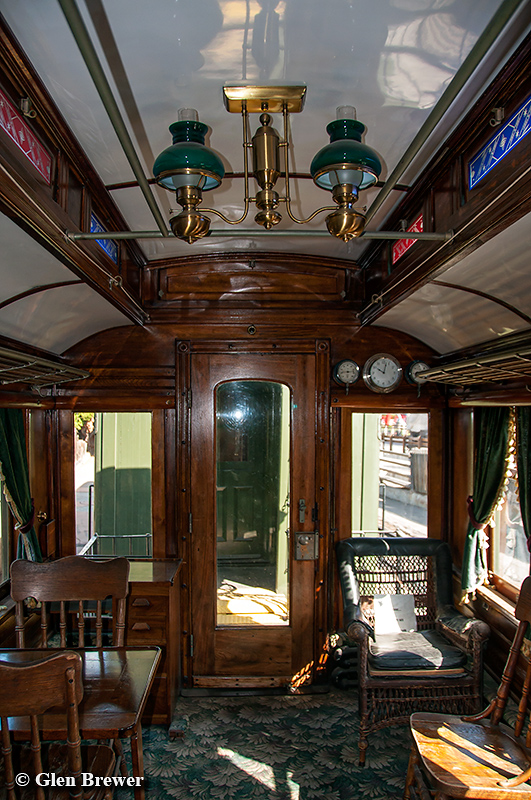 B-20 was once the personal car of Otto Mears.
We also visited the D&RGW parlor car, "Durango." This car was one of those used to bring up the markers on the bigger railroad's well known "San Juan" passenger train which featured RPO, baggage, coach and parlor service. For this service closed vestibules and electric lighting were installed. The parlor car provided limited food servfice. Two San Juans train sets ran daily on the railroad's narrow gauge "San Juan Extension," from Alamosa to Durango and from Durango to Alamosa.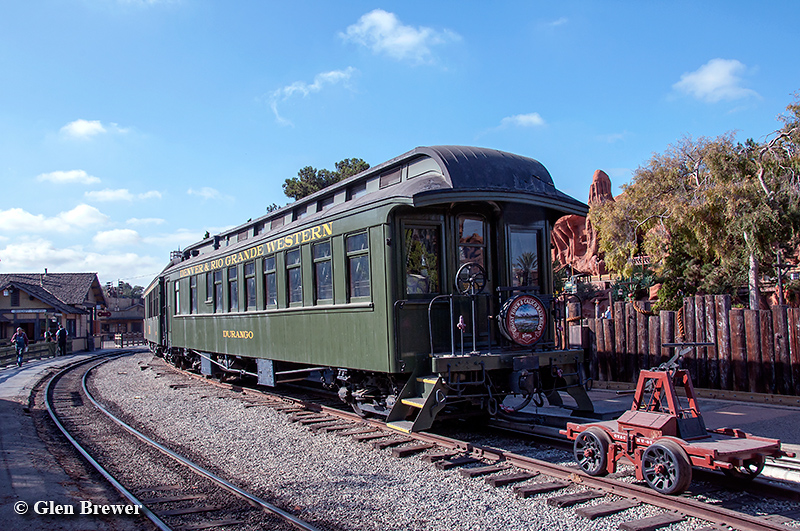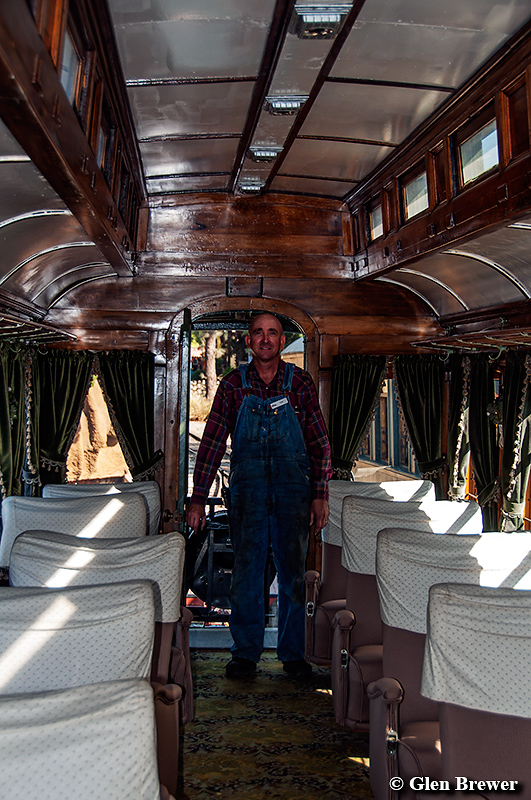 Denver & Rio Grande Western parlor car "Durango" and my host Tom Unfried, Team Leader of Ride Maintenance at Knott's.
Then we toured the shops where maintenance is done for the two locomotives, sisters built by Baldwin in 1881 for the then Denver & Rio Grande. When built the 70 class (later redesignated C-19) locomotives were the big sisters of the ubiquitus 60 class (C-16) 2-8-0s and were used mostly in helper service. In the shop during my visit was the 340 stripped of tubes and chalk marked for boiler shell measurements.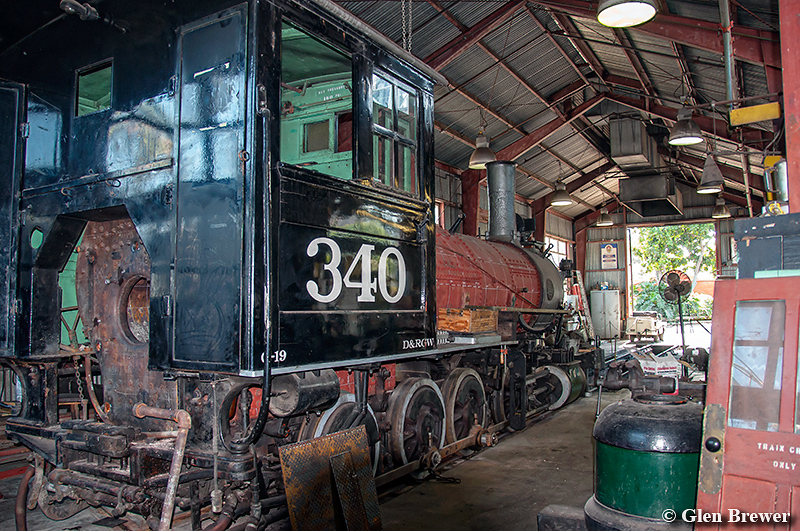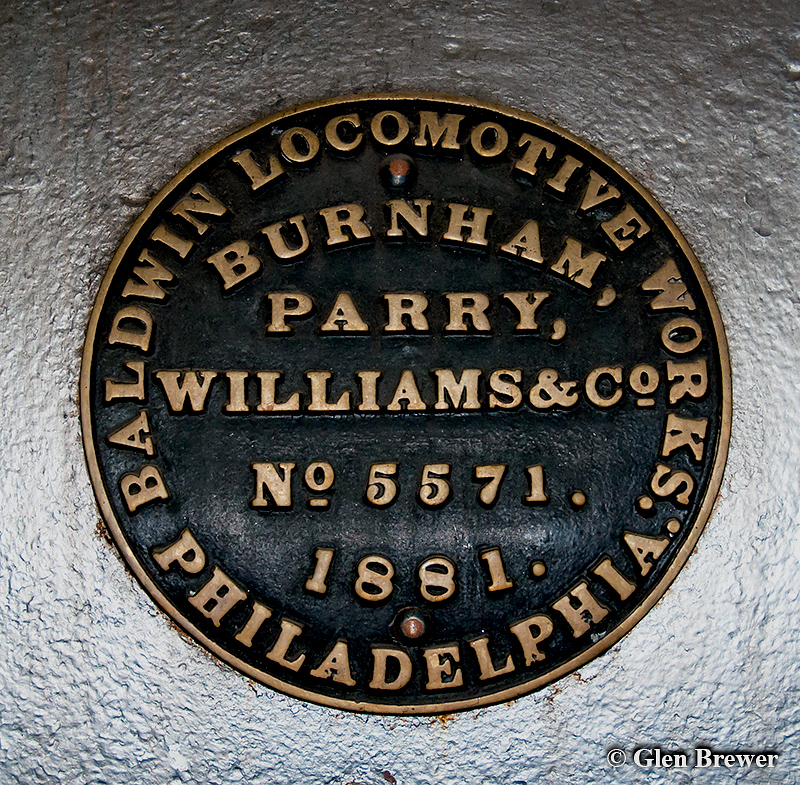 D&RGW 240 was undergoing boiler work; both locomotives were Baldwins from 1881 (340's plate).
I had first seen the Knott's operation in 1966, and beyond the railroad, my impression this time was that Walter's ghost town had been deemphasized in favor of ever more gaily painted park rides, the presence of which made it difficult to get a really good unobstructed photograph of the railroad. But I did my best.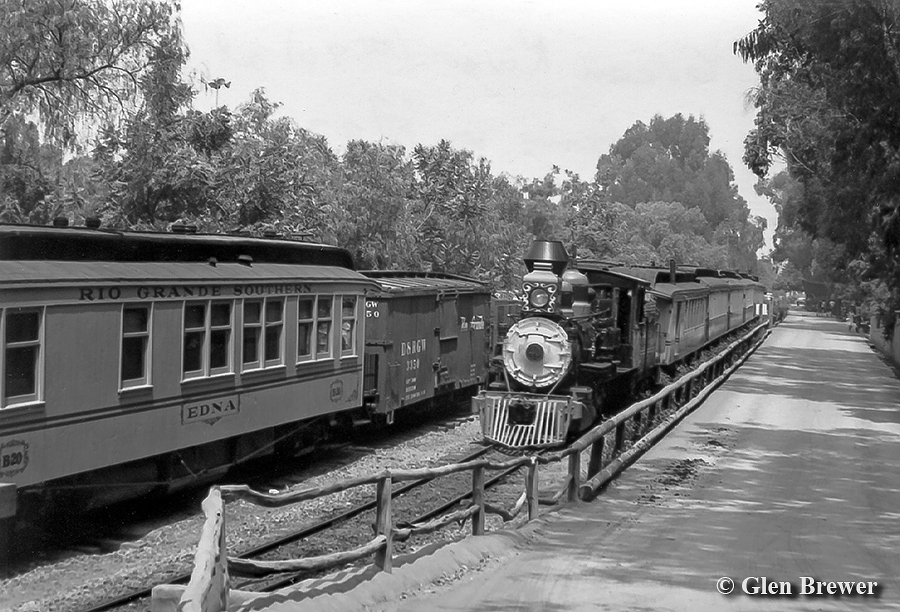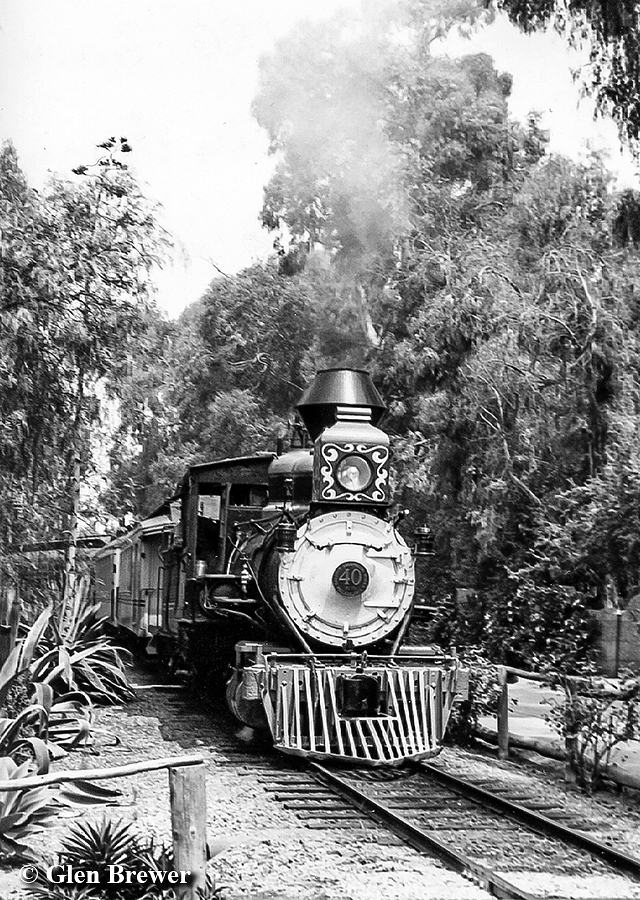 Denver & Rio Grande Western 340 renumbered 40 at the time of my 1966 visit.
I was much pleased at the difference in the railroad since my first visit. Recent generations of Knott's people have seen to it that the locomotives and cars are very well cared for, and now they look much more authentic to their heritage than back in 1966.
All in all, the visit was lots of fun, and having Tom as a guide only made it better. I hope to return yet again.
Historical background: narrow gauge, economics and the Rio Grande Southern
Throughout the 1870s and 1880s, narrow gauge rails were laid into the Colorado Mountains at an astonishing rate. This was done primarily to economically access the mineral riches of the mountains being developed. Some of these riches proved real, some not so much. At first, it was gold that brought prospectors and miners into the area, but it wasn't long before the much more abundant silver became the primary goal.
Silver bubble
But the market for silver was artificial. Beginning with the passage of the Coinage Act of 1873, which removed the usage of silver dollars from the list of authorized coins, several additional acts of congress greatly manipulated the price of silver in the US. The Bland-Allison Act went into effect in 1878 requiring the US Treasury to purchase between $2 million to $4 million of silver each month from western mines. In 1890, the Sherman Silver Purchase Act required the government to purchased still more millions of ounces of silver. But in 1893, the treasury was running out of gold. The markets were already starting to panic when the Sherman Silver Purchase Act was repealed causing havoc in the silver mining business, as well as to the railroads and suppliers that served them. The American economy suffered the worst depression endured before 1929. Most of the mines in Colorado never reopened.
Before the repeal
By 1882, tracks of the Denver & Rio Grande had reached Silverton, a small mining town at an elevation of 9,005 feet (2.7 KM). The town occupied, and nearly filled, Baker's Park, the only flat spot in this region of the San Juan Mountains. The mines were still above and mostly north of Silverton and freighting to the railhead was still a problem. Otto Mears (1840 - 1831), already well known for his toll roads and mining interests, decided to do something about this shortcoming: he built a railroad. His little Silverton Railroad ventured northward 17.5 miles (28.2 KM) up into the booming Red Mountain mining district as far as Ironton. It was completed in 1889. This was a difficult railroad to build and to operate, but it proved immediately profitable due to the silver boom. Plans were even made to complete a railway to nearby, but hard to reach, Ouray where tracks of the D&RG had arrived only two years earlier.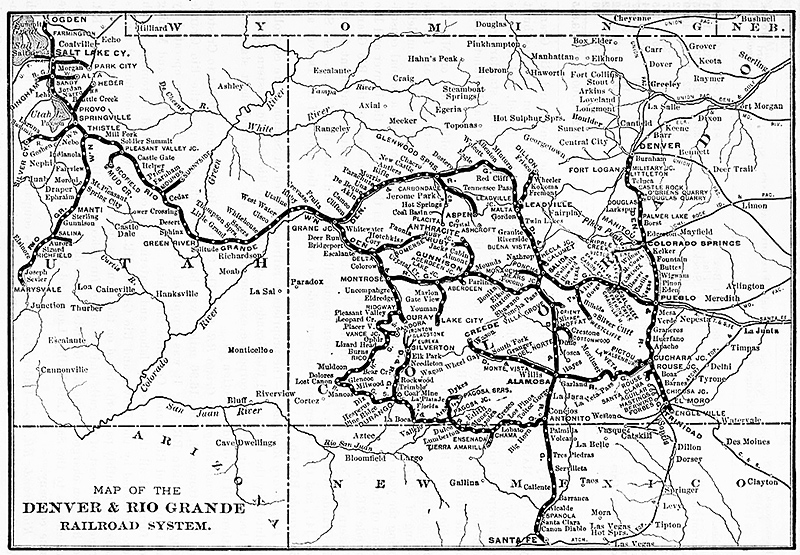 Denver & Rio Grande map showing the Silverton Railroad (Silverton to Ironton) and the Rio Grande Southern (Ridgway to Durango).
Rio Grande Southern -- a prodigious beginning
Building upon past success, Mears expanded his railway plans. His new Rio Grande Southern would serve new mining booms in Telluride, Placerville, Ophir and Rico. It would also complete the connection between the D&RG's San Juan Extension at Durango and its Ouray Branch at a new town along the branch named Ridgway.
Narrow gauge was already a passing fad in US railway construction. In 1878, 35% of common carrier railroad miles constructed that year was narrow gauge, most commonly three-foot gauge. At the narrow gauge peak in 1885, there were 18,529 miles (29,819.5 KM) of narrow gauge constructed in the United States. But by 1890, narrow gauge was on a rapid decline. The RGS was surrounded by narrow gauge, so the gauge decision was obvious. Also, much surplus, but still usable equipment was available -- especially from the D&RG and the Rio Grande Western (the Utah extension of the D&RG) both of which were rapidly being standard gauged.
Mears' Rio Grande Southern was incorporated in November of 1889, grading began early in 1890, and by mid-summer of that year, construction crews totaled over 3000 men. A formal party celebrated the completion at Rico on September 15, 1890 although the tracks wouldn't be completed until December 19th at milepost 84.5, between Dolores and Rico.
The new railroad enjoyed a wonderful, but very brief, boom. Daily passenger trains with Pullman cars ran from Ridgway to Rico and Rico to Durango; another pair of passenger trains ran between Vance Junction and Telluride. Trains run around the clock, as many as 20 freight trains in a 24-hour period. Railway Post Office routes were run between Montrose (north of the RGS, on the Ouray Branch of the D&RG) to Telluride, Montrose to Rico, Ridgway to Rico, and also Ridgway to Durango (this route lasted until 1917). The railroad jointly ran "Around the Narrow Gauge Circle" trains with the D&RG passenger department. Mears issued 527 handmade silver filigree and three gold filigree passes. In October, Mears told stockholders that a survey had been completed by Thomas Wigglesworth from Mancos to Prescott Junction (later Seligman) to meet the Prescott & Arizona Central and the Santa-Fe-controlled Atlantic & Pacific railroads. On January 9th RGS 4-4-0 No. 36 left Ridgway with William Henry Jackson, the renowned photographer, to photograph the railroad for future advertising.>
The nation was already falling into a financial panic when on June 30, 1893, President Cleveland called a special session of Congress to consider repealing the Sherman Silver Purchase Act.
Survival
On August 2nd the RGS was placed under receivership, and Otto Mears was out. The bubble had broken. On September 31, 1893 the Sherman Silver Act was repealed. The boom was over for silver, and for the RGS.
In the austerity of 1933, steam operated passenger trains were replaced by the RGS's unique, homemade "Galloping Geese." There were seven of these railcars, no two alike, using a second hand automobile body with an attached freight, and usually bagged mail, compartment behind. They probably saved the railway for many years to come.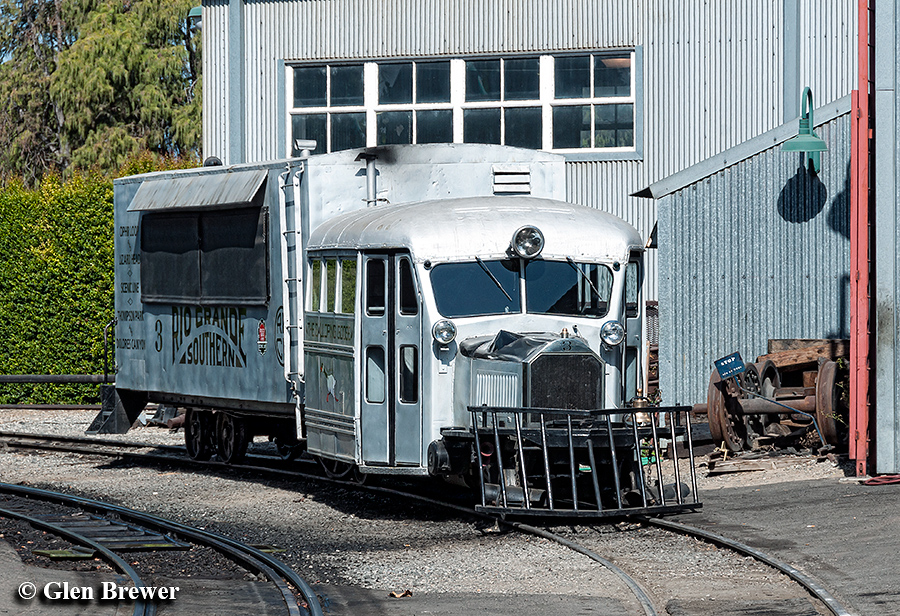 RGS Moter No. 3 was modified by the RGS with a school bus body for tourist service; the freight compartment was changed to carry passengers.
The end of the RGS
But in 1950 the RGS lost its US government mail contract to highway carriers. Mining shipments were already meager at best, and there were very few passengers left. Encouraged by the popularity of the D&RGW's Silverton Train, the company briefly tried to attract passengers to its majestic scenery using several modified "Galloping Geese," but it was too little too late. When county tax bills came in, the company was forced to call it quits. It is wonderful to know that this RGS/D&RGW collection is in good hands. Other remnants of the RGS survive including RGS locomotives 42 and 20. All the geese are still around except for No. 1 which has been lovingly recreated. Many of these and other artifacts are at the Colorado Railroad Museum in Golden.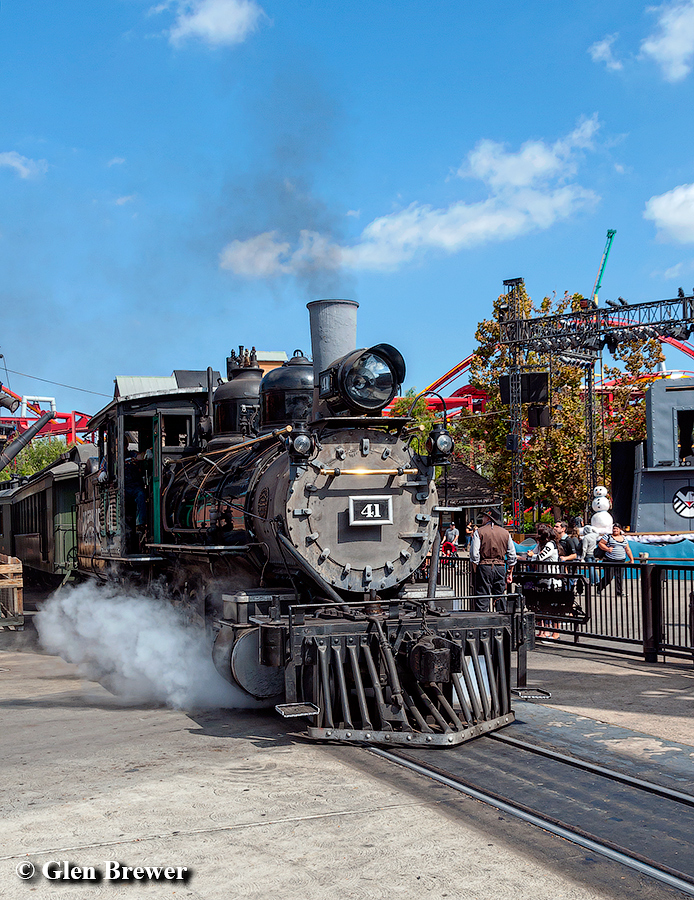 Who would have thought it possible in the 1950s, when the RGS was being unceremoniously scrapped, that it would ever be possible to ride behind a RGS engine again? Thank you, Walter Knott and to all his successors and employees who have kept a little of the RGS alive and well for us all to enjoy!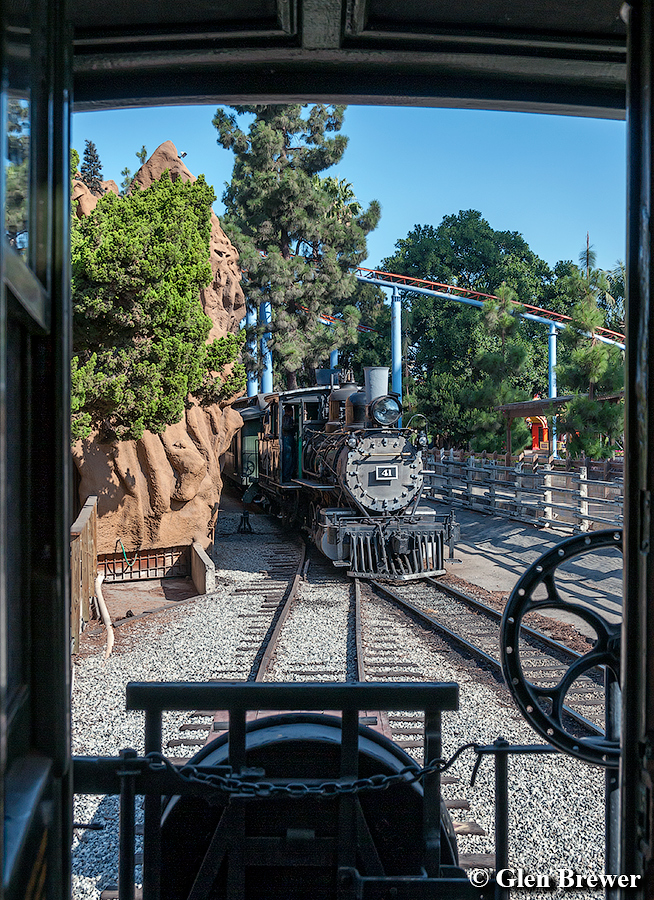 Rio Grande Southern 41 from parlor car "Durango."
References
Blackstone Models C-19 history
Rio Grande Southern Railroad Information
-- 30 --
Also see: My First Fan-trip Not one but two big steamers.