Denver's Ghost Buildings

The author's personal opinions on architecture, and his selection of some of Denver's most noteworthy surviving buildings
© Glen Brewer
I know nothing of architecture, but that doesn't keep me from knowing what I like: I like Victorian. The late nineteenth century was a time when aesthetics really mattered - not just in building design but in art, music, and even industrial designs. People of the era felt a compulsion to make every building, every surface and every object visually interesting. This rule generally applied not only for fine mansions, but for lesser houses and for factory buildings and public places. Architects of the day were concerned as much with the appearance of a building as they were with its functionality. A house or a commercial building was regarded as "a gift to the street".
There are quite a few surviving building of the Victorian era in Denver. Old buildings can tell a story. A story of hopes and dreams, of ventures long ago discarded, of the people who built them, inhabited them, worked in them, or just visited them on their daily rounds or on their way to somewhere else. Usually the people are long gone now, but these buildings live on. Like human centenarians, only a few are left: these are the survivors.
Denver was still a young and dynamic city when most these survivors were built. The frontier days of log cabins and hastily built frame buildings were giving way to something more substantial: buildings of brick and stone. Considering that they had little modern equipment, this was quite an undertaking. All materials had to be brought in by horse and wagon either from their place of manufacture or from Denver's extensive railroad system. Dirt and materials were moved and buildings were constructed by men, possibly with some help from horse and steam power. Despite these difficulties, these buildings were intended to last. While far too many of Denver's outstanding buildings have been lost to the wrecking ball in the name of urban renewal, the ones portrayed here are all survivors.
What follows is my own list of some noteworthy survivors. Most are selected for their architectural appeal, but a few are included for other reasons: historical or personal.
The Ghost Building, 18th and Stout.
This one is actually named the "Ghost Building". This three story stone building was built ca 1891 for Allen M. Ghost. It was designed by Denver's premier 19th century residential architect, William Lang (1846 - 1897). It is the only commercial building by Lang still standing. The stone facade, originally at 15th and Glenarm Place, was dismantled in 1979, to make way for a parking lot, but stored. In 1985 the building was reconstructed at 18th and Stout Streets. Unfortunately, due to the move, it lost its designation as a National Historic Landmark.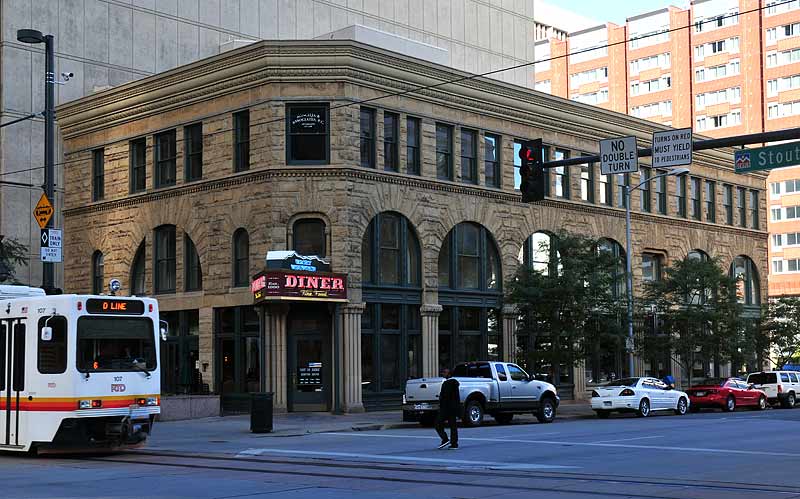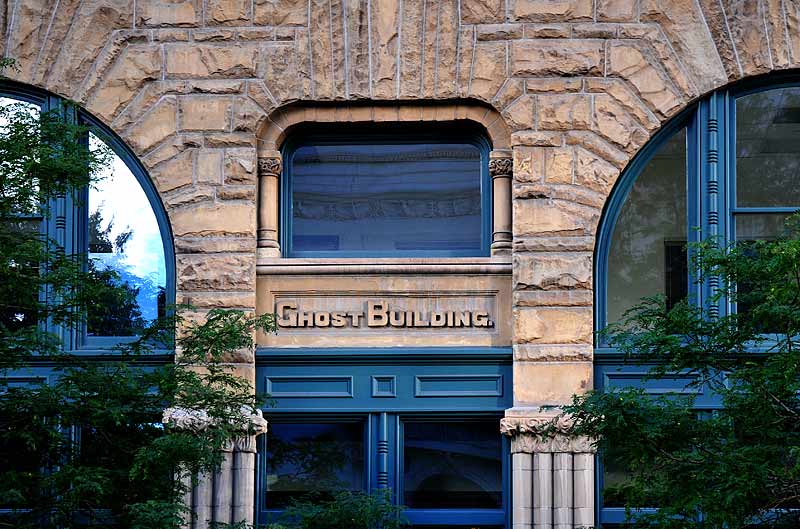 ---
Lower 17th Street group
An interesting cluster of building in the 1600 block of 17th Street plus Union Station at the end of the block. This block is very much tied up in Denver's transportation past. Union Station was the unquestioned gateway to Denver; a huge, cast iron "Welcome Arch" once stood at the end of the street in front of the station.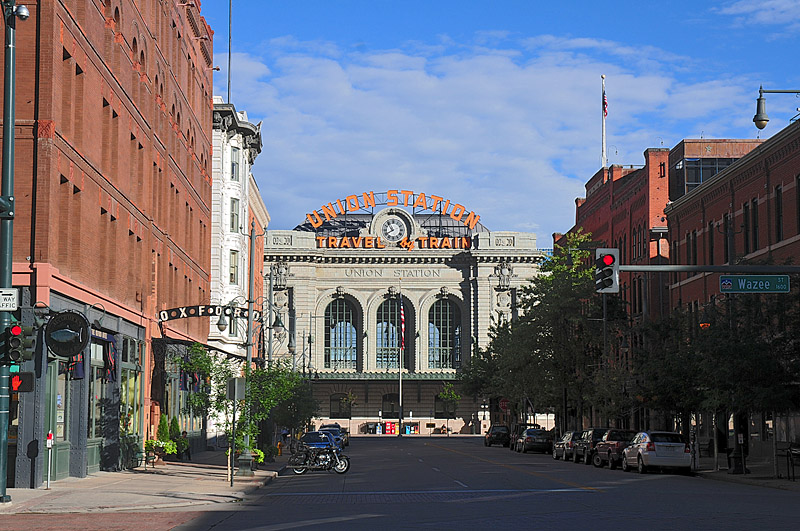 Denver City Railway Building
Denver's first mode of public transportation was the horse car. The Denver City Railway Building was constructed in 1883 as stables for the horse car company. It was sold in 1892 and its facade was modified in 1902. An interesting feature is the false front: the upper left three and upper right three windows have no interior space behind.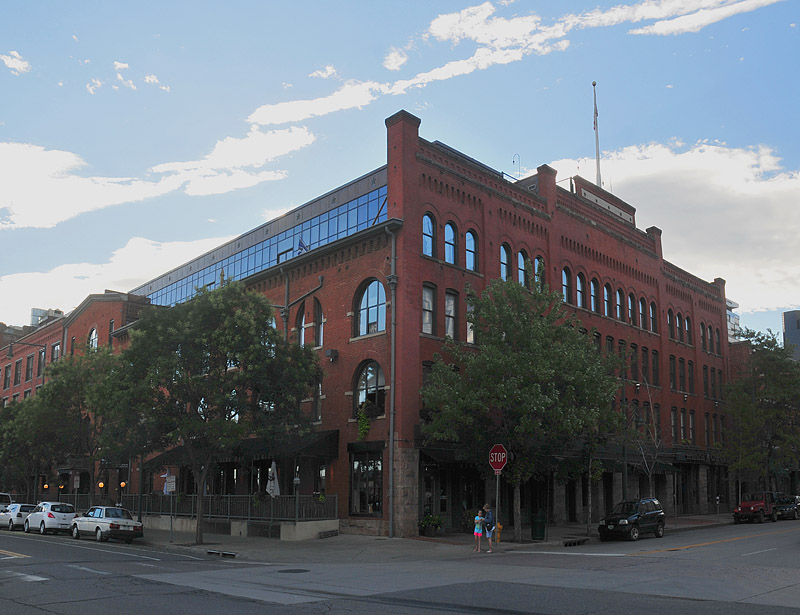 Union Station
Not one of my favorite buildings for esthetics (way too eclectic for me), but one that deserves to be included for historic reasons. This is the third generation of the central section of the station. The original station was built in 1881. The main portion burned in 1894. The station was rebuilt to a different style, but apparently to enlarge the public area of the then very busy depot, it was rebuilt still again in its current Beaux-Arts style in 1914; the wings are much older.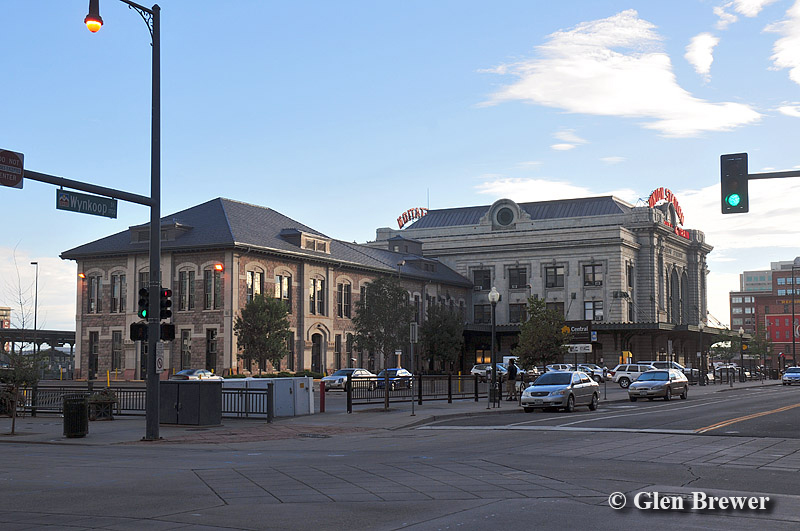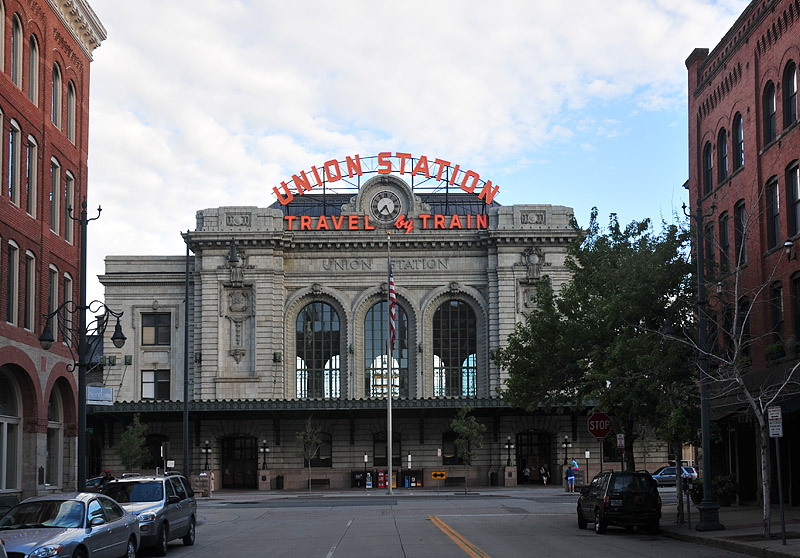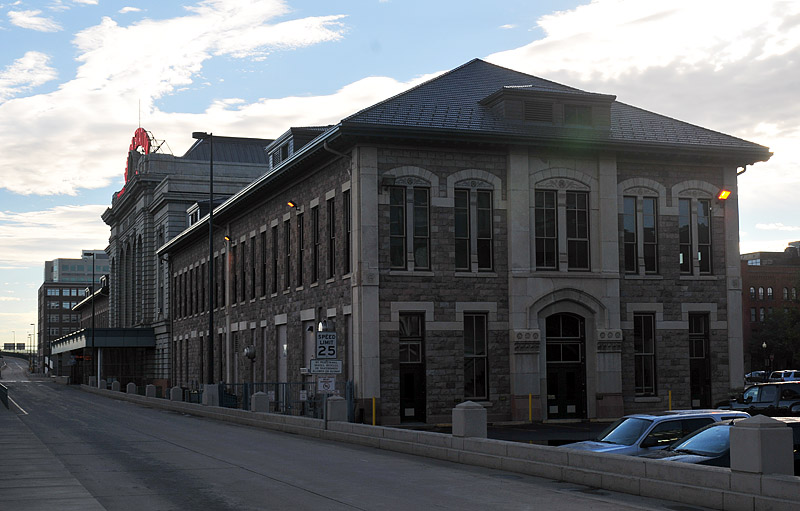 Oxford Hotel
The Oxford was designed by Frank E. Edbrooke and built in 1891. It was the finest hotel in Denver until the Brown Palace overtook it. It was certainly convenient to Union Station.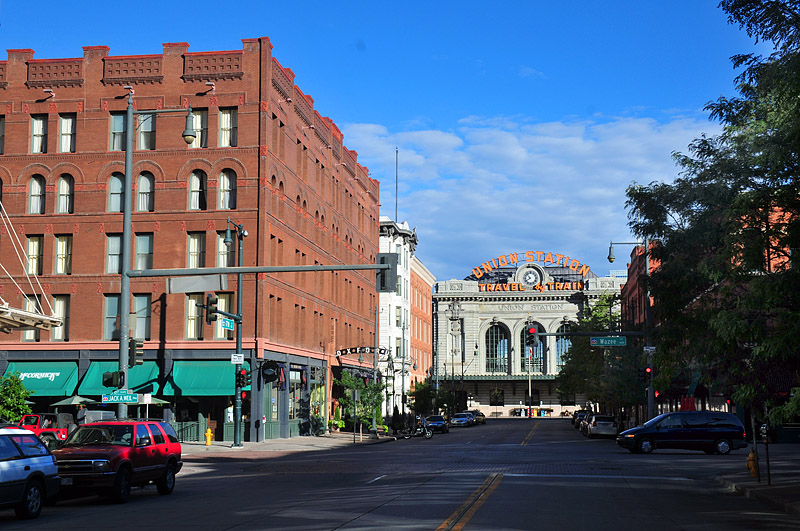 Oxford Hotel Annex
In 1912 the Oxford Annex was added to the original hotel. I have included it here primarily because the first floor was once the city ticket office for several railroads.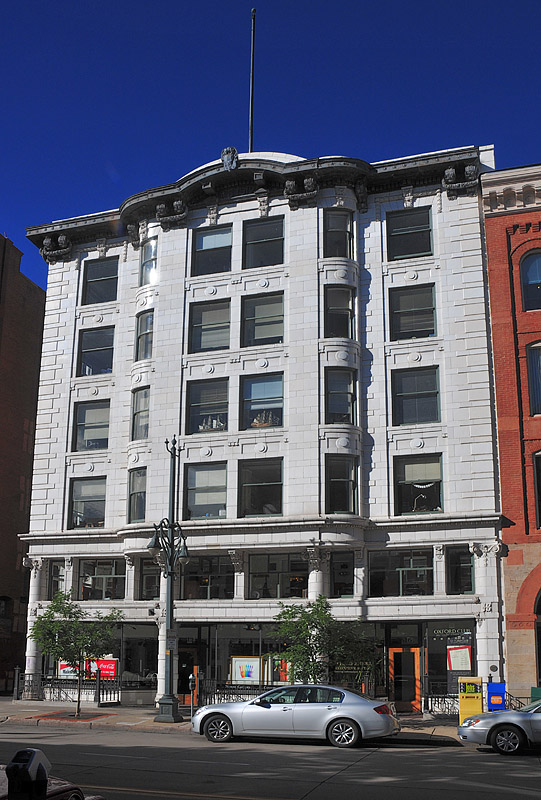 ---
Denver City Cable Railway Building
This was the powerhouse for the Denver City Cable Railway, one of Denver's two cable railways. Denver's cable cars lasted until 1900 primarily because of political resistance to conversion (actually disputes over franchises) and financial burdens placed on the lines.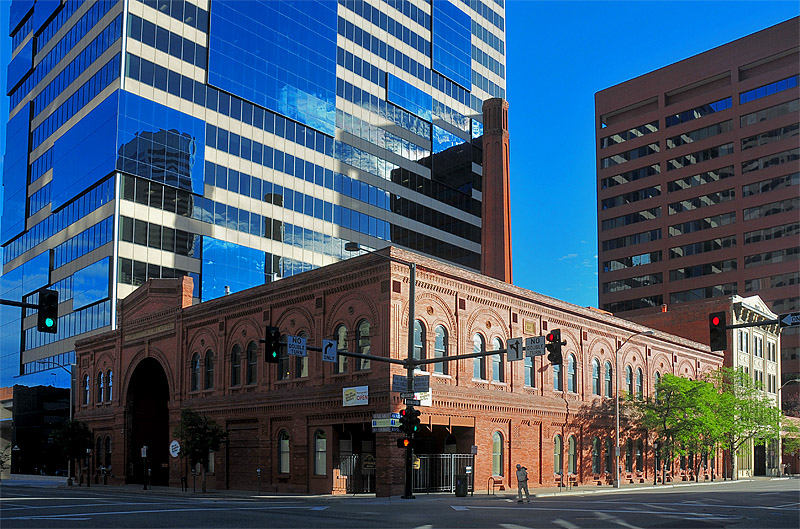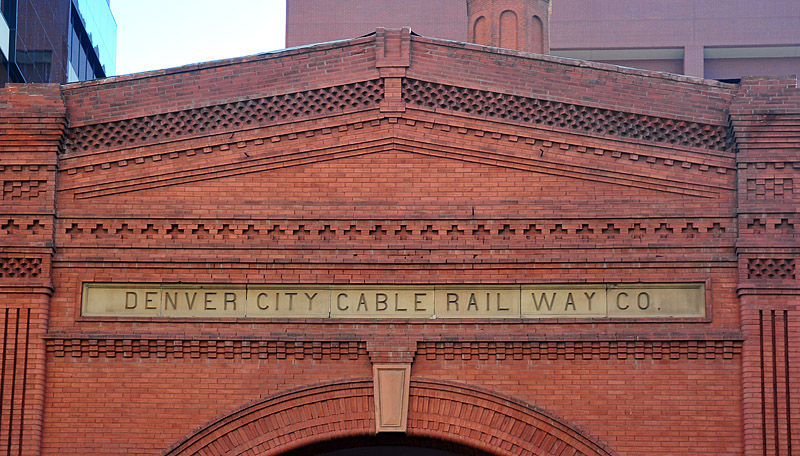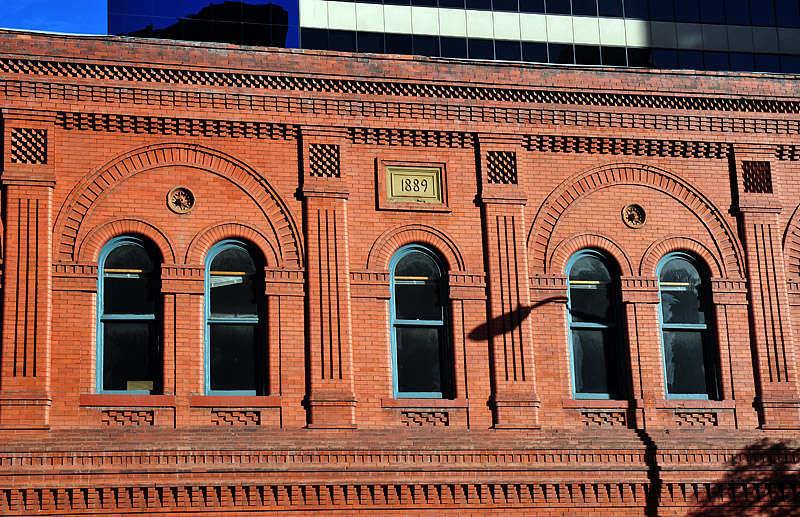 Denver Tramway Power Company Plant Building
The other cable car company was the Denver Tramway which acquired the Denver City Cable Railway and became the sole operators of electric streetcars in Denver as well as interurban electric railways. The building was used to generate electric power for their system from 1901 until the 1950s. It is now home to a huge sporting goods store.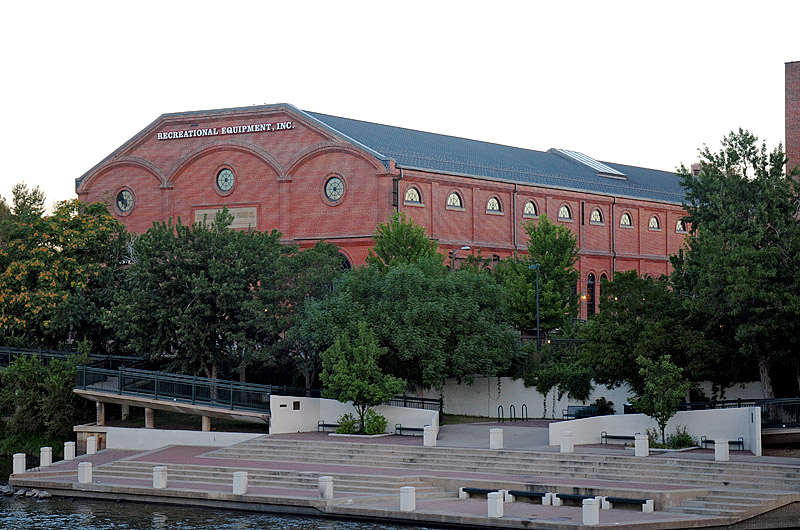 Moffat Station
Actually a remnant of the Moffat depot -- the freight section formerly to the right burned years ago. David H. Moffat's latecomer railroad, the Denver, Northwestern & Pacific was denied access to (or priced out of) Union Station, so the road operated out of this station a few blocks away. The building was designed by Edwin Moorman and built in 1906. Style is said to be Georgian Revival. It became redundant when the Denver & Salt Lake (successor to the DNW&P) was acquired by the Denver & Rio Grande Western in 1947.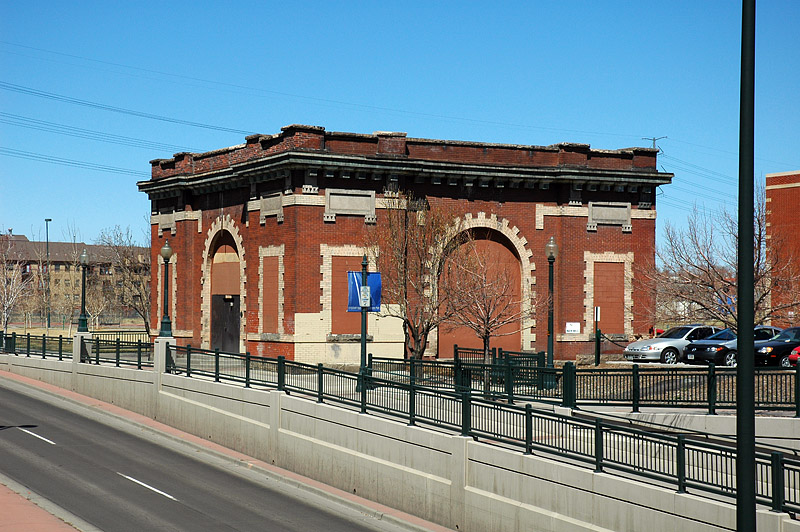 Denver Tramway Building
Built in 1911 on the site of the home of John Evans, Colorado's second territorial governor. John's oldest son, William Gray Evans, became president of the Denver Tramway Company and retained two of Denver's up and coming architects, William E. and Arthur A. Fisher, to design an eight-story office tower and adjacent three-story car barn. The Tramway Company was one of early Denver's biggest employers.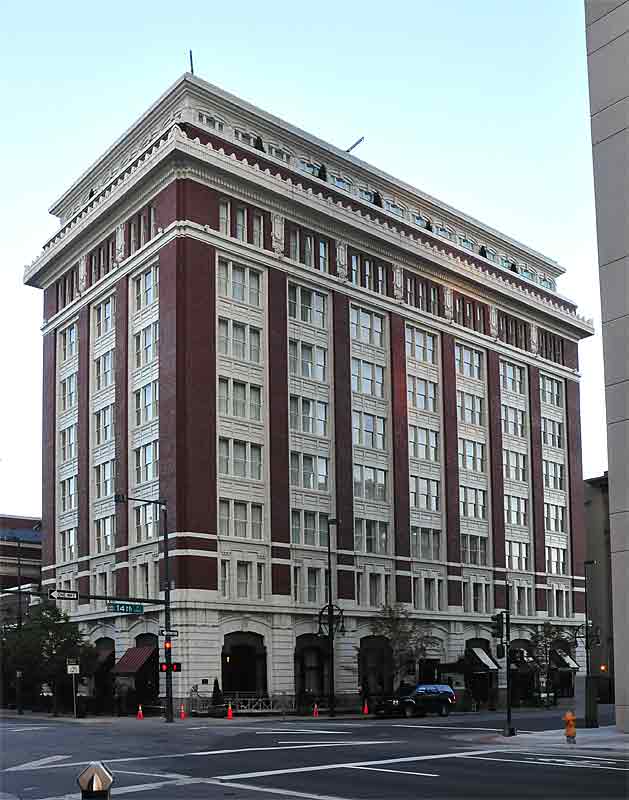 Union Pacific Warehouse Building
Again, picked for its significance in Denver's railroad past. The building was constructed in 1922-1923.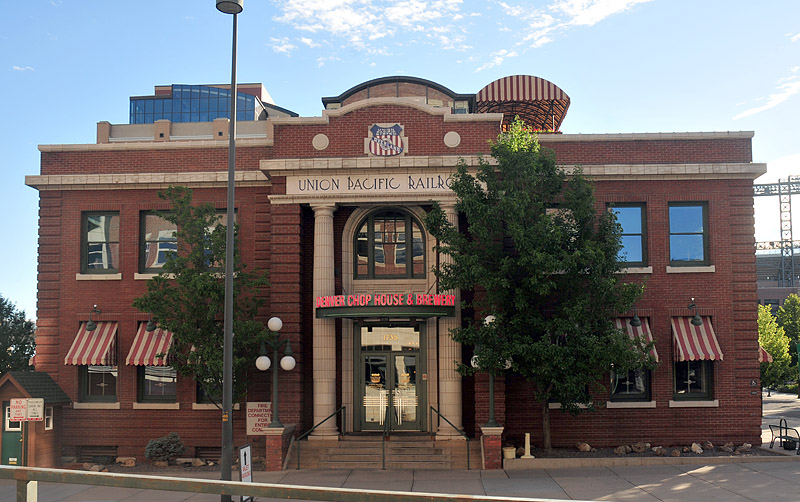 Denver Gas and Electric Building
Designed in 1910 by Harry W. J. Edbrooke the fascade featured 13,000 lightbulbs.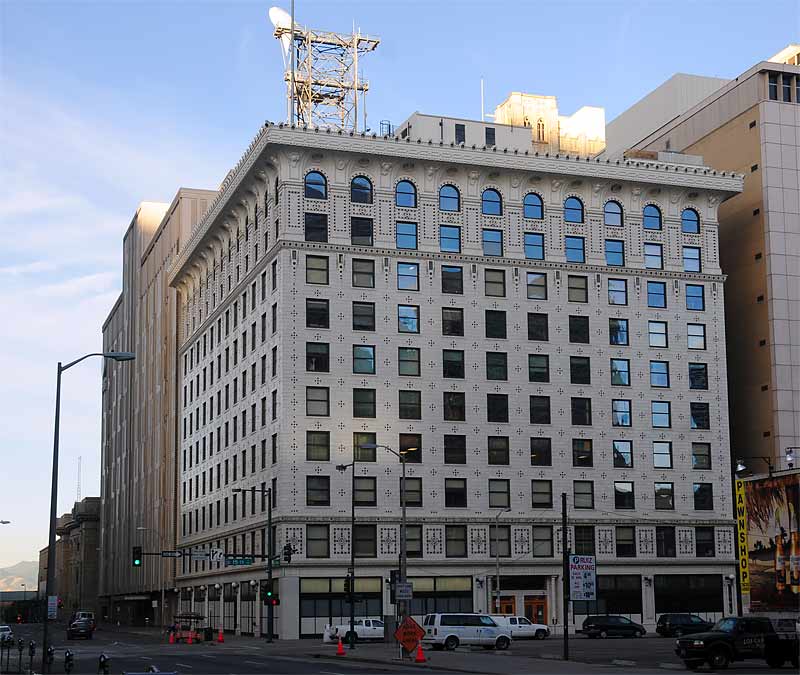 Kittridge Building
Built in 1891; designed by A. Morris Stuckert.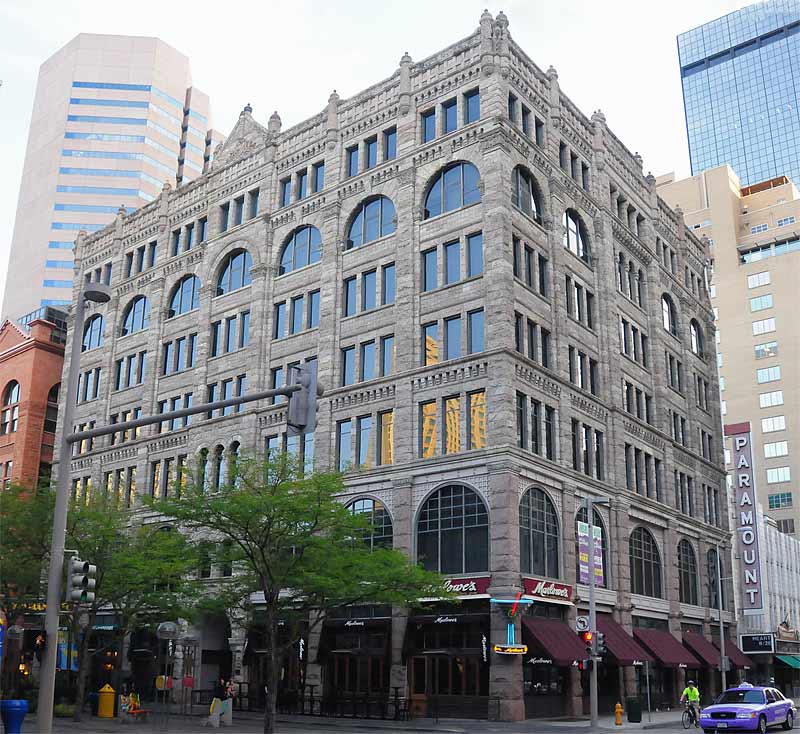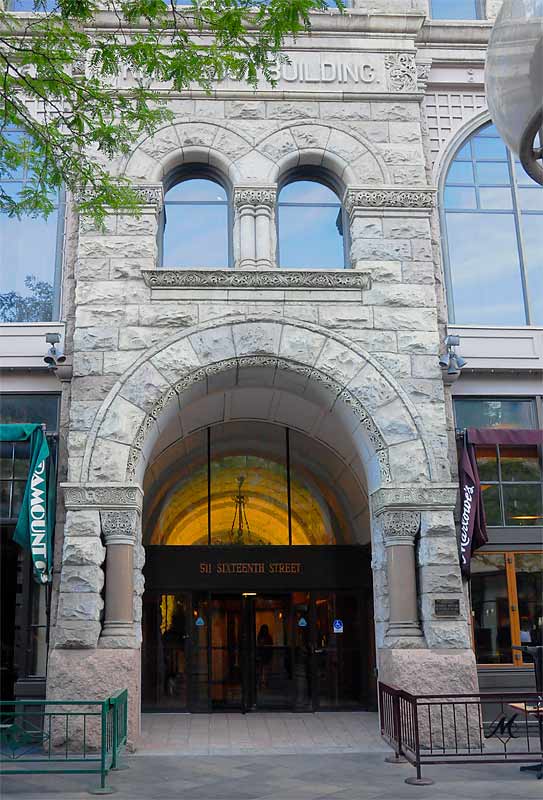 Masonic Building
The Masonic Building was nearly lost to a devastating fire in 1985. Only the stone walls were left, and they had to be propped up out of fear that they would fall onto 16th Street. But the 1889 sandstone walls were saved, and the interior was built as new.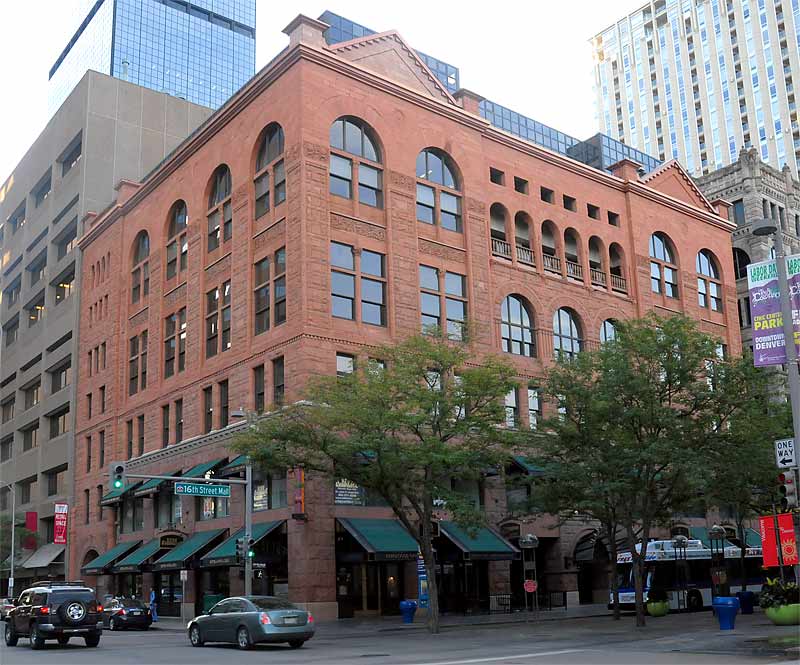 Odd Fellows Hall
designed by architect Emmett Anthony and built in 1889.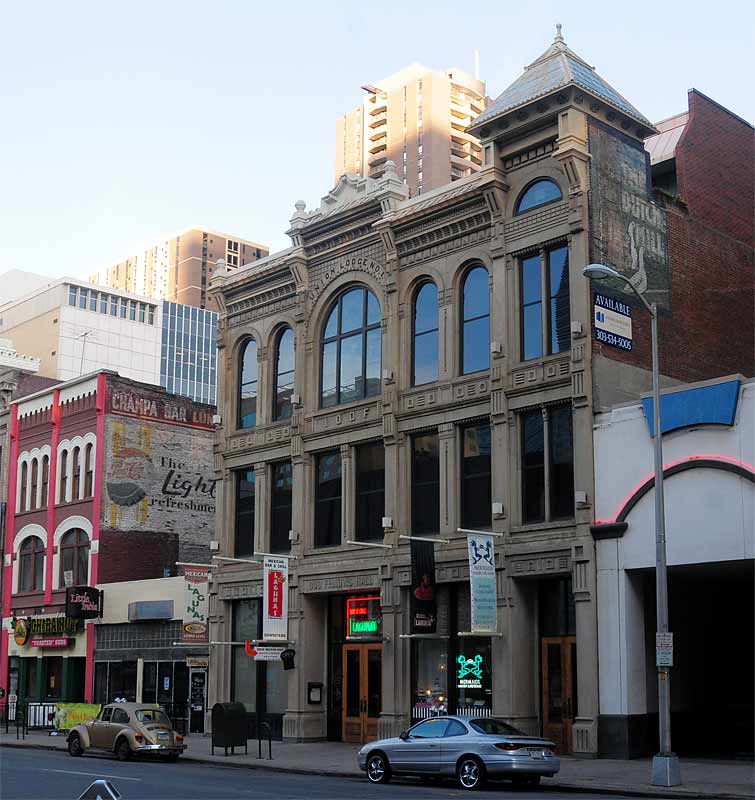 Brown Palace
Designed by Frank Edbrooke, and open for business in 1892, the Brown has been Denver's premiere hotel ever since.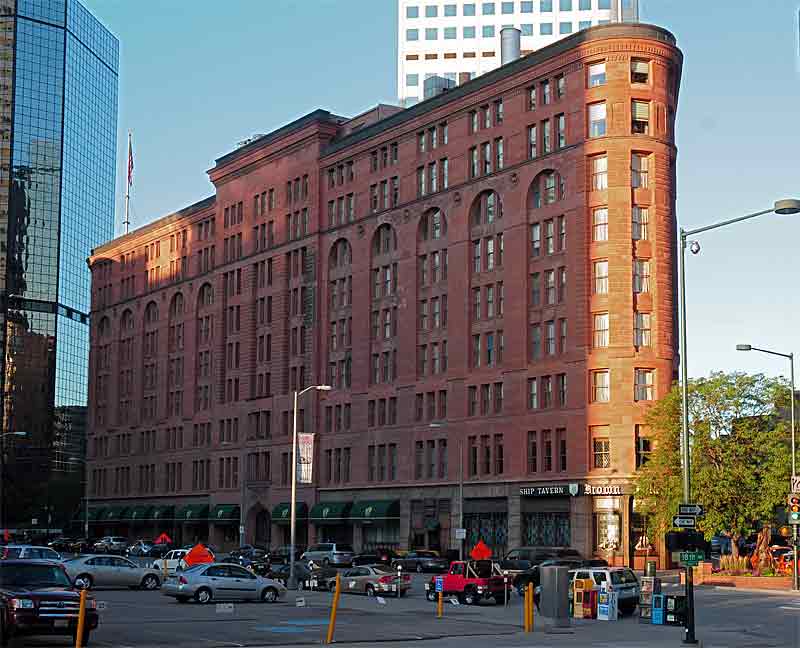 Navarre, 1725 Tremont Place
The Navaree, built in 1880, served as the Brinker Collegiate Institute until 1889. From 1889 until 1904, the property was remodeled and opened first as the Richelieu Hotel and then the Navarre. It is said to have been Denver's classiest bordello and gambling hall, but now it is home to an art museum.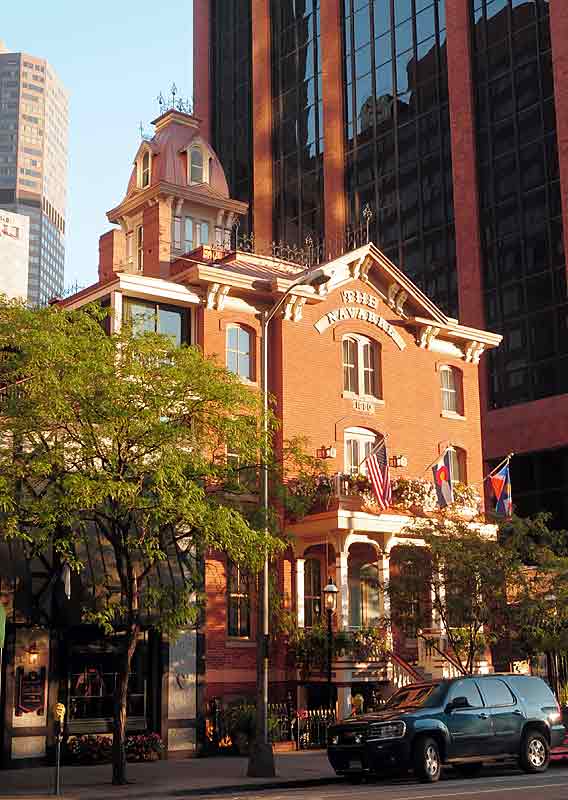 Curry-Chucovich House, 1439 Court Place
A true survivor. In the 1980s, developers tried to buy this house, law office of a Mr. Walter Gerash, so they could tear it down to make room for a high-rise building. Gerash wouldn't sell. The skyscraper was never built. The house was built by building-supply dealer James Curry in the late 1880s, and later owned by Vaso Chucovick, a Serbian immigrant and Denver crime boss. Gerash bought the property in 1978 and restored it.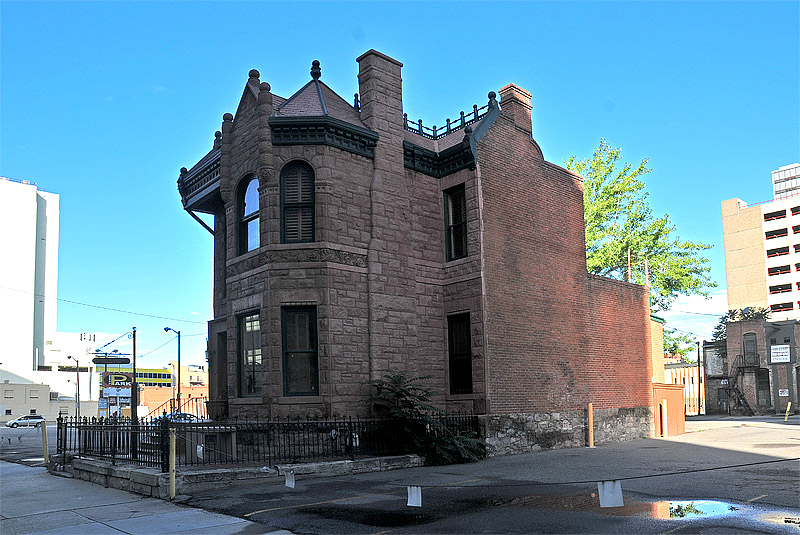 Byers-Evans house
Something of a "house of gloom" due both to the choice of colors and its location. It is completely overwhelmed by the towering and radically clashing architecture styles of Denver Art Museum's buildings. The house was built in 1883 for William Byers, publisher of the Rocky Mountain News. In 1889 it was sold to William Gray Evans, an officer of the Denver Tramway Company.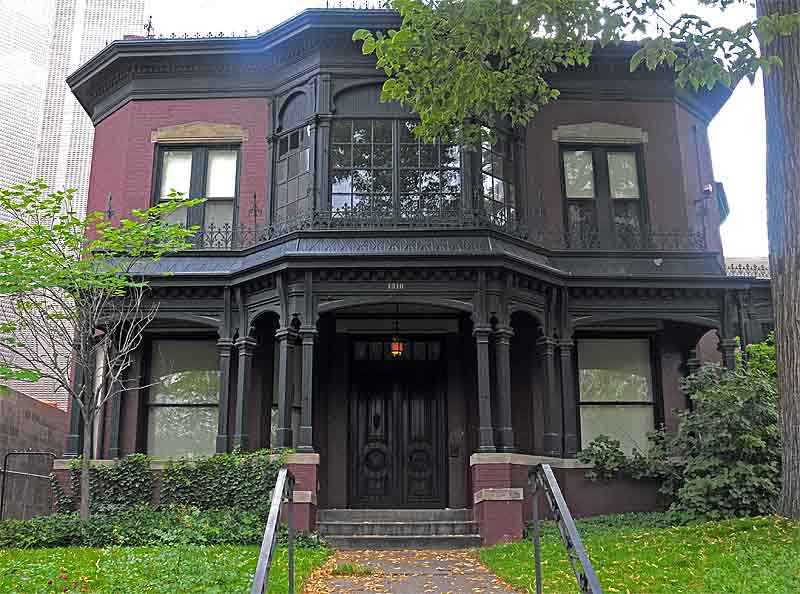 The Grafton
This is the most attractive apartment building in Denver. It designed by James Murdoch and built in 1890.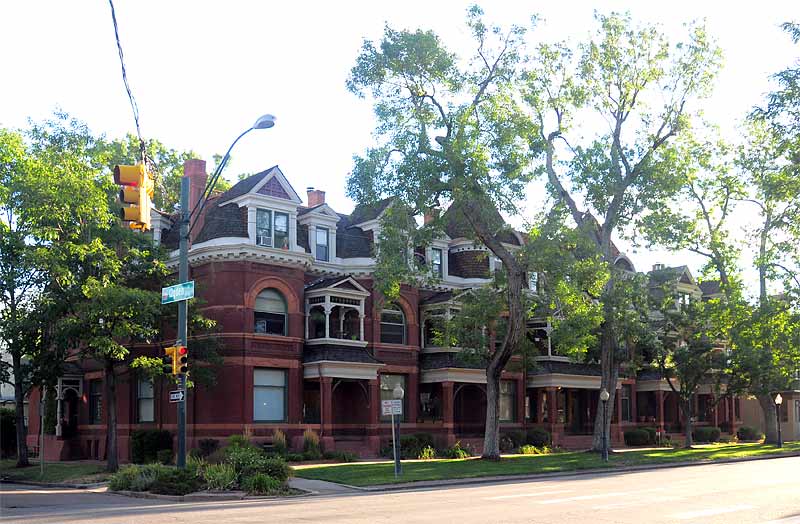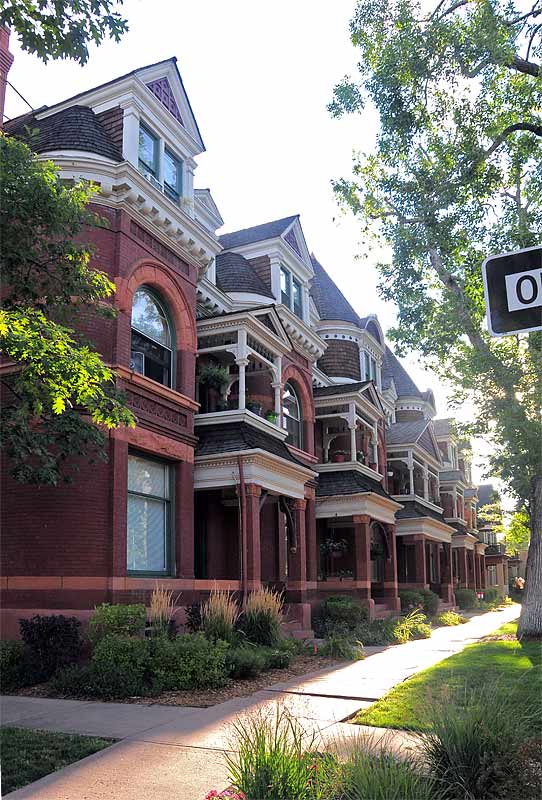 The Bailey Mansion
Designed by William Lang in 1889 for George B. Bailey. Lang's style has been described as highly ecclectic, with a strong influence of the Richardsonian Romanesque and Queen Anne styles. However it is described, it is quite unique and considerably varied. Varied not only in style, but also in size and ornimentation.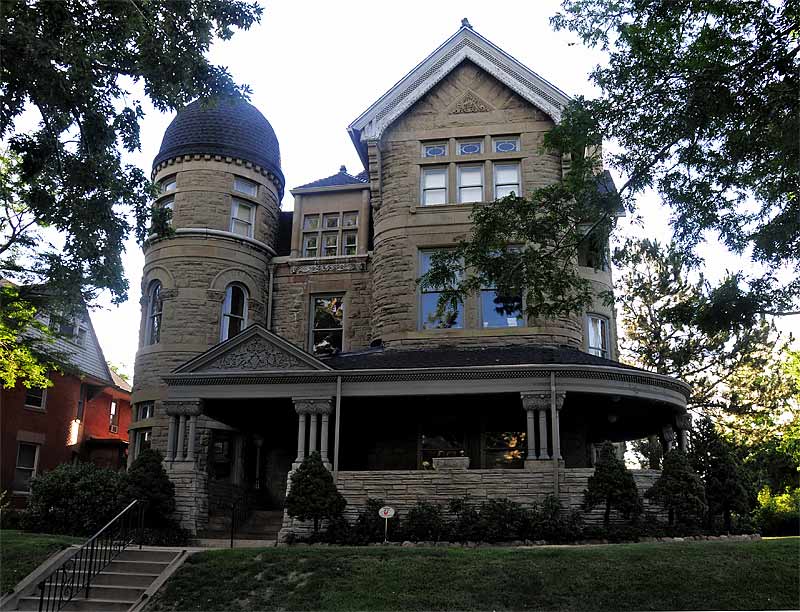 The Gebhard Mansion
The Gebhard Mansion was built before records exist, but probably between 1882 and 1884. It was the long time home of Henry Gebhard who established the Colorado Packing and Provision Company (the stockyards) as well as the Stockyards National Bank.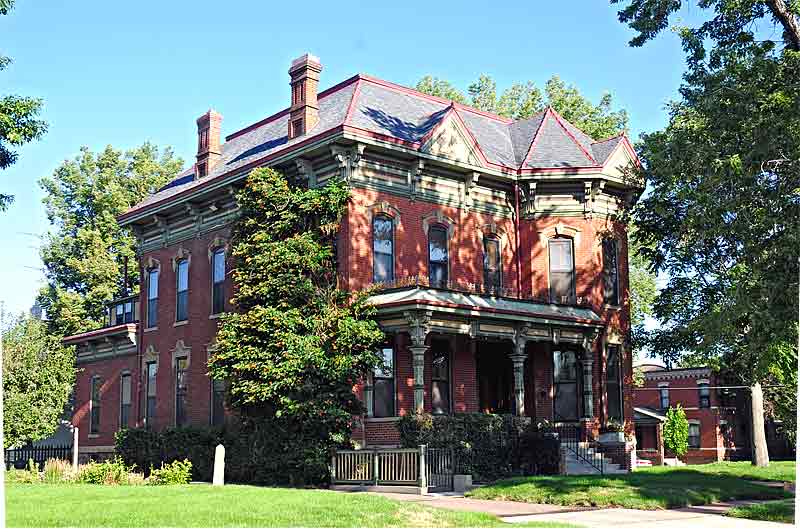 The Raymond House
This home was designed by William Lang for banker Wilbur S. Raymond in 1889. It is now the Castle Marne B & B.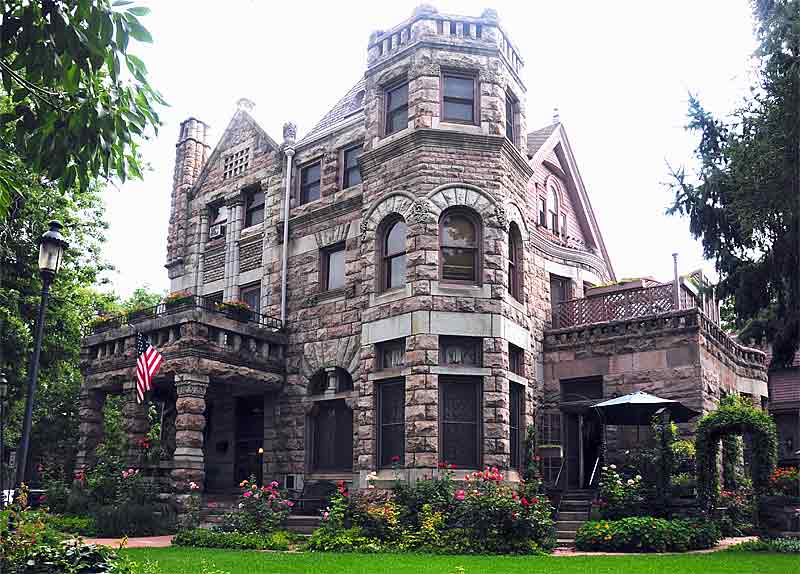 Details of the Ramond House.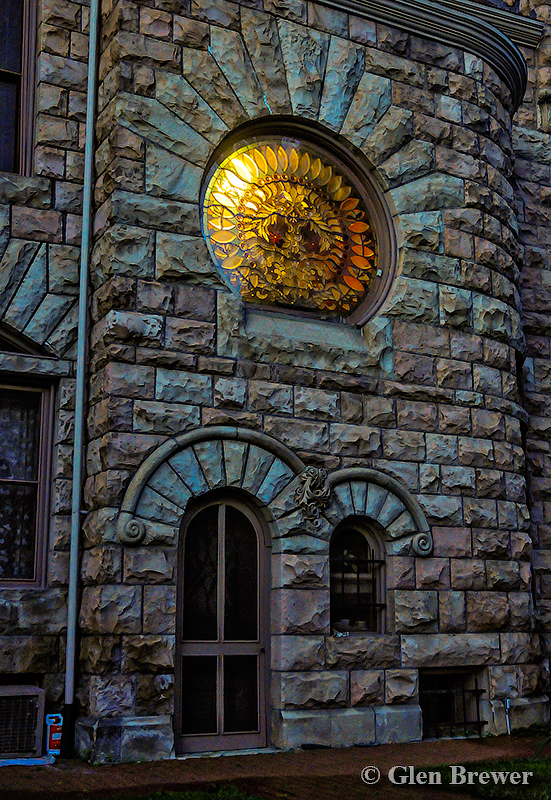 The Schlessinger House
A large rusticated brick home Designed by William Lang in 1890.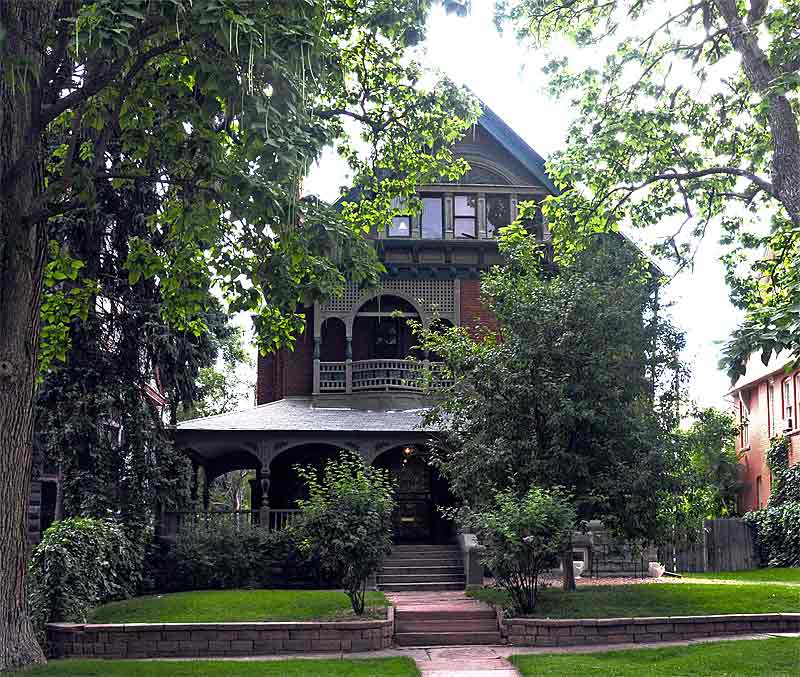 Molly Brown's house
Thanks to the outrage over the destruction of the Moffat Mansion, Historic Denver was formed and the Molly Brown house is a survivor today. The house was built in 1889 by William A. Lang for Isaac and Mary Large. But its most famous resident was Margret Brown (never known as Molly), who bought the house with her husband James Joseph Brown in 1894. Of course, no mention of Mrs. Brown can be made without noting that she survived the sinking of the Titanic.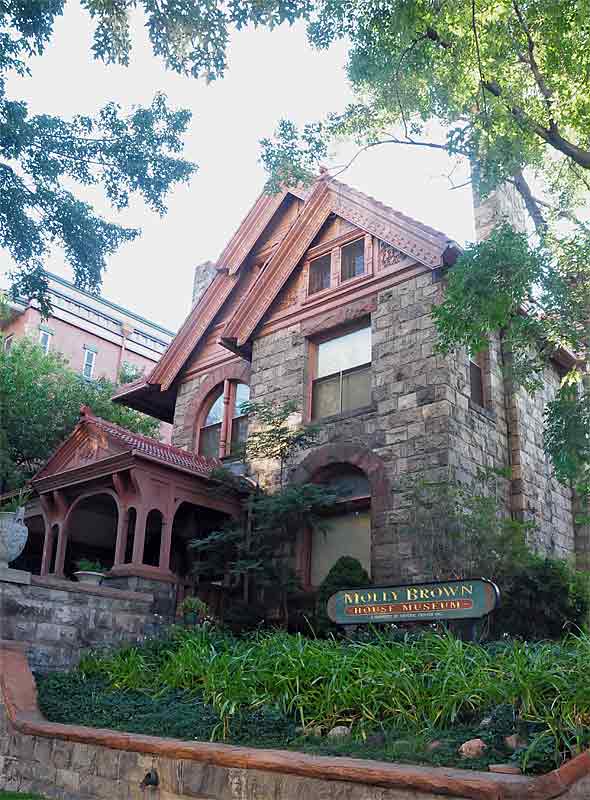 Stoiberhof
The forty room, walled mansion was built in 1907 for Ed and Lena Stoiber. This was not the first huge wall built by Mrs. Stoiber who was known around the silver mining camp of Silverton as "Captain Jack". There she built a two-story, wooden, spite fence when her neighbor refused to sell her an adjacent vacant lot. The Stoibers had made their fortune at the Silver Lake Mine outside town. After Ed Stoiber died, she married Hugh R. Rood who unlike Mrs. Brown was not a survivor of the Titanic.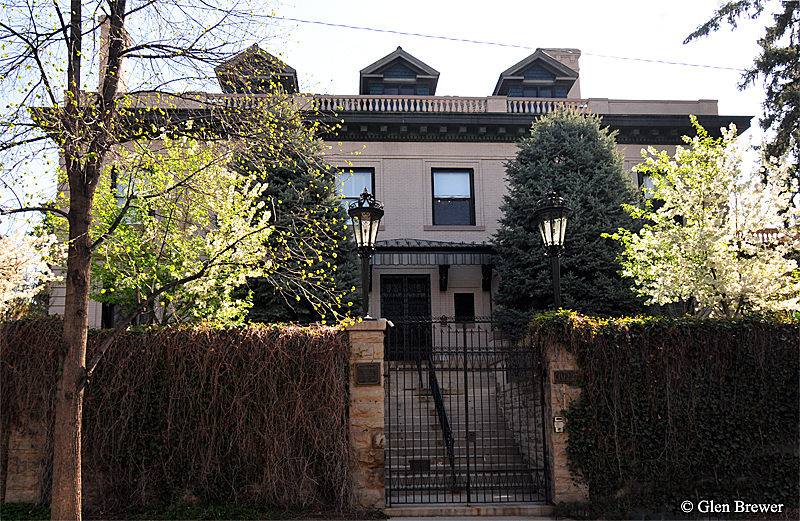 City Park lake and pavilion
Ferril Lake and the City Park Pavilion. People used to travel out to this park on cable cars and later trolleys.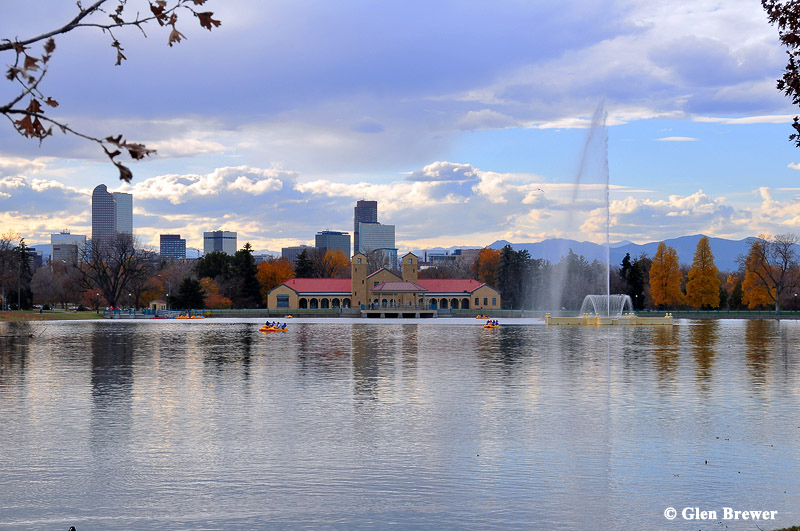 My house
Building permits for my house and a similar house on each side were taken out on April 15, 1892 and listed Lang & Pugh as architects. I doubt the house was finished for several years because of the great silver crash of 1893 -- a disastrous financial depression for the nation, but especially for Denver, Colorado and for Mr. Lang personally. It was probably one of the last designs of his short (1886-1893) but productive (about 250 houses) Denver career. In 1897, after his business had failed, he stepped in front of a train in Illinois ending it all.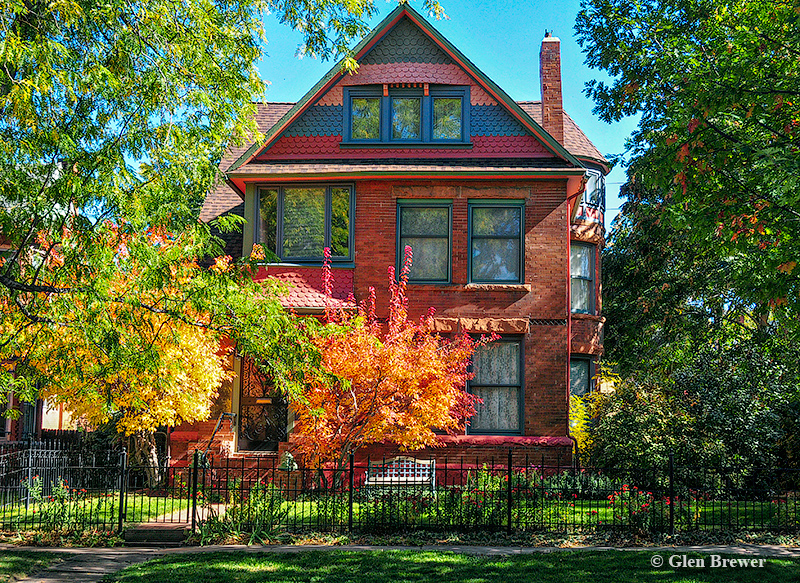 ---
More information on William Lang
William Lang biography
Marshall Pugh biography
Wikipedia on William Lang
Colorado Architects, Biographiical Sketch of William Lang