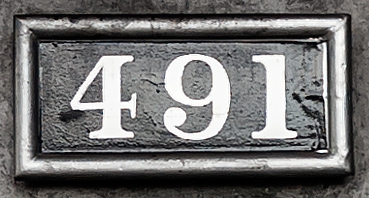 Steaming up
Looking on as Denver & Rio Grande Western Number 491 is readied for an evening on the Polar Express.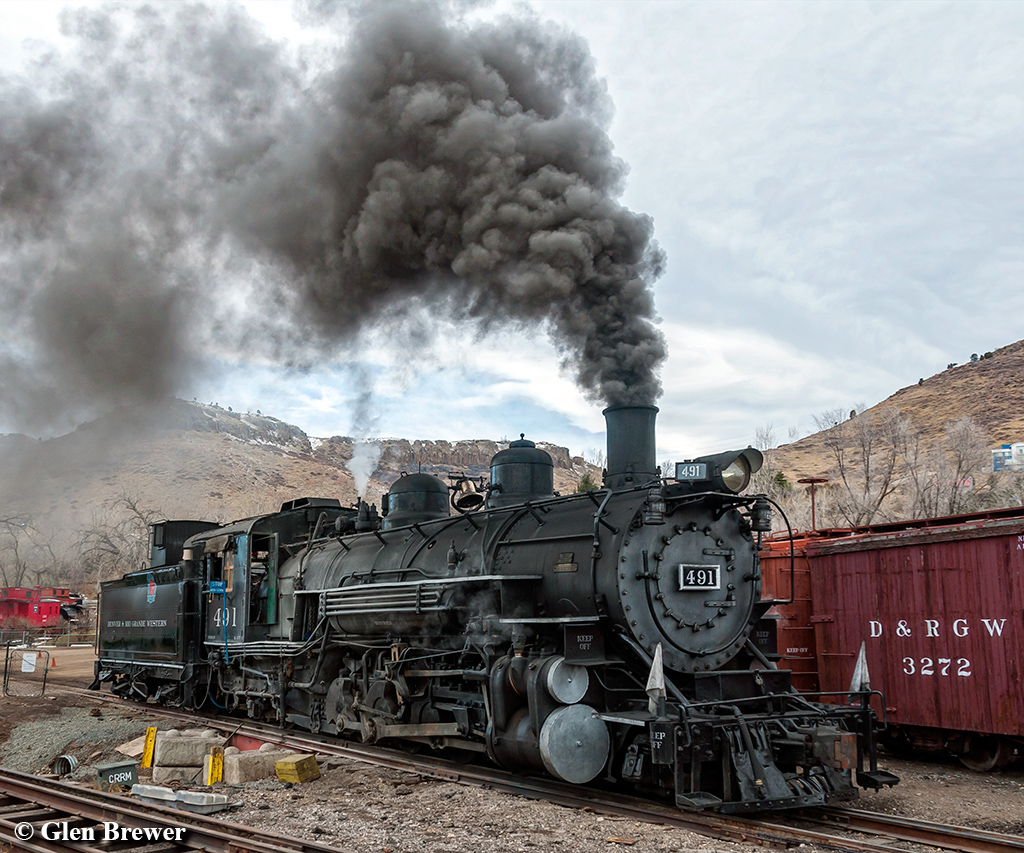 I arrived early at the Colorado Railroad Museum in Golden, Colorado to see the preparation of the engine for that evening's Polar Express trains.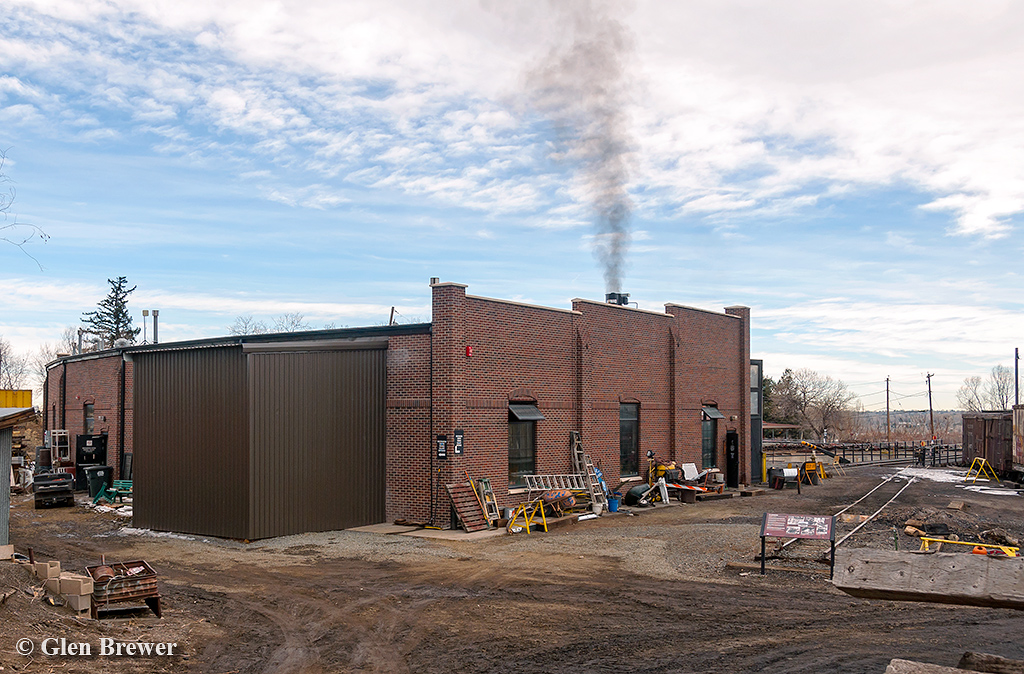 When I arrived, I could see smoke arising from the recently extended Stall 1 of the museum's Cornelius W. Hauck Roundhouse. The building, actually a multi-purpose restoration facility with a dual gauge turntable, was opened in 2000 and named in honor of the co-founder, with Robert W. Richardson, of the museum.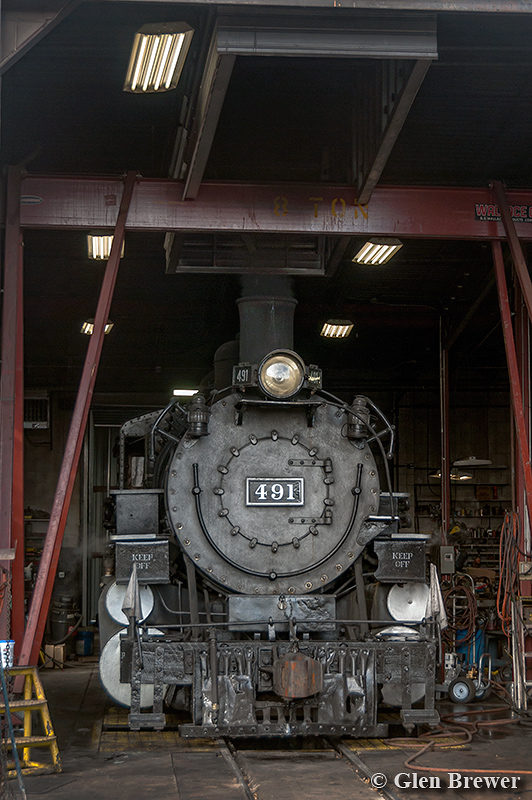 Inside Stall 1 was one of the ten largest locomotives used on the Denver & Rio Grande Western narrow gauge lines. Between 1928 and 1930, the ten locomotives of this class, numbered 490 through 499, were rebuilt by the railroad from older, standard gauge Consolidations into narrow gauge 2-8-2s. The D&RGW designated the as K-37 class -- K for miKado, and 37 for tractive effort of approximately 37,000 pounds. Eight of the ten survive in various states of decay, but only No. 491 is operational. 491 was taken out of service earlier than most of the class because its throttle leaked. It was acquired by History Colorado in 1970 and was moved to the Colorado Railroad Museum in 1985. Ownership was transferred to the museum in 2013, and in August 2014 the locomotive was back in steam -- a big accomplishment by the museum's staff and volunteers.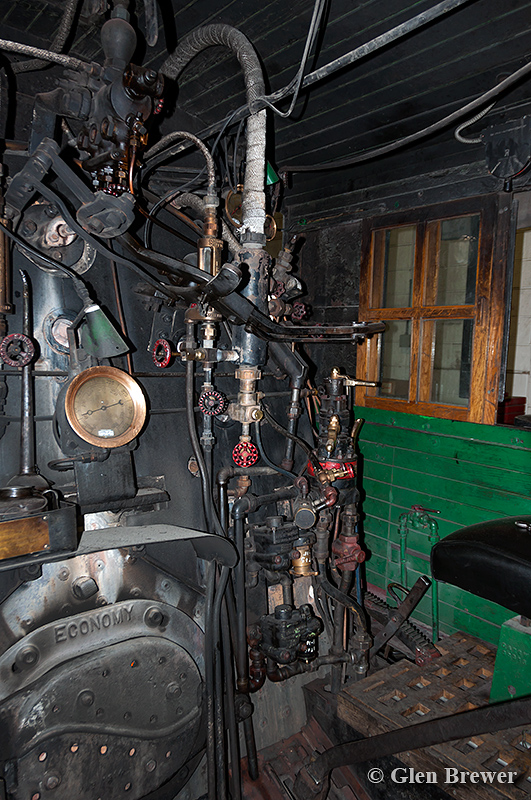 Inside the house, the steam up was in progress. Only a little pressure was already showing on the gauge. The day's staff of two, Gary Saltsman and Master Mechanic, Mike Spera, were busy attending to preparations.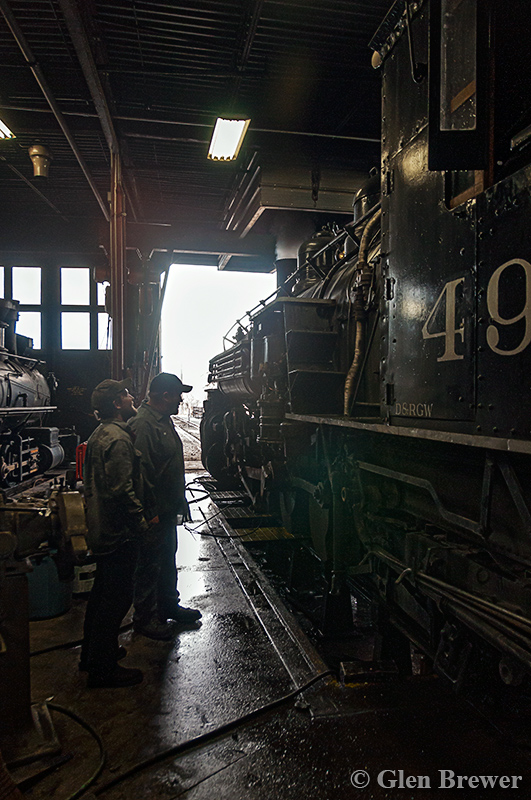 Things happen slowly on a railroad – big or small. I had plenty of time to stroll the grounds looking for photo opportunities while pressure was raised and the Alemite grease gun was put to good use.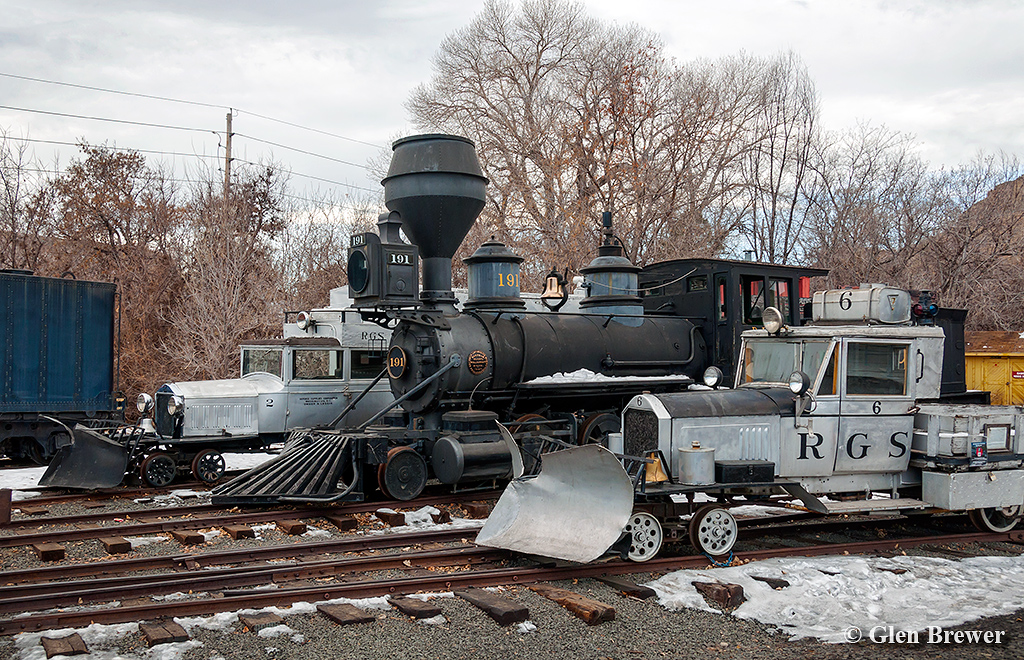 Finally the time came to bring 491 out into daylight. She was slowly moved out of her stall and carefully balanced on the turntable for a spin. The turntable is of the "Armstrong" variety, and turning this engine appeared a little harder than with the much smaller C-19 Class No. 346.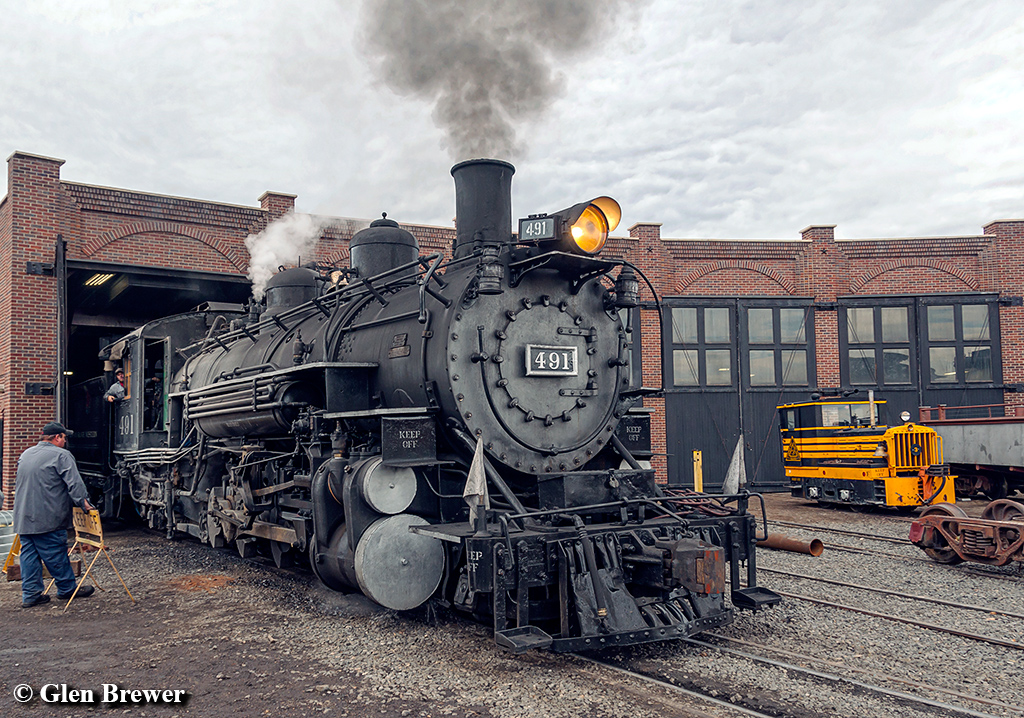 The turntable was aligned to the ash pit track, and No. 491 was backed off and spotted above the pit.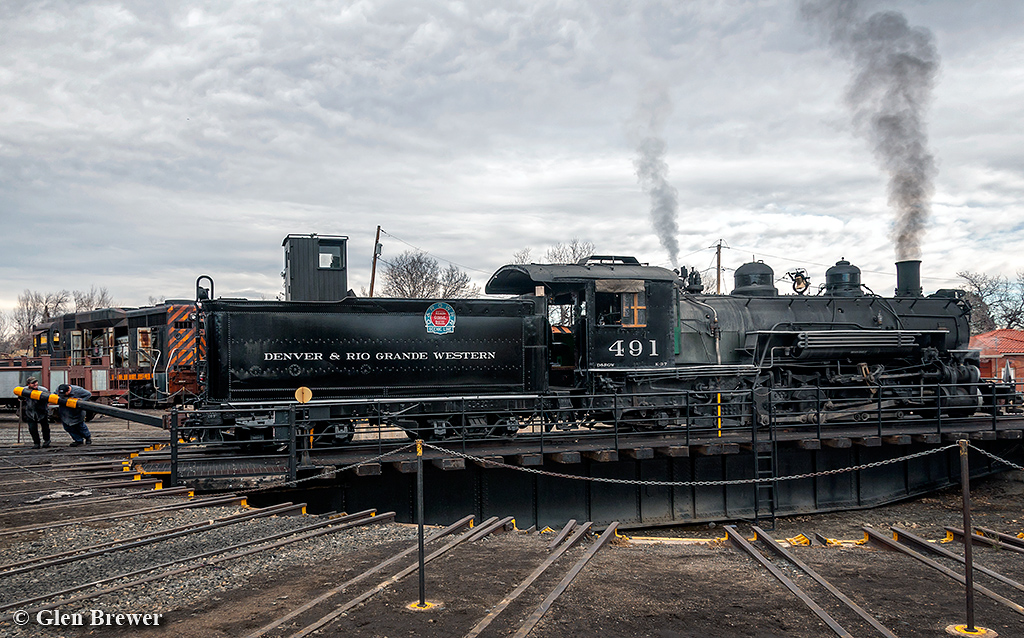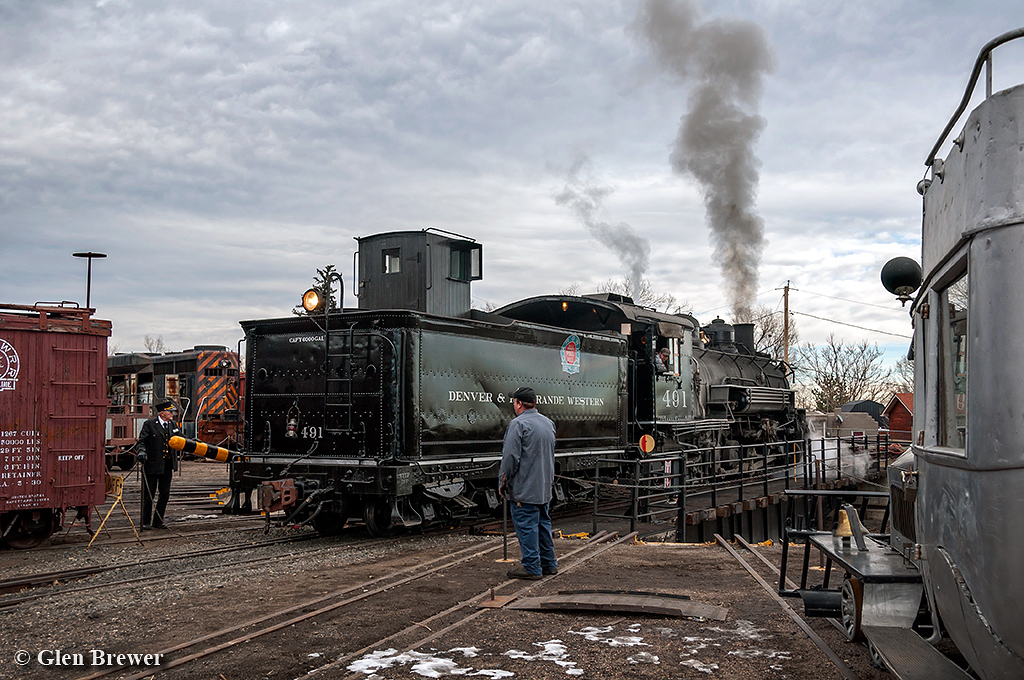 While the ash pan was cleaned, the blower remained open -- creating a steady draft and therefore more steam pressure.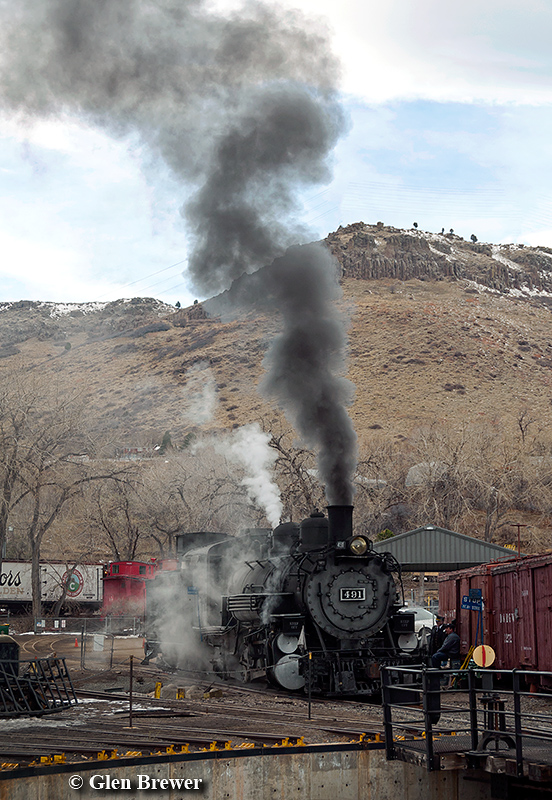 It was time for me to leave, but just as I drove out of the parking lot, the safety valves lifted. No. 491 was up to pressure.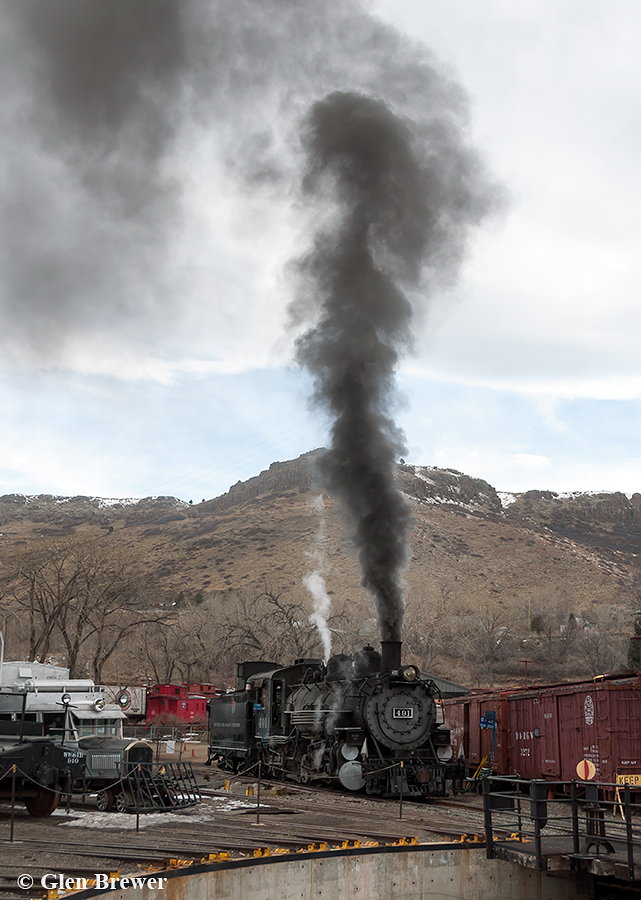 Background on the Colorado Railroad Museum
Bob Richardson and the Founding and development of the Colorado Railroad Museum
Colorado Railroad Museum's home page
-- 30 --