Was the Georgetown Loop a poor design?
© Glen Brewer
UP chief engineer, Jacob Blickensderfer, faced with a tough job when he was assigned to extend the narrow gauge Colorado Central from Georgetown to Silver Plume. While the two towns are only about two miles apart, Silver Plume is 638 feet higher up in the Colorado mountains. (The extension was done under a subsidiary name, The Georgetown, Breckenridge and Leadville Railroad).
His answer was the Georgetown Loop. The loop was designed to ease the grade to a still daunting 3.5% (or is it 3% as shown in the figure). The line was completed in 1884. After the UP lost control of all its narrow gauge subsidiaries in Colorado, due to bankruptcy, a new company, the Colorado & Southern, operated the line until 1939.
<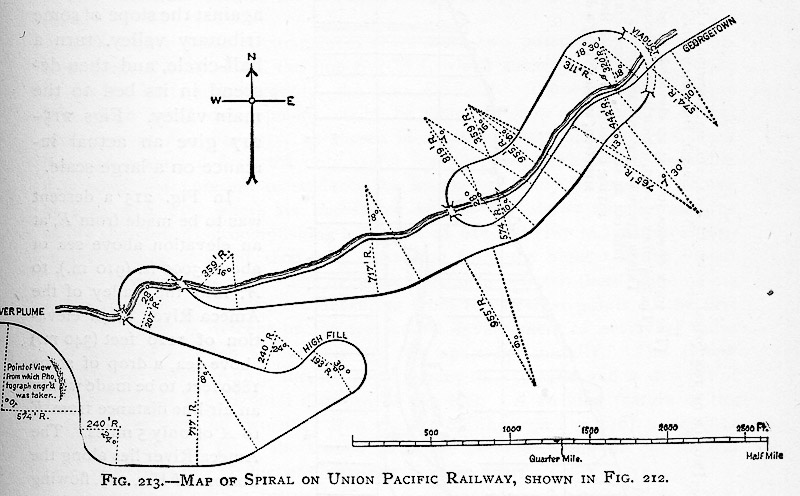 The Economic Theory of Railway Location by A. M. Wellington, 1889, page 681.
But was the loop a poor choice of design? Arthur M. Wellington seemed to think so. Writing in his book, "The Economic Theory of the Location of Railways", copyright 1889, he wrote that "This is a particularly good example of a location where a judicious system of switchbacks, laid out as suggested in Appendix C, would have been preferable in every way; saving distance, nearly all the curvature, and fully two thirds the cost of construction while giving a decidedly better line to operate."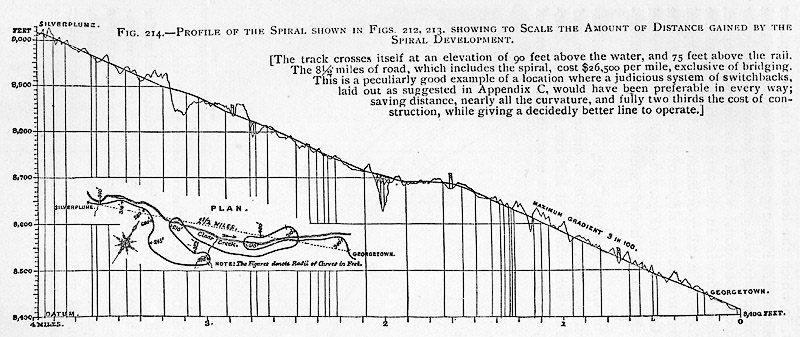 The Economic Theory of Railway Location by A. M. Wellington, 1889, page 682.
My own thoughts are that Wellington was wrong: The railroad at the time was actually planning to continue to the next big boom town of Leadville, as stated in the corporate name. The railroad might have become a main line. It never did, but it did become a major tourist draw in the days before automobile travel into the rugged mountains. Many excursion trains operated all the way from Denver's Union Station to Silver Plume where the C&S built a pavilion. From there, excursionists could ride up Gray's Peak to the 13,117 foot level on the shay operated Argentine Central Railway. My opinion is that switchbacks likely would have been far cheaper to build, but would have been far more costly and time effort to operate.
More Information
See the Georgetown Loop Railroad's webpage: Georgetown Loop Railroad