Is this any way to run a railroad museum?
A non-railfan's plans for revitalizing the Colorado Railroad Museum
Story and photos
© Glen Brewer (except as noted)
Museum sign at the entrance on West 44th Street, Golden, Colorado.
I always assumed that the executive director of one of the nation's major railroad museums would be a railfan. Certainly, Bob Richardson, the founder and the long time director of the Colorado Railroad Museum, was the consummate fan. But things have changed at the CRRM. Donald Tallman told the board, "If you are looking for a railfan, I'm not the guy, but if you are looking for someone who can run a business, I can do that." He started as executive director in October 2006.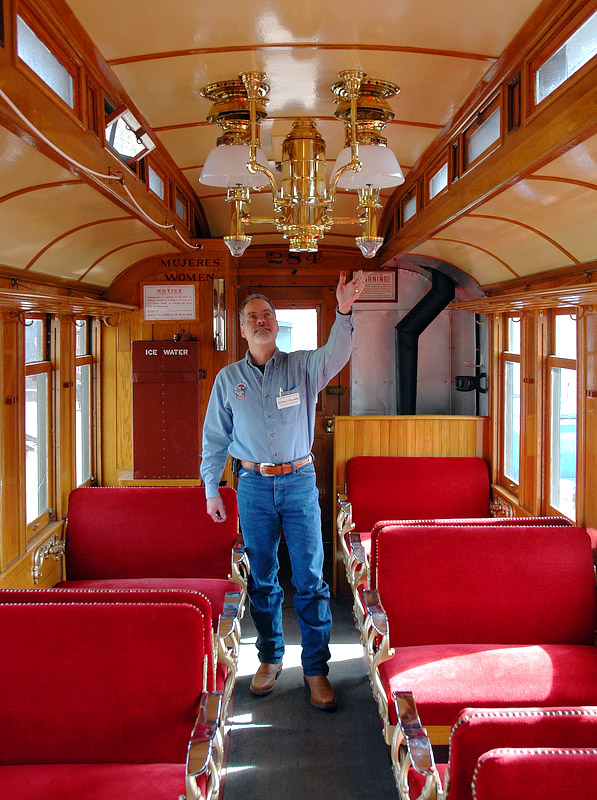 Donald Tallman proudly shows off one of the newly made kerosene lamps in car 284.
I first met Donald at the door of the museum. I had my hand on the knob and was on my way out. An amiable young man with glasses and a beard, closely cropped in the modern style, spoke a few words to me. Before I knew it, we were engaged in a very interesting conversation about what was going on at the museum. It was only then that I read his badge and realized I was talking to the new executive director. I introduced myself as a long time member, and soon Donald was looking for the keys so that he could personally show me through office car Number 96, once the personal car of Chicago Burlington & Quincy president, Charles Perkins. Mr. Tallman is enthusiastic and gregarious. He speaks well, and he listens equally well, but he certainly wasn't what I expected of the executive director of one the country's leading railroad museums. Not only was he quick to point out that he was not a railfan, but he struck me as remarkably young.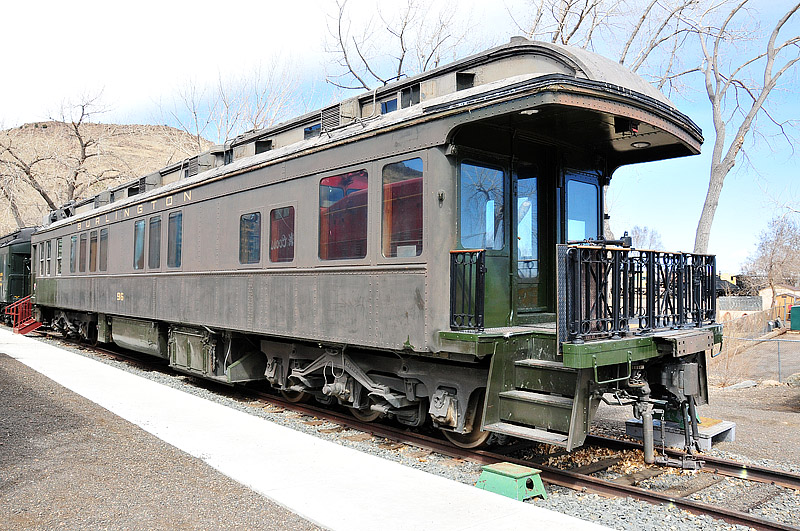 Once Charles Perkins' office car, CB&Q car 96 has been update several times over the years including steel sheathing.
I was intrigued to know more, so a few days later, I took the opportunity to sit with Donald in his office, and discuss his ideas for the future. On the office walls were several large, framed, color photolithographs by William Henry Jackson. The scenes depicted were along the Denver & Rio Grande narrow gauge lines in the 1880s. Donald proudly pointed out that his mahogany, roll top desk belonged to one of the Ridgways, presumably one time superintendent of the Rio Grande Southern, Robert Ridgway. An old oak file cabinet next to the desk is also of uncertain origin, but probably also from the Ridgway office of the RGS. Perhaps only museum founder, Bob Richardson, knew for sure. On top of the desk are a telegraph relay, an old style telephone, a ticket dater, a tin-plate locomotive and, on a side table, a scale model of Rio Grande Southern 4-4-0 Number 36 - the prototype of which was too small for much other than pulling the pay car on the 4% grades of that southwestern Colorado line.
Donald studied history and English as an undergraduate, worked in industrial supervision for GM for two years, then returned to graduate school majoring in library science. That led him to an administrative position with Chicago's prestigious Newberry Library and several successive administrative positions. After moving to Colorado, he was one of the founders of an arts organization promoting, funding and bringing major musical events to Denver. He is a professional tenor himself. Donald's background in managing, marketing and financing of significant non-profit organizations made him a likely candidate, and his questions about the business of the museum were right on target.
"It has been a great and a wild ride," Donald admitted. He hopes to move the organization to, "a new era, changing the way we are working at the museum and not being just curators at the job." Donald learned from his interview with the board that the museum actually has been growing, primarily due to the great success of Thomas the Tank Engine events, but slowly. "In the next five years I'd like to see us grow much more rapidly."
First priorities included improvements in communication and education. Museum founder, Richardson's old "Narrow Gauge News", renamed the "Iron Horse News" after Bob moved his growing collection to Golden, has been published ever more infrequently in recent years. Donald started the "Telegrapher", an email publication written by him, to deliver up-to-date news whenever there is something to report. Like the original "Narrow Gauge News", it is free to anyone who signs up. The old newsletter is now a magazine.
For the first time, an outside publicity agency is in charge of getting the word out. The museum and the new ad agency developed a list of seven target markets for advertising: railfans, families, international, national, regional, local and education. New graphics and a complete revision of the museum's web site are in the works. The "Telegrapher" information will be available on the web site soon, and the site is to be more content rich and more interactive with blogs and videos. Donald remarked that, "I think the important thing is that we are taking a really systematic, business approach to identifying markets and identifying opportunities. And really, again systematically, looking at some of the educational, interpretive opportunities that we have and ways in which we can build connections with each one of those things".
He continued that, "we are in process now where we are going to begin some master planning for the whole site. You know, what do we want to be in ten years or in fifteen years? We are looking at what our needs will be to get there." The planning committee is considering engaging a consulting firm.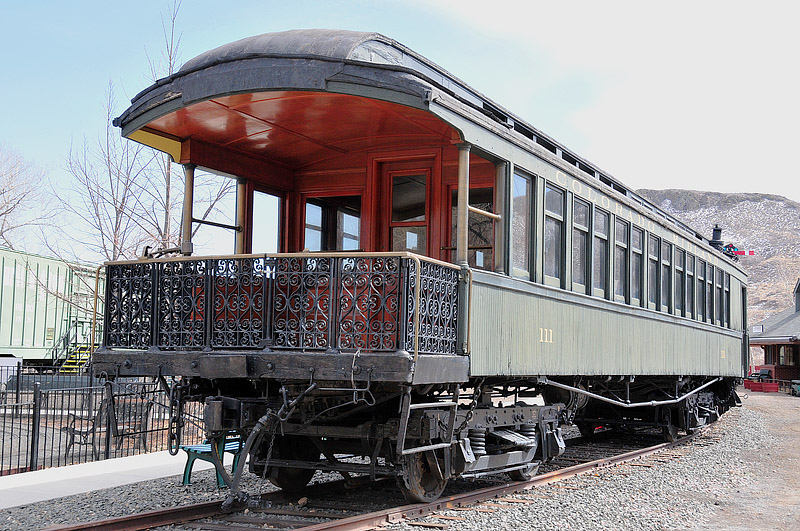 Colorado Midland parlor car 111.
Donald was a council member for the City of Lakewood, Colorado and the chair, for a number of years, of the landmark preservation committee. For that, they were concentrating on standards for building preservation. "But there are no standards, really, that have been set for rail car restoration. So it's a real gray area." He would like to establish some museum guidelines. We discussed how cars and locomotives were routinely modified throughout their history. "There are interesting problems in restoration," he concluded.
Preservation is a big problem. Bob was adamant that locomotives and cars be displayed in an outdoor setting where they can better be enjoyed and photographed in their natural setting. Donald realizes the very real need for more protection from the elements. Many of these items are well over 100 year old, and have existed, and often operated, much longer than builders and purchasers ever intended. He would like to get at least some of the equipment under cover, perhaps rotating exhibits outdoors where they can be seen better. As an example of the need, Donald cited the case of the museum's Denver & Rio Grande caboose 49. Less than twenty years ago, the car was lovingly restored by a museum volunteer from a derelict, decaying, car body to its original 1881 configuration as a four-wheeled caboose. Now it is already suffering advanced wood rot and is getting another serious restoration including a completely new cupola.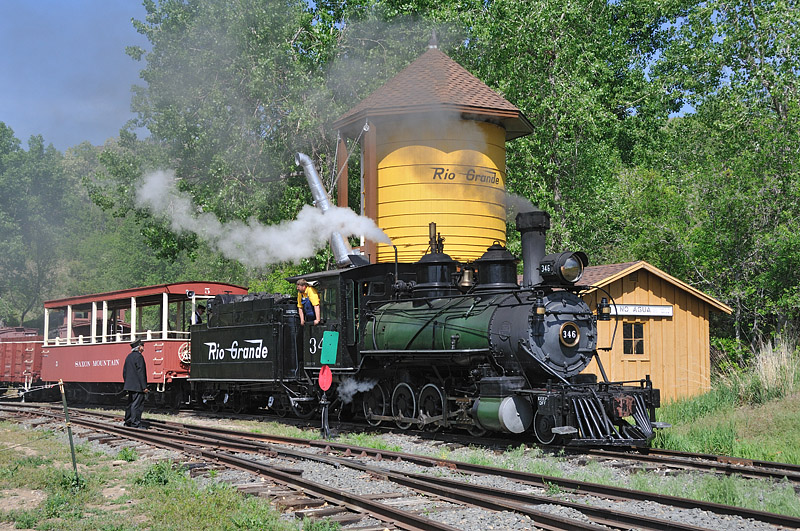 Newly restored 346 at the recently built No Agua tank.
It is important to entertain as well as educate, Donald pointed out. To keep people coming back, events and rotating exhibits are important. He wants more interaction. He would like to demonstrate how a locomotive works and how cars are switched. He wants to demonstrate the concept of scale - both in models and in the real equipment outside. Newly produced videos could further explain the intended hands on experience. New signs will offer better explanations. As an example, Donald has in mind a kiosk inside the Railway Post Office car with a newly produced video explaining the once routine Railway Mail Service.
Some of us older people remember when trains arrived frequently in nearly every village and city delivering passengers, freight, mail and express. The local station was the center not only for transportation but also for communication. Mail arrived and left from the station and the telegraph office was often located there too. All too often, younger Americans think of trains only as something that delays them at grade crossings. Donald sees education as essential. Docents already lead tours through the museum grounds for the uninitiated. One volunteer, Steve Lee, visits local schools with a "trunk show". He wears a brakeman's uniform and presents programs designed to entertain while educating the students about the historical relevance of the railroad industry on daily American life.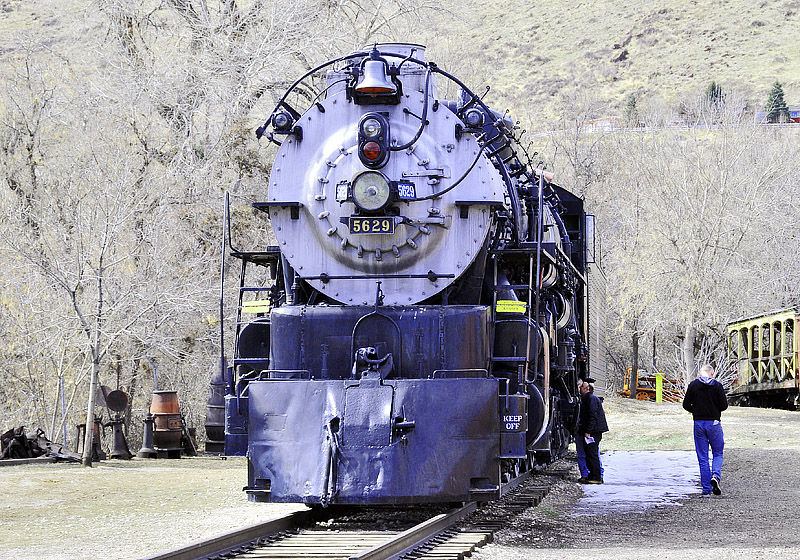 The biggest engine on the property -- CB&Q 4-8-4 5629.
Even older generations want new experiences. A symposium, "America and the Passenger Train", complete with an impressive list of speakers, recently explained the passenger train experience during various eras in US history. New inside exhibits in the museum basement, outdoor tours and the premier of a new video were all part of the program. A whistle stop event during Denver's 2008 Democratic National Convention featured Abe Lincoln and Teddy Roosevelt giving speeches from the back platform of some of the museum's cars.
Working with the Denver Metro Convention & Visitors Bureau and the Colorado Tourism Office has already paid off with visits during a familiarization tour for German writers. Subsequently articles appeared in German publications featuring the museum. German speaking visitors are already numerous enough to justify a museum guide printed in that language. Spanish and Japanese guides may soon appear.
Donald is taking part in newly organized "loose confederation of Colorado tourist railroads" to explore how they can help each other. He also wants to establish more collaboration with other museums and operations to share ideas and rotating exhibits. The organization, so far unnamed, could also become a lobbying group for heritage tourism.
Railfans sometimes object to any disregard for historical integrity, but there is no doubt that Thomas the Tank Engine events are a huge hit with the younger kids as well as a major moneymaker for the museum. Of the museum's 85,000 visitors a year, 20,000 arrive for the annual Thomas events. "We get five thousand people a day coming through the door," according to Donald. The annual Santa Train is also a big draw and exposes the young to real steam in operation. Notably, only about 10% of recent visitors are railfans.
The Pee Wee Club, named for the museum's smallest diesel locomotive, has about 50 young members between the ages of 2 and 12. Events, including movies, rides, and pizza parties, occur about once a month. For youngsters of high school age, an annual, summer rail-camp will begin in the summer of 2009.
Admissions and memberships are major source of funding, as well as retail sales. Another big source of money is funding through the Denver Scientific and Cultural Facilities District: sales taxed based funding from an eight county district comprising the Denver Metropolitan area. Grants provide funding for specific projects. Special fund raising events have included an unveiling party for restored Engine 346 and a raffle for dinner aboard the Burlington office car. The museum's executive director personally served the meal to the winning couple and their two guests.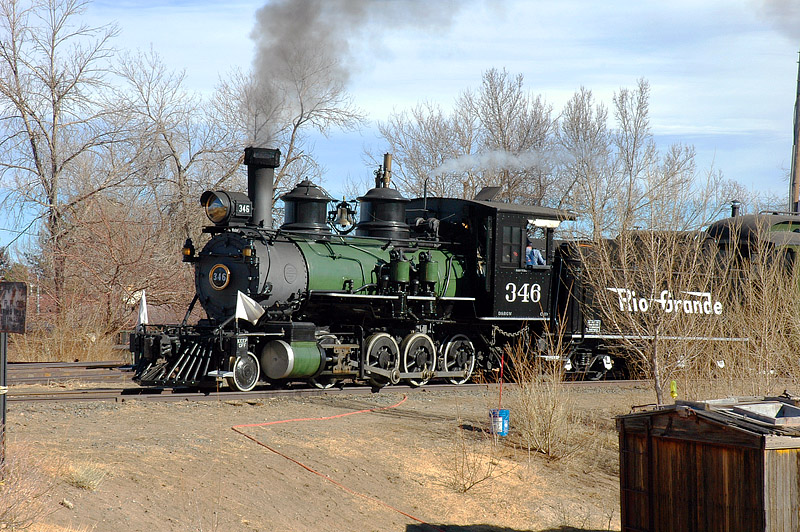 D&RGW Engine 346 after a complete overhaul.
Donald observed that, "aside from the annual membership, we've never gathered much from serious fundraising. But this year, we are going to start. We are going to give people opportunities to make a difference."
The museum is fortunate enough to have an endowment and a few generous individual contributors. One anonymous donor is paying to have Rio Grande Southern Engine Number 20 overhauled by the experts at Strasburg, Pennsylvania. This major job includes replacing part of the boiler shell dented in a rollover accident on the Rio Grande Southern in 1943 Long the signature engine of the museum, Denver & Rio Grande Western 2-8-0 Number 346, built in 1881, has already made the round trip to Pennsylvania and is officially back in operation.
Despite his protestations of not being a railfan, when Donald took me aboard the Burlington office car, his admiration for nineteenth century ingenuity and artisanship was obvious. His choice for office decor further indicated a genuine interest.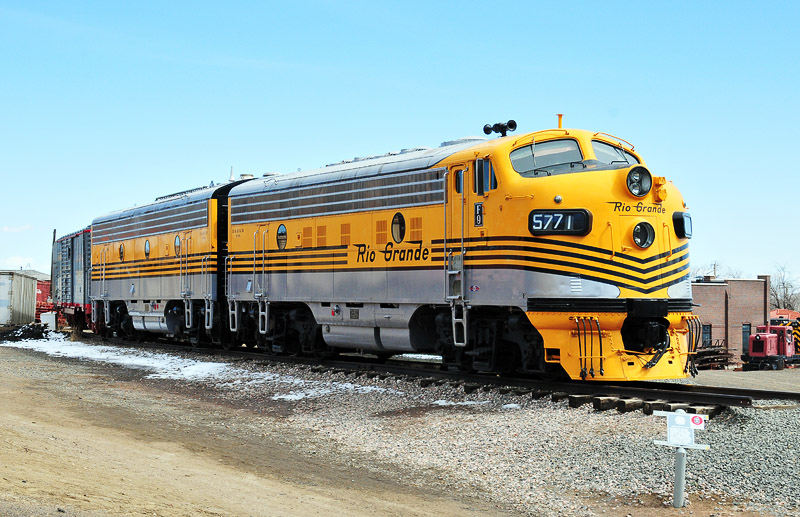 Diesels that used to pull the Zephyr.
I asked Donald if he was becoming a railfan. His reply was, "I don't know if I am becoming a true railfan, but I love reading about Colorado railroad history. I love the story that railroads tell of the history of Colorado - the importance of railroading in the growth of Colorado and actually the growth of the country. From a transportation history aspect, I love the architecture of the rail cars - everything from boxcars to private business cars. They all have such an interesting history. To see how the aesthetics changed over the years is really fascinating. Steam locomotives are really interesting, but from a mechanical aspect, they don't capture my imagination. I love the 5771, the big diesel out there. The 191 is just a perfect example of how beautiful a locomotive can be, but I also love the streamlined diesels and some of the stuff that Otto Kuhler worked on designing. I love taking people around and showing them, for example, the passenger cars from the 19th century. They are absolutely beautiful!" He also said, "I love things historical and antique, and I love to find out what the context is." At that point, Donald pointed out an obviously very old conductor's cap atop the file cabinet and we could only speculate on its actual age, surely 19th century, and history.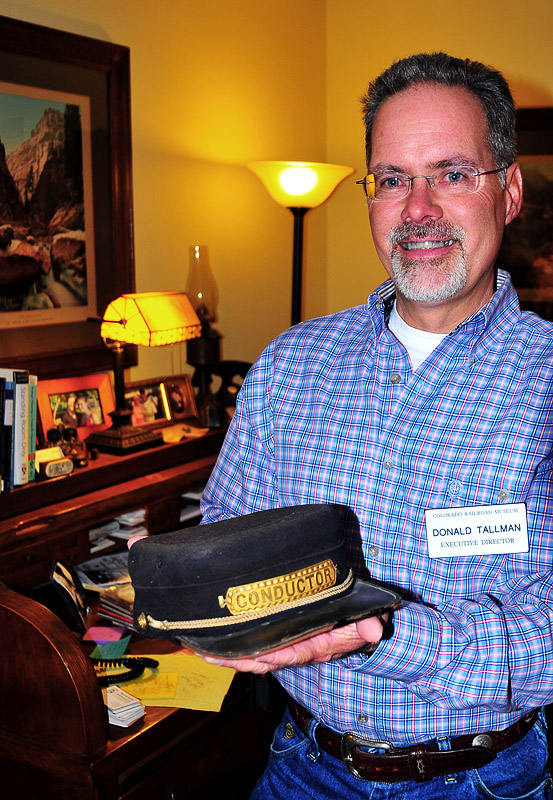 Conductor's cap of unknown age.
I left our interview with a feeling optimism. The new director not only knows how to approach a critical, complex job, but I was certain that he is rapidly gaining a true appreciation for what it all means to so many of us.
---
See also
The Founding of the Museum: Bob Richardson and the Founding and development of the Colorado Railroad Museum
Part II: A second look
---
Contact Information
Colorado Railroad Museum
17155 W. 44th Avenue
Golden, CO
Mailing Address:
PO Box 10
Golden, CO 80402
Internet:
Web site: http://www.coloradorailroadmuseum.org/
e-mail: info@crrm.org
research questions: library@crrm.org