Father was a man of the automobile age
In fact, both my parents matured with early automobiles and early amateur photography too.
© Glen Brewer
My parents were witnesses to the growth of the automobile age. Both my grandfathers were early car owners, and both families were lucky enough to have a photographer to chronicle some of their early examples: Father's Uncle Mesheck and Mother's Uncle Arthur took photographs before such a practice was common. I am left photographs of early family automotive history and also with memories passed down to me.
Father's side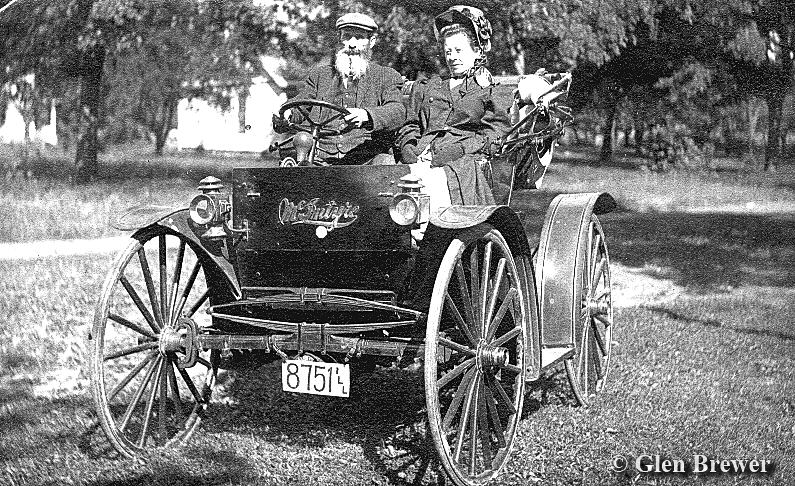 Grandfather Isaac Brewer and his brother Mesheck traveled from their homes in east central Illinois to Indiana by train, each to buy their first car from the W. H. McIntyre Co. The company, located in Auburn, Indiana apparently lasted only until 1915. Early McIntyres cost $250. I believe the cars arrived on a flat car in little Philo (just south of Urbana) and with them came with a driving instructor who stayed at Grandfather's farm house while in town until both brothers learned to drive. There were very few cars in Philo at the time. Father remembered only one other, a steam car. The picture above shows Father's Uncle Mesheck and Aunt Harriet in their McIntyre. Mesheck was Philo's postmaster. At the post office, he sold his own photographic postcards, and this is one of them.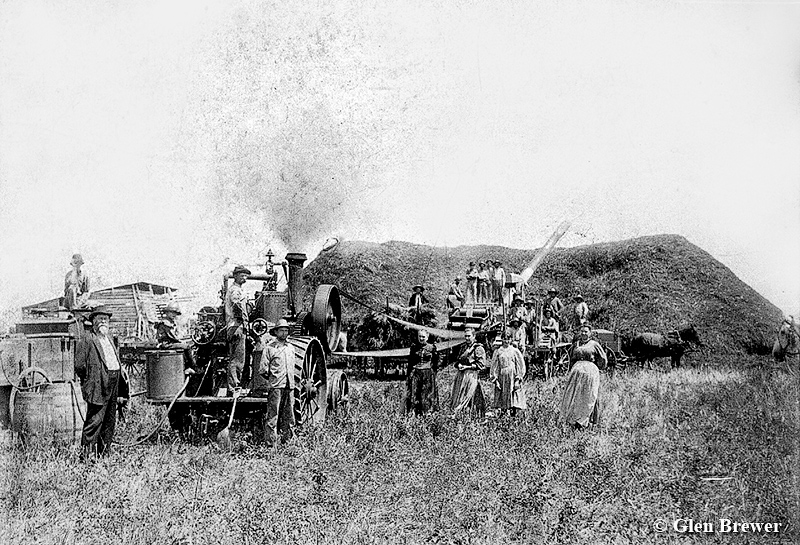 Grandfather Brewer, in addition to farming, owned two successive steam traction engines. These engines were primarily used for thrashing grain on his and neighbor's farms during the harvest season. The engine, shown in the photograph ca. 1900, was a Nichols and Shepard, on a busy thrashing day. That is Grandfather on the foot plate. Standing on the ground to the left is his father-in-law. Of the women in the right foreground, the leftmost is Father's grandmother, and her sister. My father remembered sneaking out of the house in the evening, after the engine had been put to bed for the night, and blowing the whistle.
The McIntyre did not last long, and Isaac bought an Overland to replace it. About 1912, Isaac and a partner established an Overland automobile sales and service business in Philo, the first in the area and probably the only one. The business was housed in a new building especially built for it on the main street of Philo. In 1918 he sold out his interest to his partner.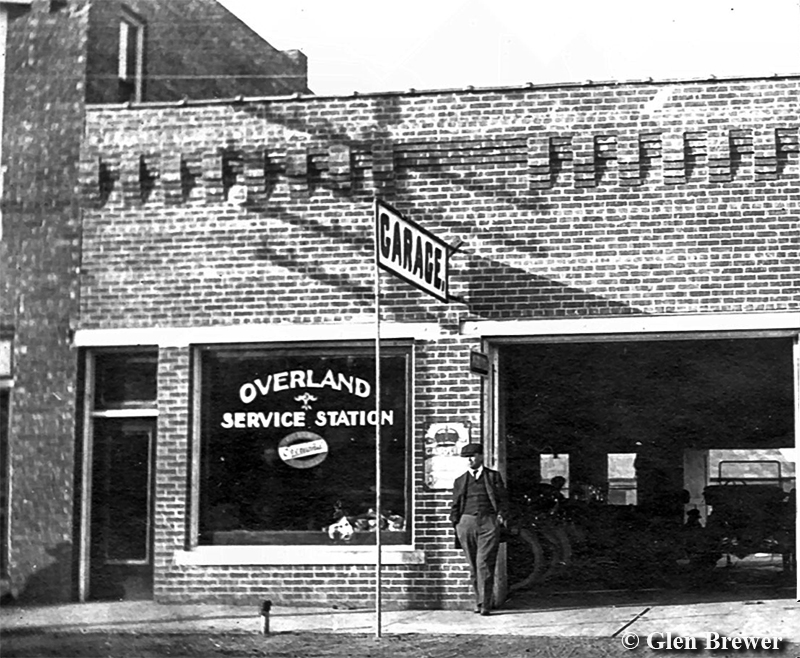 Mr. Carson, the owner of the local telephone company, also introduced electricity to Philo. The first generator was installed in Grandfather's Overland garage, and was operated only from dusk until whatever was considered a reasonable bedtime back then. My father worked for Mr. Carson from time to time doing whatever was needed. He worked as a telephone operator and ran wires for the power company. The electric company would run wires to your house and install one bare light bulb wherever you wanted it using knob and tube wiring on the surface of walls and ceilings.
Father learned to drive as soon as he could see over the dashboard of Grandfather's Overland. His mother never learned to drive, and she wanted him to take her to her woman's club get-togethers often held out in a farmhouse outside town. He was about nine when he learned, and because he was too little to hand crank the car, he had to find someone to start it for him.
In 1910 and again in 1915, my father rode along on trips from Philo, Illinois to Three Rivers, Michigan. His Uncle Mesheck had moved there to be near his daughter whose husband developed a successful lumber business in the town of Three Rivers. By today's roads, the trip is about 253 miles.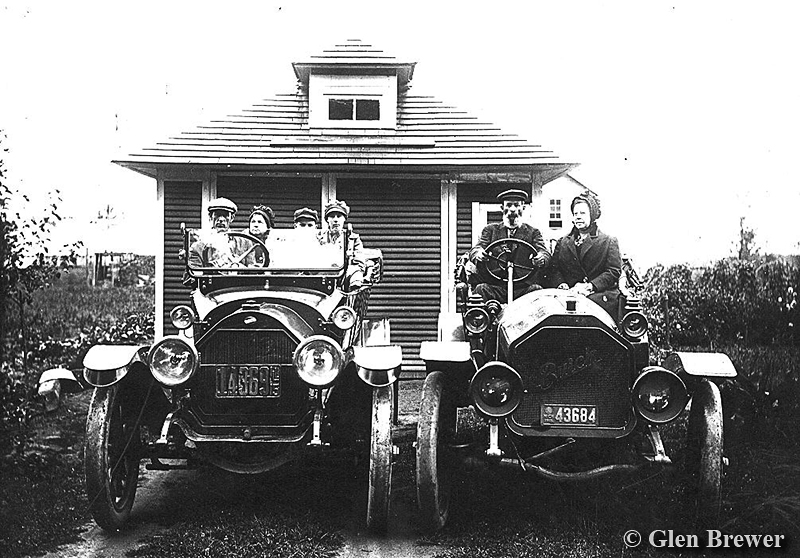 The picture was taken in Three Rivers in 1915. Father's brother Omar Perl and with his wife Emma in the front seat of the 1914 Overland -- the car on the left. The back seat occupants are my father and his mother. The older Buick on the right (with gas headlights and Michigan plates) is occupied by Uncle Mesheck and Aunt Harriet.
Note that, even at this time, the tires are smooth and the steering wheels are on the right.
Father remembered the trips which were quite an adventure back then. There were few, if any, marked roads or good maps – just dirt roads from town to town. It must have taken several days, and they probably got lost a lot. They also probably had to repair the car and several tires along the way.
Once they scared a horse pulling a wagon on a bridge resulting in some minor damage. They paid the man for the damages on the spot and went on.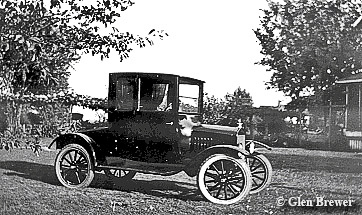 For five years, Father commuted from Philo to Urbana, first to his last year of high school (Philo High only provided three years), and then to The University of Illinois. It was fifteen miles each way over dirt, or all too often mud, roads. He had two successive model T Fords (the first a roadster, the second a coup). There were no heaters for the occupants. As I understand it, you pretty much had to overhaul the engine every year which he did each summer. He was good with cars and with many other things, but, unfortunately, I learned very little from him. When I was young, he would respond to my question, "You're too young to understand" or "You'll have to go to school to learn that." Later, if I asked an idle question, I would get a college level dissertation including drawings and mathematics and lasting for hours. I was trained early in life not to ask too many questions.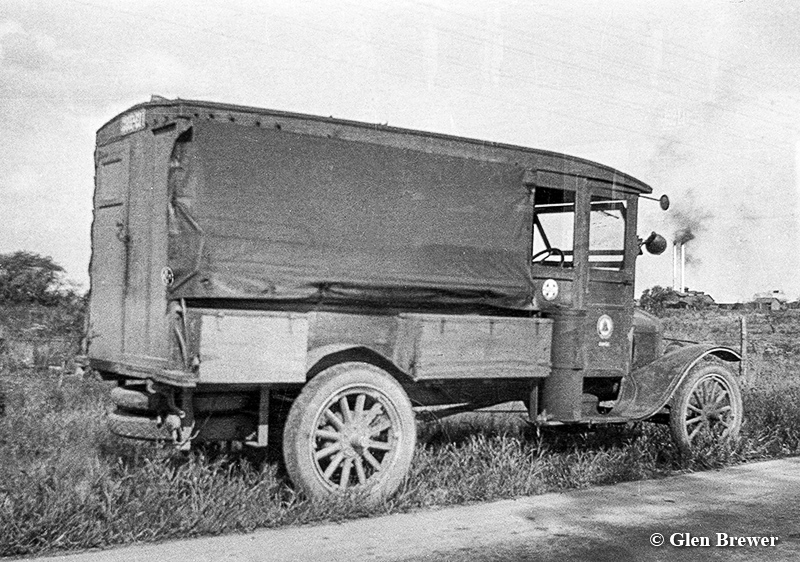 Fresh out of college, Father took a job with Illinois Bell Telephone Company. His offer letter, dated March 16, 1925, offers him a job starting at $117 per month. It goes on to state that he may expect an increase of $8 per week after 12 or 15 months. His first assignment was touring Illinois in a Model T Ford truck, with an assistant, checking long distant lines for defects. Dad got to know Illinois geography and the old, Illinois small town hotels very well.
Eventually he was assigned to a job in Illinois Bell's headquarters in Chicago's Loop. After a short time of apartment living, my parents rented a house in Glen Ellen, then bought a yellow brick bungalow in Villa Park, Illinois – about 20 miles west of Chicago. Villa Park had the advantage of being on two commuter railroads, the Chicago & Northwestern and the Chicago, Aurora & Elgin, and this was a consideration in their choice.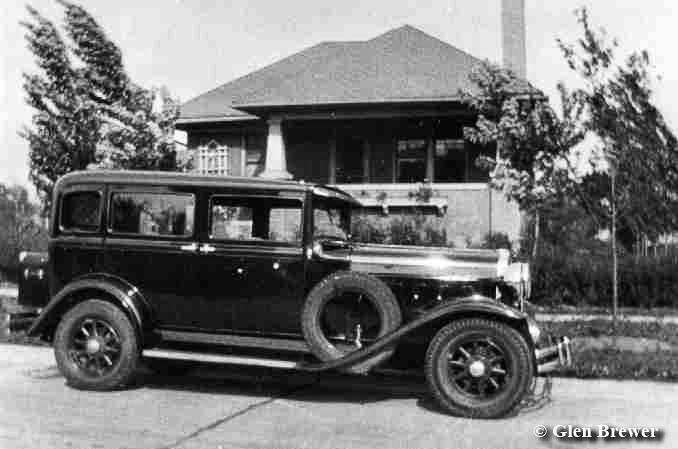 My parent's 1930 Hudson (shown on a windy day in front of our house in Villa Park) was aparently good to them. They drove it many times to Philo and back; Mother, Father, my big sister and Mother's father, who was a recent widower, all went to Yellowstone and Colorado in it for a big family vacation (ca. late 1930s). Dad took home movies of the trip. He and a man from his office went into partnership to buy and share a camera and projector (these were depression years, of course, and few spent money frivously).
Father was much less enamored with the Model A Ford he bought to replace the Hudson. The engine had an aluminum head or block which was the source of much trouble. Father refused to ever buy another Ford. The problems led to him buying a 1941 Chevrolet. We were fortunate because we were among the few who had a relatively new car all during the war years when no new cars were available. He stuck with Chevrolets for awhile buying a 1950 four-door Deluxe and then a 1957 Bellaire V8 in turquoise and cream. The 1950, I later used to travel to and from Urbana and the University of Illinois; the 1957 became my first car after I graduated.
Father's last three cars were unspectacular: a Rambler, a Plymouth and finally a Chevrolet Nova – horrible cars all. He continued to drive the Nova until he was in his late 80s, so his driving experiences lasted about 70 years -- certainly more than most of us.
Mother's side.
My mother's father's first car was a 1910 Brush. The car was noted for its one cylinder engine, chain drive, wooden frame and wooden axles. It was a red, two-seater, with carbide gas headlights and brakes only on the rear axle, but it looked quite sporty. The picture shows Grandfather, Grandmother and little Gladys, my mother. The car must have been quite a luxury for a little central Illinois farming family of three.
Those Illinois country roads were dirt graded with a significant hump in the middle, for drainage. Early tires had no tread, and it was very easy to slip off the hump -- especially if it rained or snowed. With significant rain or snow, the mud was often axle deep. Grandmother tried only once to learn to drive. After sliding off the road, she never tried again.
The Brush was only used in the summer; in the winter, it was put up on blocks, a common practice in those days, at least in northern climates. Still, it did not last long. Its last use was as a stationary engine to power some sort of farm machinery. Grandfather replaced it with a Chalmers automobile.
So my parents were true children of the automotive age. They took their honeymoon by car and all family trips – to visit family and also summer sightseeing trips. I, of course, remember some of these.